3 Kentucky Basketball Lineups to Look For in December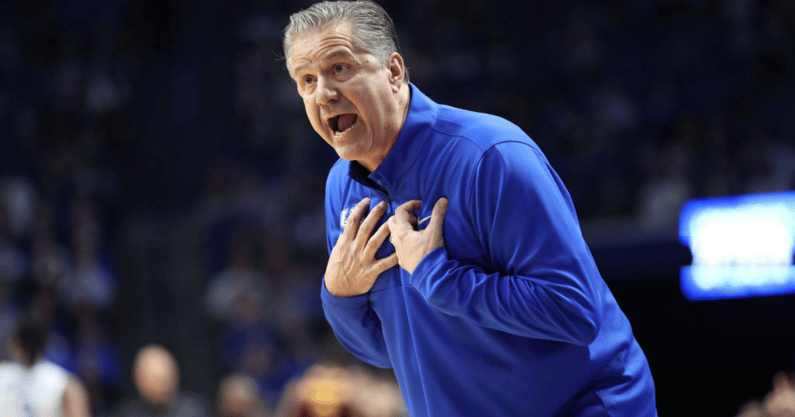 A few days ago our very own Zack Geoghegan reported on some comments Coach Calipari made regarding new Kentucky Basketball lineups and players experimenting at new positions. Fans did not like what they heard. So far, the Wildcats have been playing as fast as ever and spacing things out offensively with improved shooting. However, Coach Calipari mentioned experimenting with Bryce Hopkins and even Jacob Toppin at the "3."
Concerns of spacing and shooting immediately flooded the Twitter mentions and KSR comments section. Admittedly, going bigger isn't something that sounds like a great idea with this roster. However, we also know that just because Coach Cal says something doesn't exactly make it true. Injuries and illness are currently playing a factor and could force his hand a little bit in terms of positional flexibility. Also, there are some interesting ways that Kentucky could go big while still having multiple shooters on the floor.
If there are tweaks to be made within Kentucky Basketball, there are a few that seem a little more intriguing than playing Jacob Toppin any minutes at the "3." Here are a few lineups that could see more action this month as the schedule turns to some stiffer competition.
Bryce Hopkins at the "4"
Bryce Hopkins has enough skill to play some minutes at the "3" as Coach Calipari mentioned in his press conference. However, he is best suited to play as Keion Brooks' backup at the "4." His physicality lends itself to guarding bigger guys and his skills are accentuated at the power forward spot. He can actually be as good or even better than Brooks in transition at the 4-spot.
Playing a forward who is able to make plays from the trail spot in transition makes a team very dangerous on the break. Hopkins' ability to knock this shot down is exactly why he should see more minutes going forward as Brooks' backup. In a lot of ways they are very similar players, but Hopkins might be even more skilled.
Tshiebwe and Collins/Toppin together
Okay, hear me out. While playing guys like Hopkins and Toppin on the wing doesn't seem to fit Kentucky's new faster-paced offense, there are other ways to meet Coach Calipari's wish of getting bigger. Contrary to popular belief, there are some interesting things the Wildcats can do offensively playing two big men together.
Per KenPom, the second-most used Kentucky lineup over the last five games is Wheeler, Washington, Grady, Collins, and Tshiebwe. That five-man lineup has accounted for 10.2% of the minutes in the last five games. When that group is in together though, it makes more sense to treat Tshiebwe as the 4-man offensively. Big O has proven over the last several games that his face-up jump shot is consistent enough to be a real weapon. This leaves Collins in the dunker's spot inside where he excels as well.
This clip shows the lineup being discussed and is exactly the type of action that can be good for Kentucky when Collins and Tshiebwe play together. Tshiebwe on the short roll is more dangerous than Collins because of his ability to hit this shot with consistency. Additionally, flipping the two big men offensively opens up the lob opportunities for Collins and allows him to be the rim-runner in transition.
Daimion Collins is really good at dunking the basketball. Intentionally obvious statement notwithstanding, this is the best spot for Collins to be in offensively. If and when he and Tshiebwe play together, Collins needs to be the one down low offensively.
The other advantage that Collins has when playing the "5" is his ability to rim-run in transition. We've talked about how hard Oscar Tshiebwe runs in past editions of "Watch the Tape," but Collins is simply faster and more athletic end-to-end. If Kentucky Basketball really wants to go bigger, playing Collins at center is the way to do it most effectively.
More of the Same
As the saying goes, if it ain't broke, don't fix it. The Kentucky Wildcats have the 15th best offense in the country according to KenPom's adjusted efficiency metric. Kentucky's starting lineup is its best lineup and should be played as much as possible. Those five have proven that they can play fast, space the floor, and put up a lot of points.
Sahvir Wheeler's ability to push the pace and create plays off of the dribble has completely changed the game for the Wildcats offensively. TyTy Washington is getting better by the game and is rounding into the 5-star, lottery pick form that we expected. Kellan Grady has drawn the attention of opposing scouting reports and opens things up for the offense simply by being out there. Keion Brooks has seemingly found his range from 18-feet and is opening up the offense as well. Finally, Oscar Tshiebwe is a game-changer on the glass and has been better than anyone could have imagined for the Wildcats.
If Kentucky Basketball plays with their lineups and experiments with new positional alignments it won't really matter a whole lot as long as the starters keep doing what they are doing. If they can dominate, it takes the pressure off of everyone else. Right now, there is no sign of them slowing down.