Kentucky MBB players experimenting with new positions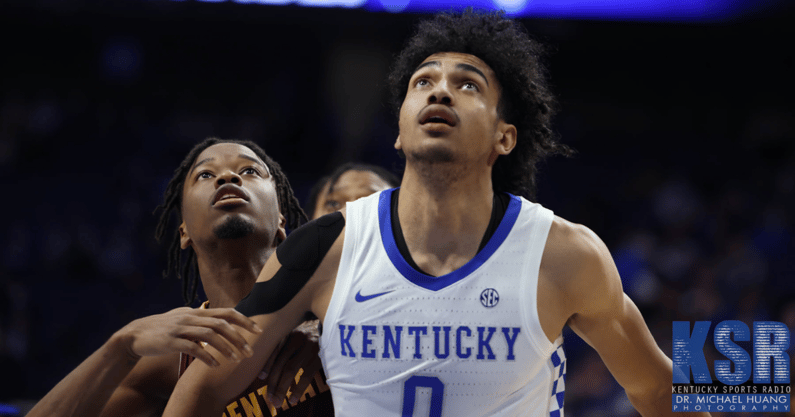 As illnesses and minor injuries pass through the Kentucky locker room for hopefully the only time this season, it's forced everyone involved to step out of their comfort zone a bit. Davion Mintz has missed three games in a row and has no timetable for return. Keion Brooks Jr. sat out one game with a sickness and is still recovering. Jacob Toppin's shoulder is not yet 100 percent and neither is Bryce Hopkins' back. Lance Ware is slowly working his way back to full health, as well.
That's five key pieces to the Kentucky rotation that have all been in and out of the lineup. It makes for tough chemistry building, but it has allowed the Wildcat coaches to experiment a bit more than they might have expected.
"Some guys haven't played at certain positions so now since some people might be out, you give them a chance to play a different position," Lance Ware said on Thursday. "If you're a 4 you might have to be a 3."
Outside of Oscar Tshiebwe, Kentucky's post presence has been notably lacking through seven games this season. Head coach John Calipari would like to see more of his wings and forwards take advantage of their size against smaller defenders. We noted on Thursday how Calipari talked about trying new "stuff" during practice this week with Hopkins and Toppin. I opined that it might be moving the two down a spot from the 4 to the 5, but it turned out to be the opposite; Calipari wants Hopkins and Toppin to play more at the 3 on the wing.
"He wants a post presence," Toppin said on Friday of Calipari. "And not only does he want to post Oscar (Tshiebwe) he wants to be able to post me and Bryce (Hopkins). And he feels like if we're at the 3 spot, we could post guards and be able to work in the post, either pass it or score, and that's what he wants me and Bryce to do."
Hopkins, in particular, has the frame and skill set to slide in perfectly at the 3. As Toppin mentioned, Calipari wants his players to score AND pass out of the post; Hopkins has shown he can do exactly that, just not at a consistent, 25-minute per game level. Toppin is big enough and quick enough on his feet that he could theoretically dust or overpower smaller defenders in the post. On the surface, the change could prove beneficial.
However, spacing would be the first concern with moving below-average shooters to a guard-oriented position. Whoever plays the 4 would have to be a willing shooter in this situation; truthfully leaving Brooks to fill that void by himself. Toppin hasn't shown a willingness to regularly attack his defender off the dribble early on, either.
But now would be a good time to experiment with positional moves in the leadup to SEC play. Kentucky tried it out during Thursday's practice and the early returns were promising.
"We tried that yesterday and I liked it, Bryce liked it," Toppin added. "I think Coach and everyone else liked it. So that's what we're going to begin to do and see how it works."
When Kentucky takes on Southern University this coming Tuesday, look for more post-ups from Hopkins and Toppin. The idea is that they can open up the floor more with drives to the rim; pulling post players out from right under the rim. In most situations, Kentucky should have the one-on-one advantage with those two posting up.
"They bring us a different element with their size, athleticism, strength," Keion Brooks said on Thursday of Hopkins and Toppin. "We've been working to try and post them against smaller 3s and even if they're a little bit bigger, posting them, facing up, attacking them guys off the dribble and the rest of us cutting, getting them space, and giving them room to work in the play."
We'll have to wait and see what the on-court product looks like, but it's not a complicated scheme idea. In the end, it might come down to whether or not Hopkins and Toppin are expanding the floor while playing the 3. Hopkins projects as someone who can while Toppin might have to show us something new. But either way, Calipari is trying to figure out new ways to get everyone more involved.