5 Things You Need to Know About the Louisville Cardinals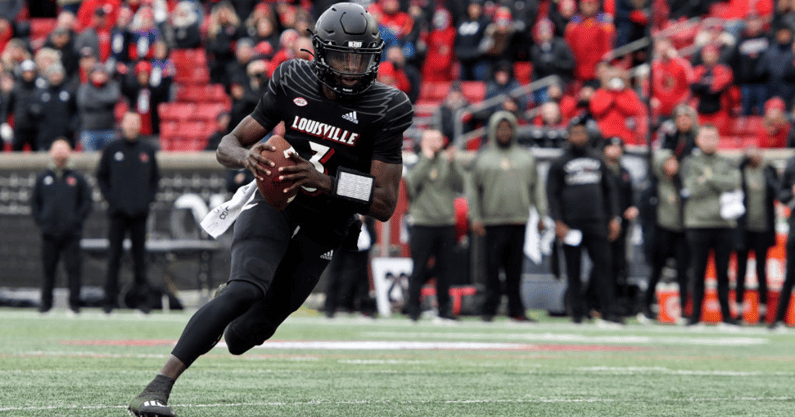 It is no secret how the Kentucky Wildcats feel about the Louisville Cardinals. There is certainly no love lost between these two in-state rivals and that will be obvious at Cardinal Stadium tonight. The Governor's Cup has a lot on the line for both programs this season. The Wildcats are trying to finish off a 9-3 season while the Cardinals need a win to finish above .500. However, none of those big picture goals matter as much as bragging rights against your rival.
Louisville's offense has hit its stride over the last couple of weeks as they are riding the momentum of two consecutive blowout victories. A 41-3 win over Syracuse and a 62-22 blowout at Duke lifted the Cards to 4-4 in the ACC and got them bowl eligible. It has been an up and down season for Scott Satterfield, but the end result is already as good or better than expected in his third season.
As always, make sure you have checked out Adam Luckett's Scouting Report and read Freddie Maggard's take on how Kentucky wins the Governor's Cup. Now, let's dive in to the five things you need to know about the Louisville Cardinals.
Malik Cunningham is a Star
There is no getting around the fact that Malik Cunningham has become one of the best players in college football this season. The redshirt senior quarterback is doing it all for the Cardinals and is delivering one of the more potent offenses in the country. Cunningham has accounted for 36 touchdowns, split evenly between the ground and the air with 18 a piece.
Through the air, Cunningham has thrown for 2589 yards with a completion percentage over 62%. His 8.7 yards per attempt proves a mixture of efficiency along with the explosive play threat. However, it is his ability through the running game that makes him a bonafide star. He leads Louisville with 933 rushing yards good for over six yards per carry.
It won't be an easy task slowing down Malik Cunningham this evening. However, Kentucky must limit the explosive plays and do their best at containing his ability to extend drives with his legs. It is a lot to ask, but keeping him from going off will be the key to getting out of Louisville with a win.
Louisville Cardinals Explosive Offense
The Wildcats are going to have their hands full defensively in this one. Fans can most likely expect a shootout under the lights at Cardinal Stadium. Led by Malik Cunningham, the Louisville Cardinals feature one of the most explosive offenses in college football backed up by their rankings in most statistical categories.
They are 34th in scoring, 13th in yards per play, 7th in yards per rush, 23 in yards per pass, and 19th in 20-yard plays. This is an offense that is going to move the ball and put points on the board. Kentucky just has to keep scoring and get enough situational stops to come out ahead.
Struggles at Running Back
If you are looking for the weakness of Louisville's offense, it would be in the backfield. However, Malik Cunningham's explosiveness as been able to mask those issues for much of the season. Outside of the quarterback, Jalen Mitchell has rushed for 669 yards on 144 attempts. That is just six fewer rushes than Cunningham, but nearly 300 less yards. Trevion Cooley has collected 342 yards on his 66 carriers this season as well. As a unit, the running backs have been inefficient and lacked explosion. However, once again, this is where Malik Cunningham's greatness has covered up a lot of holes.
Cardinals Play-Making Defense
The Louisville Cardinals defense is probably a little underrated heading into tonight's game. While there certainly are some holes on that side of the ball, the production hasn't been all that bad this season. They will create some havoc and have forced turnovers as well.
At EDGE, the Cardinals feature their best defensive player in Yasir Abdullah. He is the team leader with 13.5 tackles for loss and nine sacks. The Big Blue Wall will need to get him blocked to stay away from negative plays. Elsewhere, a pair of transfers in the secondary have combined for 12 total pass breakups/interceptions. Kendrick Dunn and Qwynnterrio Cole are the two to watch.
Louisville has 10 interceptions and five recovered fumbles as a defense. The 'Cats must protect the ball and not give away possessions if they want to come away with the road victory.
Improving Against the Run
Opponents are rushing for 138.3 yards per game against the Cardinals with nobody breaking the 200-yard mark since the month of September. The Louisville defense has been stout against the run and will look slow down Chris Rodriguez and company this evening. However, Kentucky has rushed for 866 yards in their last two meetings so their should be plenty of confidence on the 'Cats sideline. This will probably be where the game is won or lost tonight. If Kentucky can eclipse 200 yards it will be hard for the Cards to win.