Andrej Stojakovic cuts list to six, does not include Kentucky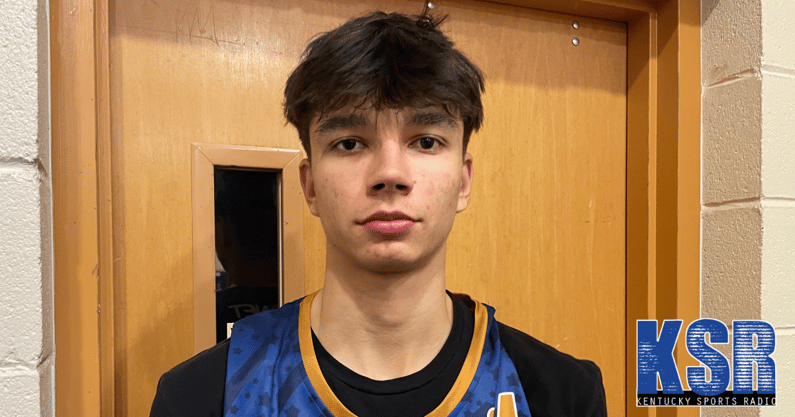 Cut another prospect from Kentucky's recruiting board in the class of 2023. First, it was five-star forward Xavier Booker, who committed to Michigan State on Saturday. Now, four-star guard Andrej Stojakovic has trimmed his list to six schools, with the Wildcats not making the cut. He is now considering Texas, Duke, Stanford, UCLA, Virginia and Oregon.
The 6-foot-6 wing earned an offer from the Kentucky coaching staff in April after an impressive spring on the Adidas 3SSB circuit with the Compton Magic. The eldest son of NBA great Peja Stojakovic, the four-star prospect told KSR that earning an offer from the Wildcats was "surreal" and "a dream."
"South Carolina, after the very first day (of the Adidas 3SSB second session), Coach Cal came to the game and I got the call. It was kinda surreal hearing his voice on the phone. It was just a dream," Stojakovic told KSR in June. "It's one of those schools where you dream of getting an offer and having the opportunity to play for Coach Cal."
Orlando Antigua was his lead recruiter and maintained steady contact with the four-star sharpshooter throughout the spring. The two sides also discussed an official visit to Lexington, which was expected to take place in the fall.
From there, though, Kentucky's priority list began to shake out, with other prospects moving ahead of Stojakovic to open the summer. Five-star guard Robert Dillingham decommitted from North Carolina State and emerged as a clear option, along with the Wildcats making up ground with five-star wing Justin Edwards. The Wildcats earned commitments from both in June and July, respectively, to go with four-star guard pledge Reed Sheppard.
Elsewhere, Kentucky has pushed all its chips in on five-star guard DJ Wagner, who the Wildcats hope wraps up their backcourt sooner rather than later.
Add up all four, and there simply wasn't room for Stojakovic in the class.
The 6-foot-6, 185-pound wing out of Carmichael (Calif.) Jesuit is the No. 31 prospect in the 2023 class, according to the On3 Consensus. He's also ranked as the No. 7 small forward in the class and the No. 8 prospect in the state of California.
Stojakovic broke down his six finalists with On3:
Texas: "Coach (Chris) Beard and Coach (Rodney) Terry have been recruiting me extremely hard and have made it clear that I am their top priority."
Duke: "A program like Duke with such success in recent years with sending their players to the pros, you can't not consider them."
Stanford: "With Stanford, it's plan A and a plan A. They have the biggest second plan of success after basketball."
UCLA: "It has so much tradition within and winning is ingrained into the players and staff. That's why they are who they are."
Virginia: "I have built a great connection with Coach (Tony) Bennett and Coach (Kyle) Getter so far. They've talked about the winning culture with Kyle Guy and Ty Jerome plus that academics are great."
Oregon: "Coach (Dana) Altman and Coach (Kevin) McKenna have been recruiting me for quite a bit and we just connected on the home visit."
What is he looking for in a school?
"I will be looking for a healthy environment to help me grow as a player and a person," Stojakovic told On3. "Most of my family is overseas and would love to come to watch me play. I want to go somewhere that would be easy for my family to get to. A good ratio of academics and basketball. My goal is to make the NBA, so I want to look heavily at the school that can best help me get there."
While he has several other strong programs to choose from, his final destination will not be Kentucky.