BBNBA: Davis, Lakers top Spurs in OT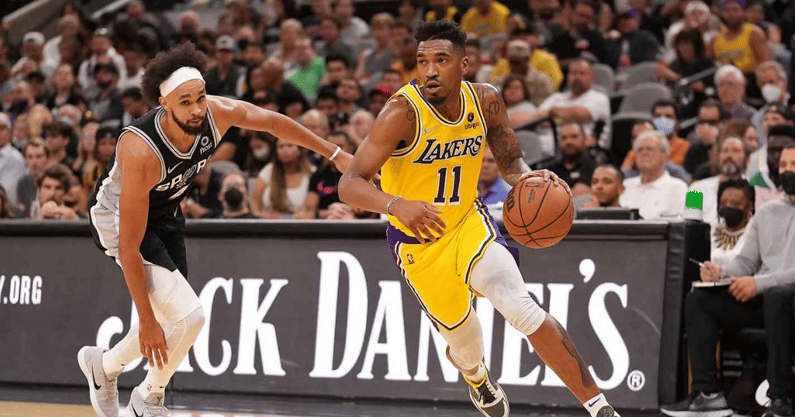 While much of America was watching the World Series last night (go Braves baby), there were some fun goings-on in the BBNBA as well. Anthony Davis and the Lakers rode a late comeback to return to .500, and a pair of former UK teammates faced off in Madison Square Garden. Let's get to it.
Minus LeBron, Anthony Davis leads the way
Ever since LeBron James and Anthony Davis won the NBA title together in 2020, it seems like the Lakers can never get them healthy and on the court together at the same time. AD missed more than a month last year with a calf strain, and LeBron has repeatedly struggled with the nagging condition of being 36 years old. All my 36-year-olds out there can surely sympathize.
As a result, the team has had to find ways to win without one of its stars. They did precisely that last night, gutting out a 125-121 overtime victory in San Antonio with James sitting due to a sore right ankle. In his absence, Davis stepped up big-time with a season-high 35 points and 17 rebounds, helping the Lakers reach .500 for the first time in this young season.
Davis and Westbrook helped L.A. overcome a 12-point deficit with a 17-4 run to open the fourth quarter. It was a battle the rest of the way, and they wouldn't pulled it off without Malik Monk, who started in James' place. The fifth-year guard hit what looked to be the biggest shot of the night in the final minute:
Unfortunately, nothing's never easy. Thirty seconds later, Davis bumped knees with another player while boxing out and fell to the ground in pain. Here we go again. The Spurs tied the game with a put-back on the same play.
Despite the scare, Davis was able to remain in the game and play the entirety of overtime, where he scored four points, including the go-ahead layup with one minute left and a rebound shortly after that effectively sealed the win. That's our guy!
Davis and Westbrook combined for 68 points in the game, with the big man adding four blocks to his double-double. Monk ended up with 17, including four made three-pointers and a crazy team-high +31 in the box. For the Spurs, Keldon Johnson was quiet, scoring 11 points on just 2-10 shooting.
Davis is listed as day-to-day with his sore knee, and his status for tonight's game against the Thunder is questionable.
Cat v. Cat Crime in New York
Playing in the same division for over a year now, former UK teammates and 2020 first-round draftees Tyrese Maxey and Immanuel Quickley have gotten to see plenty of each other in the NBA. They would've faced off in last year's playoffs if Quickley's Knicks hadn't been eliminated by the Hawks in the first round. Now with Ben Simmmons in limbo, Maxey has been elevated to Sixers PG1 — and his first matchup with IQ this year was a good one.
Yes, the Knicks rolled to a 112-99 win over Philadelphia at home on Tuesday night. Julius Randle led the way, as he so often does, with a 16-point, 11-rebound double-double. Joel Embiid was held without a field goal in the second half, which is always a tough way to win if you're Philly. But the real drama — let's be honest, the only one we care about — was between a pair of diminutive guards.
Unfortunately for Maxey, the matchup went downhill, *ahem,* quickly (I'm truly sorry). The Knicks came out of the gates on fire in the second quarter, converting six of their first eight shots to jump on top. Then this happened:
I mean, yikes. You can bet Tyrese will be hearing about that one for awhile. By the time the dust settled on the half, Quickley had six points and the Knicks led by 20. That was… pretty much it.
Randle scored 11 of his 16 in the second half, while Quickley would finish with eight. Kevin Knox and the injured Nerlens Noel did not appear. Meanwhile, Maxey had a rough go of it, making three of nine shots in 30 minutes to finish with seven. It was the first game this season that Maxey has scored less than 10 points after recording 20, 15 and 14 in his first three.
SGA pours it on, Thunder lose again
Yeah, it's gonna be a long season in OKC. Can we get Shai Gilgeous-Alexander some help?
The Thunder became the first NBA team to hit four losses this year last night, falling to 0-4 with a 106-98 loss to the Warriors. To be fair, they put up a fight in this one: OKC held an 11-point lead at halftime, limiting the Warriors to just 32 points outside of Steph Curry's 16. But the Dubs stormed back in half no. 2, taking their first lead at the end of the 3rd and never looking back.
SGA led all scorers on both teams with 30 points along with four assists. He shot an efficient 4-5 from downtown, including this nasty stepback:
The Thunder have another chance to get into the win column tonight as they host the Lakers. If LeBron and AD are both out, it could get interesting.
Here's a rundown of every 'Cat's performance last night:
Player
Result
Points
FG (3PA)
Rebounds
Assists
Steals
Blocks
TOs
Mins
+/-
Anthony Davis (LAL)
125-121 W (OT) @ SAS
35
15-31
(0-4)
17
4
0
4
2
42
+3
Shai Gilgeous-Alexander (OKC)
98-106 L vs. GSW
30
11-19
(4-5)
1
4
1
0
1
36
-3
Malik Monk (LAL)
125-121 W (OT) @ SAS
17
6-15 (4-10)
1
3
1
0
0
39
+31
Julius Randle (NYK)
112-99 W vs. PHI
16
7-18
(2-5)
11
7
0
0
1
36
+8
Keldon Johnson (SAS)
121-125 L (OT) vs. LAL
11
2-10 (0-3)
6
1
0
0
2
23
-20
Rajon Rondo (LAL)
125-121 W (OT) @ SAS
8
4-9
(0-1)
2
3
1
0
2
19
-15
Immanuel Quickley (NYK)
112-99 W vs. PHI
8
2-5
(1-3)
1
1
0
0
2
15
+13
Tyrese Maxey (PHI)
99-112 L @ NYK
7
3-9 (0-3)
2
3
1
0
2
30
-9
Willie Cauley-Stein (DAL)
116-106 W vs. HOU
0
0-0
(0-0)
1
0
2
0
1
5
+9
Nerlens Noel (NYK)
112-99 W vs. PHI
DNP
–
–
–
–
–
–
–
–
Kevin Knox (NYK)
112-99 W vs. PHI
DNP
–
–
–
–
–
–
–
–
Today in the NBA
7:00 – Hornets (Washington, Richards) @ Magic
7:30 – Wizards @ Celtics (Kanter)
7:30 – Heat (Adebayo, Herro) @ Nets
7:30 – Pacers (Jackson) @ Raptors
7:30 (ESPN) – Hawks @ Pelicans
8:00 – Timberwolves (Towns, Vanderbilt) @ Bucks
8:00 – Lakers (Davis, Monk, Rondo) @ Thunder (SGA)
10:00 – Kings (Fox) @ Suns (Booker)
10:00 (ESPN) – Grizzlies @ Trail Blazers
10:30 – Cavaliers @ Clippers (Bledsoe, Boston)