BBNBA: Randle stays hot, Freedom crashes the glass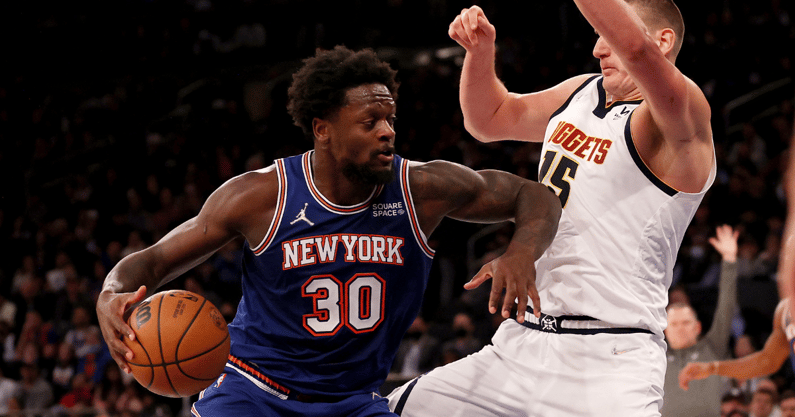 A ho-hum night of NBA action to go along with Conference Championship Saturday. But some former Kentucky bigs had good nights. Check it out.
Julius Ranlde goes for 24 in Knicks loss
The New York Knicks are in a mini-spiral, having lost three in a row now to drop them out of the NBA playoff picture for the time being.
Despite his team's losing streak, Julius Randle has strung together a nice run of performances lately. His numbers were noticeably down this season compared to last, but 2021 Randle returned to form this past week, scoring 24, 30, and 24 points in the three losses.
He's shooting fewer threes and getting back to where he was most effective previously: working for shots in the mid-post and distributing when he sees an open look for a teammate.
Last night against the Denver Nuggets, he converted 50% of his shots and finished with 24 points, seven rebounds and eight assists.
His teammate Immanuel Quickley did not have as good a night. He made just one of seven shots for a total of three points. Like Randle, Quickley has been up and down in his second year in New York, but he's seen an uptick in minutes lately. Likely due to the fact Tom Thibodeau decided to bench multi-time NBA All-Star Kemba Walker.
Veteran bigs make impact off the bench
Two early-era Cal big men came off the bench and helped their teams to blowout victories. DeMarcus Cousins chipped in 11 points and five rebounds in the absence of Giannis Antetokounmpo as the Milwaukee Bucks overcame their superstar's absence with a 124-102 win over the Miami Heat.
Tyler Herro, who's been one of the NBA's best players off the bench, started in the loss and went 4-17 from the field — a sub-20% mark. Maybe put him back on the bench to start games…
And in the Boston Celtics blowout of the Portland Trail Blazers, Enes Freedom got his revenge against his former team. Boston won 145-117 as Freedom crashed the glass for 15 rebounds to go along with nine points. Looks like the name change has given Freedom some new juice.
Johnson's Spurs upset Warriors
Golden State was the sole owner of the NBA's best record before last night's bout with the San Antonio Spurs. Powered by Keldon Johnson's 15 points, seven rebounds and excellent defense, the Spurs prevailed on the road to knock off the Warriors.
Those numbers were right on the nose of his season averages. Johnson is scoring 14.9 points — a career-high — with 6.5 rebounds, 2.0 assists and 1.0 steal per game. He's also shooting 41% from three in 2021-22, which would be a huge step for his game if it sticks.
Player
Result
Points
FG (3PA)
Rebounds
Assists
Steals
Blocks
TOs
Mins
+/-
Julius Randle (NYK)
119-115 L vs. CHI
30
14-21
(0-0)
12
6
0
2
7
39
-2
Immanuel Quickley (NYK)
119-115 L vs. CHI
15
6-17
(3-9)
3
3
2
0
1
38
-2
Keldon Johnson (SAS)
114-83 W @ POR
14
4-9
(2-4)
7
1
0
0
1
34
+30
Hamidou Diallo (DET)
114-103 L @ PHO
5
2-5
(1-1)
1
2
2
0
0
21
+2
Trey Lyles (DET)
114-103 L @ PHO
4
1-3
(0-1)
2
0
0
0
1
12
-8
Kevin Knox (NYK)
119-115 L vs. CHI
3
1-1
(1-1)
0
0
0
0
0
4
+2
Shai Gilgeous-Alexander (OKC)
152-79 L @ MEM
DNP – Concussion protocol
–
–
–
–
–
–
–
–
DeMarcus Cousins (MIL)
97-93 L @ TOR
DNP – Rest
–
–
–
–
–
–
–
–
Devin Booker (PHO)
114-103 W vs. DET
DNP – Hamstring
–
–
–
–
–
–
–
–
Nerlens Noel (NYK)
119-115 L vs. CHI
DNP – Knee
–
–
–
–
–
–
–
–
Today in the NBA
3:30: Jazz @ Cavaliers
6:00: Hornets (Washington, Richards) @ Hawks
6:00: Wizards @ Raptors
7:00: Pelicans @ Rockets (Wall – out)