BBNFL: Cowboys lose despite big play from Bossman Fat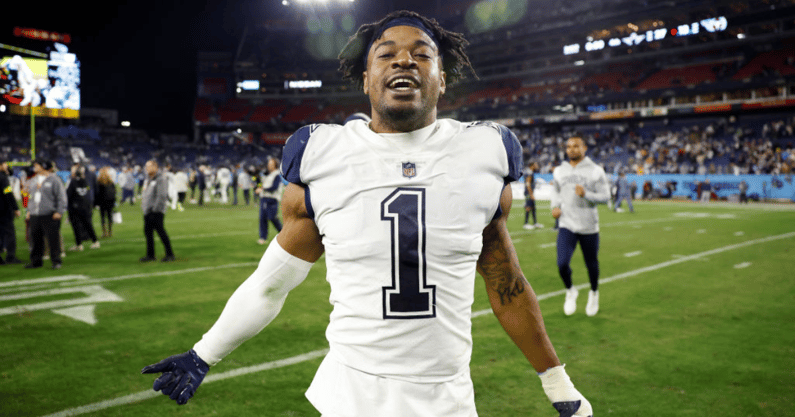 Cowboys fans of all flavors (legit, front-runner, and bandwagon) rejoiced when Kelvin "Bossman Fat" Joseph stripped the ball away from the 49ers' punt returner early in the second half to give the Cowboys an excellent opportunity to score, down just three points.
Unfortunately for Jerry Jones' squad, Dak Prescott and crew could only muster a field goal out of this prime field position. The Cowboys would go on to further demonstrate their offensive ineptitude with a series of bizarre play calls in their comeback effort, capped by a perplexing eight-yard throw when they needed 76. If that wasn't puzzling enough, Zeke Elliot played the role of the center for some reason and got absolutely blown up.
The gadgetry looked like some sort of Billy Clyde Gillespie-devised gimmick, like when he had Perry Stevenson goaltend a free throw. It didn't work.
At least Bossman Fat gave them a chance. In addition to the forced fumble, Joseph finished the day with two tackles, serving primarily on special teams. It was an up-and-down year for Bossman, ranging from minimal field action to starting and playing a significant number of snaps at cornerback. It will be interesting to see how the Cowboys choose to move forward with him next season.
Season ends for Josh Allen, Luke Fortner, Corey Peters, and Jaguars
The day before the other Josh Allen and his Buffalo Bills lost to the Cincinnati Bengals, the real Josh Allen bowed out of the playoffs himself when the Jacksonville Jaguars fell to the Kansas City Chiefs 27-20.
Chiefs fans around the world grimaced when Patrick Maholmes went down with a sprained ankle, leaving 37-year-old backup Chad Henne deep in his own territory. However, the veteran drove the ball 98 yards to paydirt, securing seven crucial points that turned out to be the margin of victory.
Josh Allen and his Jags defense have to wish they had that drive back. Allen finished with three tackles (one solo) on the night, the same as former Kentucky lineman Corey Peters.
Next season, Allen will enter the final year of his contract where he will make $10.8 million. The Jaguars flirted with trade offers for their prized pass rusher near the deadline but ultimately decided to retain him. Time will tell if they choose to revisit those trade talks in the offseason.
Luke Fortner once again played every snap at center for Jacksonville. That means he did not miss a single offensive play for the entirety of his rookie season, all 18 regular-season games and two playoff games. In total, he played 1,188 offensive snaps, making him as reliable and trusted of a lineman as a team could hope for.
There is still a shot a former Wildcat could win a Super Bowl ring
With the Jaguars' Kentucky trio sent home as well as Bossfan Fat and Quinton Bohanna for the Cowboys, you might have given up hope that any former Kentucky Wildcat would have a chance to brandish a Super Bowl ring this season.
But never give up hope.
The Cincinnati Bengals have Yusuf Corker on their practice squad, and the Kansas City Chiefs have both Darian Kinnard and Phil Hoskins on theirs. Corker has yet to be activated this season, but even practice squad players get a ring. It's just another reason to cheer for the Bengals if you aren't already.
The Chiefs actually did activate Hoskins for five games this season, though he played primarily on special teams. Similarly, Kinnard dressed for one game back in October. If the Bengals don't win on Sunday, it would be great to keep the Super Bowl champs in the AFC and send these Kentucky boys home with some bling.
---
KSR is partnering with MyBookie during the NFL Playoffs. It's a New Year, new you, so give yourself a fresh start with MyBookie. Whether you bet to earn or to make the games more exciting, MyBookie gives you the most for your money with their redesigned deposit bonus. Use promo code KSR on a deposit of $50 or more, to receive a cash bonus, instantly to your MyBookie account. Using this bonus is simple. Bet your deposit amount just once, and you're ready to cashout. It's no-strings-attached with MyBookie.