Big Blue Madness will have plenty of big-name recruits in attendance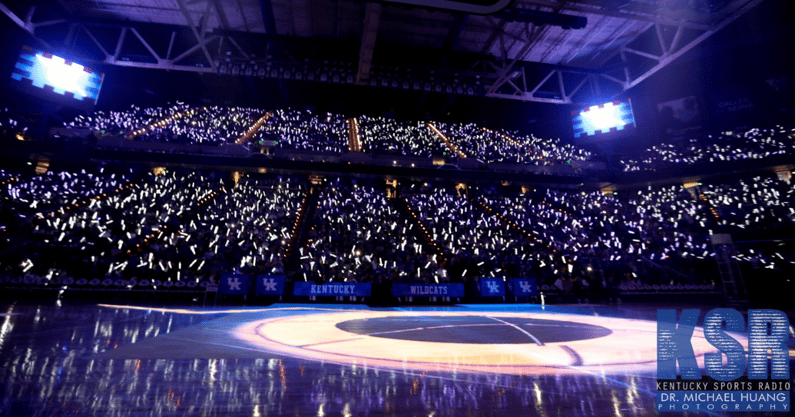 Big Blue Madness has always been about the spectacle of the event as opposed to the actual basketball that is played. It's a chance for the players to give fans a teensy inside look at their personalities while experiencing a rowdy Rupp Arena crowd at the same time. BBM is sold out once again, so it should be another electric atmosphere that will include plenty of dancing, a lengthy speech from John Calipari, and lots and lots of dunks.
For all intents and purposes, Big Blue Madness is theatre, but it's also an excellent way to pitch Kentucky on recruits: Look at how crazy this place is for just a PRACTICE. Calipari and his staff always like to bring in some of the country's premier high school recruits to BBM for a first-hand look at the Kentucky experience, and this year's event will be no different.
A handful of important names have been reported as visitors for this year's BBM, which is scheduled to begin Friday at 7 p.m. EST and will air live on the SEC Network. Let's run through them real quick, starting with the names we already know so well.
*Names of new visitors will be added between now and the beginning of Big Blue Madness as they are discovered.*
Skyy Clark (committed, C/O 2022)
Skyy Clark has been committed to the Kentucky Wildcats since last October, although it feels like years now. Remember, he was recruited by former UK assistant coach Joel Justus, who is now the lead assistant at Arizona State. But despite the coaching changes in Lexington and a revitalized recruiting approach, Clark has remained firm with UK.
KSR's Jack Pilgrim was the first to break the news of Clark's arrival in Lexington.
Clark is already pretty familiar with the Kentucky campus, recently taking an official visit back in June. He's still recovering from a torn ACL that he suffered last summer, but the rehab has gone great and he's expected to be ready to suit up and play for Montverde Academy this fall.
Reed Sheppard and Dajuan Wagner Jr. (C/O 2023)
The two must-gets from the class of 2023, Reed Sheppard and Dajuan Wagner Jr. will be both visit Lexington for Big Blue Madness.
Sheppard, a consensus four-star prospect out of London, KY, and son of former Kentucky great Jeff Sheppard, will use this weekend to take an unofficial visit, according to KSR and Travis Branham of 247Sports. Kentucky offered Sheppard over the summer and has been hot on his trail ever since. The more contact the sides continue to have, the better Kentucky fans have to feel about their chances at landing the legacy recruit.
As for Wagner, his connections to Calipari run as deep as Sheppard's do to the Kentucky program. His father, Dajuan Wagner, was an NBA lottery pick under Cal when the two were at Memphis together. The younger Wagner doesn't even hold that many offers despite his five-star status and top-3 consensus ranking, mainly because other schools believe he's a lock to Kentucky.
But Wagner has kept his recruitment quiet so far. Everything is speculation at this point, but getting him on campus for an official visit, per Branham, feels like an important step in the process.
---
Now let's talk about a couple of names that we should get to know a little bit better.
Mackenzie Mgbako (5-star SF, C/O 2023)
Much like Wagner, Mackenzie Mgbako is a consensus five-star recruit and top-3 prospect from the class of 2023. Kentucky offered him not all that long ago in mid-September, but the relationship has grown enough in the short time to warrant a trip to Big Blue Madness.
This will also be an official visit for Mgbako, according to Branham, who is being recruited by the likes of Auburn, Duke, Georgetown, LSU, Maryland, Michigan, North Carolina, Ohio State, and UCLA, among others. Recruiting experts believe that Duke is trending to land a commitment from Mgbako, but Kentucky isn't going to go down that easily.
The 6-foot-7, 185-pound wing is teammates with Wagner on the EYBL circuit, as both play for the NJ Scholars out of New Jersey. A package deal certainly feels to be on the table.
Cyr Malonga (3-star C, C/O 2023)
While we've mentioned the name Cyr Malonga in the past, he's just now beginning to earn national recognition. The 6-foot-11 big man, who plays his high school ball up in Louisville, is now considered a three-star recruit and a top 200 player in the class of 2023.
But before the star rankings even came in, Malonga had already picked up scholarship offers from the likes of Georgia, Illinois, Florida State, Kansas, Arizona, Michigan, and Georgetown. He later picked up an offer from Texas in August, has also been hearing from Duke, and was at Memphis Madness (their version of Big Blue Madness) on Wednesday night.
Kentucky hasn't offered him just yet, but the interest is mutual. New Wildcat assistant coach Chin Coleman was the one who offered Malonga when the former was on the Illinois staff. That relationship appears to have carried over to Lexington. Jake Weingarten of Stockrisers first reported that Malonga would be in for BBM.
Big Blue Madness is shaping up to be quite the event on Friday night. We'll keep you posted with all the new visitors as we learn of them.