Cason Wallace first 'Cat to go in way-too-early 2023 mock drafts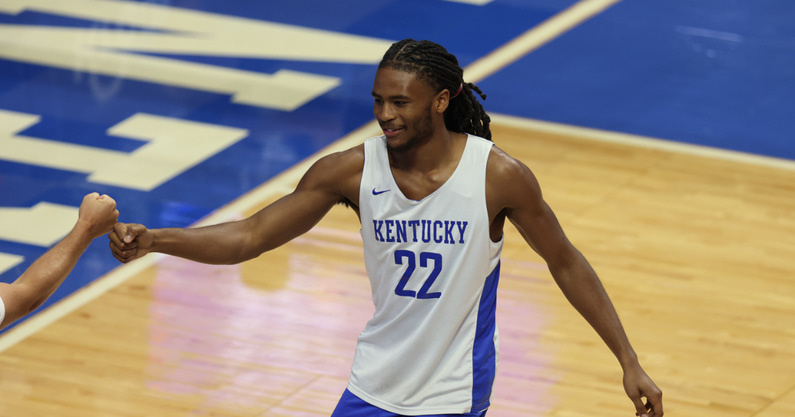 Summer in the NBA sports world can be slow, and this lack of news often turns writers into bored prognosticators. Hence, a hoard of way-too-early 2023 NBA mock drafts recently dropped. The unapologetic basketball junkies call these never-too-early mock drafts, but we can all know there is no reason these should exist a year before the first team is on the clock. So with that huge grain of salt in mind, let it be known that Cason Wallace projects to be Kentucky's only lottery pick in next year's draft.
Fellow freshman, Chris Livingston, is the other Wildcat consistently projected to go in the first round, with Big Blue Nation poster boy, Oscar Tshiebwe, and much-improved sophomore, Daimion Collins, finding the boards in a few mocks that took the time to explore beyond the top 30.
Of course, mock drafts, in general, have been shown to be as reliable as a random Twitter poll when BBN gets a hold of it. Cool, but probably skewed and therefore not the most accurate. This has been especially true for Kentucky guards as of late. Most recently, we saw TyTy Washington fall all the way to #29 after projections the same week had him going as high as the lottery.
But whether they are too early, right on time, or very late, it is hard for these NBA mock drafts not to pique a little interest. They can especially help get fans excited to watch these guys play, which will happen for the first time when the team heads to the Bahamas next week. So let's look at where the Kentucky players landed in some of the more prominent mock drafts (ESPN, The Athletic, Yahoo! Sports, CBS Sports, NBC Sports, and The Bleacher Report).
Scouts love the tenacity of Cason Wallace
Highest Projection: 7 (CBS Sports)
Lowest Projection: 17 (Yahoo! Sports)
Average Projection: 11.7
Yahoo! Sports was the only mock draft included in this way-too-early summertime sample that projected Wallace outside the lottery, but CBS Sports had him as high as #7. The consensus is that Wallace's tenacity and defense stand as the most predominant assets to his game, however, whispers of his better-than-expected shooting prowess have been echoing through the Bluegrass.
The most glowing description of Wallace's game came from Sam Vecenie of The Athletic:
If I were purely naming "favorite" players in the class, Wallace would be up there for me. He wants to rip the opposition's heart out every time he steps on the court. He's a monster defender who locks up dudes at the point of attack, never gives up on plays, is a threat for steals and blocks in recovery and is always shooting passing lanes for transition chances.

Offensively, he's a bit less complete than he is on defense, but I do like his ability as a pull-up scorer from all three levels. He is always on balance and ready to fire. He's not quite the distributor you'd like him to be, but I think he's probably a bit better of a fit for a team led by Sahvir Wheeler and Oscar Tshiebwe at the one and five, respectively, than TyTy Washington Jr. was last year. I'm a believer that Wallace has a huge year and helps this Kentucky team win a lot of games.

Sam Vecenie | The Athletic
If Wallace can replace TyTy's scoring, I will be extremely excited about what this team can do.
Chris Livingston projects to be Kentucky's other first-rounder
Highest Projection: 19 (Yahoo! Sports)
Lowest Projection: 31 (The Athletic)
Average Projection: 24.7
The same writer at the Athletic who raved about Cason Wallace was the only person in our sample to project Chris Livingston out of the first round.
Krysten Peek from Yahoo! Sports, on the other hand, praised the 6'6″, 200-pound wing:
Livingston already has a mature frame for his young age and uses it to his advantage in his back-to-the-basket game just outside the block. He loves the turnaround jumper when the defender is on his right shoulder. A true worker who will need to adjust to half-court set offensives at Kentucky, but will really shine in transition and iso situations.

Krysten Peek | Yahoo! Sports
For me, Livingston will be the prototypical (if not overly cliché) x-factor for the 'Cats this year, and the player I am most excited to watch develop. It is very possible he could play himself into a draft slot closer to where Cason Wallace is currently projected, or find himself dropping lower than TyTy did. But let's not think too much on that now and focus on him helping win some games in Lexington.
Oscar Tshiebwe was shown some respect, but not as much as he deserves
Highest Projection: 36 (ESPN)
Lowest Projection: 37 (The Athletic)
Average Projection: 36.5
Of the mock drafts included in this analysis, only The Athletic and ESPN dipped their toe into the second-round waters. The Athletic projected National Player of the Year and nicest human being to ever exist, Oscar Tshiebwe, #37 overall, while ESPN had him coming off the board at #36.
This is a jump from 2022 mock drafts which had him at the very end of the second round, if on the board at all.
I get that the NBA game is not what it was in the 1990s when players like Tshiebwe would have been sure-fire lottery picks, but it still perplexes me that someone with his athleticism and nose for the basketball isn't given more consideration. Luka Garza, he is not.
Having said that, if he develops a Luka Garza-style 3-point shot, teams may find it hard for him to fall to the second round. But considering how much he loves Kentucky, NIL, and the potential caliber of the 2023 incoming class, a return to Kentucky is not out of the question. I don't know how it would be possible for UK fans to love Oscar more than they do, but if he were to come back, that would most certainly be the case.
Daimion Collins makes an appearance
One and only Projection: 38 (ESPN)
ESPN's Jonathan Givony and Mike Schmitz showed Kentucky's springy big man, Daimion Collins, some love with an early second-round nod. His athleticism and length are what pro scouts find most intriguing, somewhat akin to Isaiah Jackson.
Playing time will be at a premium this season with such a deep roster, but if Collins can turn that potential into production, it wouldn't surprise me to see his name pop up on many more mock draft boards.
Way-too-early 2023 NBA Mock Draft Round-up
Player
The Athletic
Bleacher
Report
CBS Sports
ESPN
NBC Sports
Yahoo! Sports
Cason Wallace
9
14
7
14
14
17
Chris Livingston
31
27
27
24
23
19
Oscar Tshiebwe
37
N/A
N/A
36
N/A
N/A
Daimion Collins
N/A
N/A
N/A
38
N/A
N/A