TyTy Washington joins recent Kentucky players who fell in the NBA draft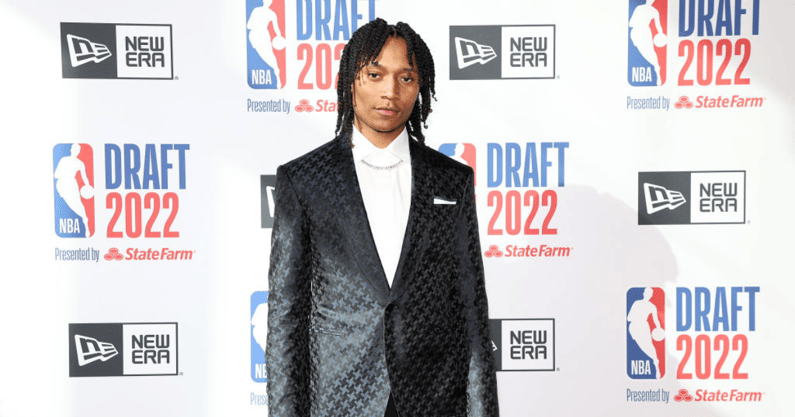 Perhaps Robert Dillingham will change this, but the traditional stereotype of, "The great point guard under John Calipari" has been a relic of the past in recent years. Cal rightfully earned the reputation when players such as Tyreke Evans, Derrick Rose, and John Wall were heroic under his helm, but NBA executives have long since approached his guards with tremendous skepticism on draft day.
TyTy Washington became the latest example of this unfortunate and unjustified trend.
Washington's average mock draft position going into Thursday was 20.7, a number that had been dropping over the course of the last few weeks. That number wound up being way off.
The 29th pick in the draft became a hot potato in the trade market but eventually landed with the Houston Rockets. With it, they took TyTy Washington to round out their all-SEC day, having already drafted Jabari Smith from Auburn and Tari Eason out of LSU.
Washington, at one point, was a sure-fire lottery pick, and while I predicted he might slip some akin to Tyrese Maxey, no one saw him nearly missing the first round altogether.
He is now the latest in what is becoming a long list of Kentucky players to wait around longer than anticipated in the draft day green room, where this year, John Calipari was conspicuously absent.
So, let's explore these players who many teams surprisingly shunned on draft day, and evaluate how much they proved NBA general managers wrong.
Kentucky's undervalued guards throughout the years
You can go all the way back to 2011 when Brandon Knight fell to 8th in the draft to find instances of NBA executives undervaluing Kentucky guards. The Detroit Pistons, who did not even work out Knight because everyone predicted he would have been off the board by this position, selected Kentucky's Final Four point guard as the best available player.
A severe knee injury derailed Knight's career, but until then, he averaged double figures every season, peaking with the Phoenix Suns when he averaged nearly 20 points per game.
Other Kentucky guards turned into superstars, such as Devin Booker, Jamal Murray, and Shai Gilgeous-Alexander. These guys look extremely undervalued in hindsight, but they did not necessarily fall on draft night too far away from their projections at the time.
In recent years, however, that has not been the case.
2019: Keldon Johnson | 29th Pick | San Antonio Spurs
Keldon Johnson exploded onto the NBA scene this season, his third year in the league. Johnson averaged 17 points and 6.1 rebounds per game with the Spurs, making a huge leap and setting himself up to be a fulcrum for the Spurs' franchise for years to come.
The potential that was always within him finally oozed its way to the surface, much to Spurs fans' delight.
However, on draft day 2019, many NBA teams doubted whether or not he could be a success. Most mocks had him coming off the board in the late teens or early 20s, with a few projecting he might squeak into the lottery, but ultimately, he had a long wait in the green room and did not hear his name called until #29.
Johnson had to watch the likes of Ty Jerome, Dylan Windler, and Luka Šamanić, the latter of whom his own team drafted ahead of him, bro-hug the commissioner before him, while he sat around in an all-white suit.
Now, Keldon Johnson is finally getting his chance to say, "I told you so."
2020: Tyrese Maxey | 21st Pick | Philadelphia 76ers
Most mock drafts had Maxey as a fringe lottery pick. With his playmaking ability and quick first step, his potential was evident to everyone who evaluated him.
Or so we all thought.
On draft day, Maxey found himself twiddling his thumbs all the way until pick #21 when the Philadelphia 76ers finally relieved him of the angst. Other less-talented guards all projected around the same position as Maxey went higher than him, including Kira Lewis, Josh Green, and Killian Hayes.
This season, Maxey averaged the same number of points per game (17.5) as all of those players combined. More impressively, he did so on a playoff team where he had to share the ball with MVP finalist Joel Embiid and, later in the year, notorious ball-hog, James Harden.
Philadelphia fans are the most unforgiving group of humans to be invested in sports, but they are all ecstatic Maxey dropped all the way down to #21 for them on draft day.
2020: Immanuel Quickley | 29th Pick | New York Knicks
Unlike TyTy Washington's final few weeks before the draft, expert mock projections had Immanuel Quickley shooting up draft boards, not dropping. While some outdated predictions had him still going in the second round, he gained the reputation for being potentially the best shooter in the class and gained a lot of buzz because of it. Quickley had great individual workouts for a host of teams, and very well could have been plucked in the early 20s on draft day.
But, alas, he too had to wait around until the New York Knicks traded a few of their picks to secure the talented combo guard. Now, they are glad they did.
Quickley averaged double figures each of his first two seasons with the Knickerbockers and provided a burst of energy off the bench. He did not regularly start but did routinely finish games, making some clutch 3-pointers in big games. And if John Calipari has taught us anything, it is not about who starts, it is about who finishes.
TyTy Washington next up to prove everyone wrong
So, why have these players fallen so much on draft day in recent years? Is there some kind of bias toward the Kentucky Wildcats? Meh.
Or perhaps some teams just feel burned from drafting Marquis Teague, Archie Goodwin, and James Young too high? That's possible.
Does John Calipari's antiquated offensive system not give the space and freedom for playmakers to fully showcase their talents? Well, that is probably part of it, but more than likely we put too much emphasis on this when it comes to how NBA scouts evaluate players.
Could it be the NBA examines a player's potential based on a myriad of criteria that has little or nothing to do with the school or coach they played for, and like most humans, sometimes they get things wrong? As fun as it might be to blame some sort of deep-rooted conspiratorial reason Kentucky guards have been dropping on draft night, it is most likely because teams just liked other players more.
Regardless of the reason, TyTy Washington now has a chip the size of Pike County on his shoulder. It will be up to him to follow the steps of Keldon Johnson, Tyrese Maxey, and Immanuel Quickley, to make all of those executives regret overlooking him.
He should have ample opportunity to do it with the Rockets, as they will likely be ushering out another Kentucky point guard in John Wall to make room for the league's newest one. Save for recently acquired Boban Marjanovic, no one on the team will be over 30 years old, as the team looks to rebuild with fresh faces and give their extremely young team a chance to flourish.
Get 'em, TyTy.