Injury report: Calipari on Cason Wallace's knee, Sahvir Wheeler's ankle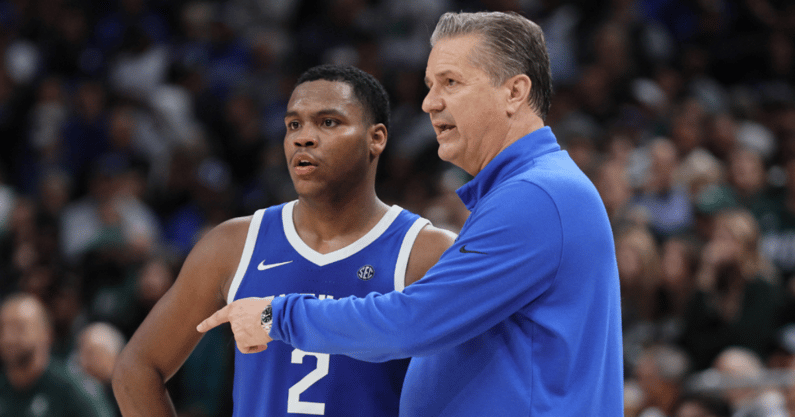 About 30 minutes before tipoff, word broke that Cason Wallace would miss the Ole Miss game as a precautionary measure after bruising his knee at shootaround. Thankfully, Kentucky was able to get the win without Wallace, and John Calipari said his injury is nothing serious.
"He had a contusion," Calipari said afterward. "So, there's nothing structurally. Banged knees. He was good at practice yesterday and we went to the shootaround and he kind of stepped funny and I told him, 'Just stay out, man.' He can't hurt himself but you don't need to be playing guys that are 80% or 90%."
Calipari gave a few more details to Tom Leach during their postgame conversation.
"He did practice yesterday. He had a big long stretch. At the shootaround today, he kind of stepped a certain way and it kind of tightened. It's a contusion. It's not anything crazy, but I told him, 'If you're not going to be 100%, don't go. Especially if you're uncomfortable, even though the docs are saying the goods, this, that, and the other. No reason to go.'"
Sahvir Wheeler plays through his own injury
Sahvir Wheeler took over his old role as starting point guard in Wallace's absence. With 3:35 left in a tense first half, Wheeler rolled his ankle on another player's foot and went to the locker room. Calipari said that even though Wheeler's ankle was "busted up and swelled," the senior insisted on playing the second half. He finished with four points, nine assists, and only one turnover in 33 minutes.
"Sahvir's in the locker room and he says, 'Coach, I'm going to go because you guys need me to win. I'm going.' And I said, 'Are you okay?' And he said, 'It hurts, but I'll be fine. I'll deal with it after the game.'
"That's a kid that plays for our state, that plays for this university, that plays for this basketball program. And you know what? It hasn't been easy. Had him coming off the bench. And you know what? It happened organically. He got hurt, was out, and all of a sudden we start playing and said, look, we're going to have to stick with this. He dealt with it."
In his postgame conversation with Goose Givens, Wheeler said he expects his ankle to be fine after a little treatment from Kentucky's trainer Geoffrey Stanton.
"I sprained it a little bit on the first half, rolled it on somebody else's foot, but I'm gonna be alright. Gonna get treatment tomorrow with Geoffrey [Stanton] and come up a game plan to get better, get it healthy."
Wheeler: "Whatever puts us in a winning position is what I'm gonna go with"
A week ago, Sahvir Wheeler came into the Vanderbilt game and gave the Cats a lift, pushing the tempo to extend the lead far out of the 'Dores' reach. Afterward, he told reporters he's fine playing whatever role Kentucky needs him to, a message he doubled down on tonight.
"I think the biggest thing was when I got hurt, that's that five that went down to Tennessee and beat a top-five team on the road. They come back and beat Georgia, at home, it was a big win. I think they were undefeated or had one loss at the time in conference play.
"As a team and as a coach and as a team-first guy, you've got to ride with that lineup. Those guys put in the work. Those guys are gelling. Those guys made it tough for the other team and they were winning games, so why not ride them? Why not go with that? Whatever is best for the team, whatever puts us in a winning position is what I'm gonna go with. And my game doesn't change whether I'm starting or whether I'm coming off the bench; I'm still going to be the same. I know the impact that I can have on a game at any given moment on both sides of the ball. And tonight when Cason went down, it was like you said, next man up and we were able to get that W."