Coen, Levis, Kinnard, and Cummings after Tuesday's Practice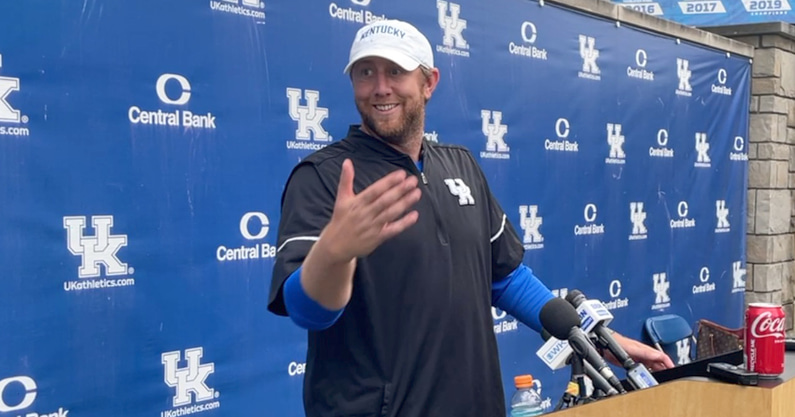 Once Sandstorm and the rooster noises died down at Tuesday's practice, offensive coordinator Liam Coen and three of his players were sent out to speak to the media on behalf of the team.
First, it was Coen at the podium for a conversation about execution against Chattanooga, potential difficulties ahead at South Carolina, and water bottles filled with pennies. He again took responsibility for any offensive struggles last Saturday.
"I was hard on myself because I don't like to put our team in a bad spot," Coen said of his self-criticism after the Chattanooga game. "It's not about me, it's not about the offense, it's about our team, and I don't love to put our team in a bad spot. So yeah, I'm going to be critical of myself. I'd rather take the bullet than our players."
Hear all of Coen's comments from Tuesday's practice.
Liam Coen
After Coen, quarterback Will Levis stepped up for his turn to speak in front of the microphones Coen kept knocking over. Levis talked about EDM music and roosters crowing during Tuesday's practice and how it energizes him for his first road game as Kentucky's quarterback.
Levis also gave his review of what he saw out of the film.
"We are kind of shooting ourselves in the foot with some little things," he said. "We are so close to being a really, really good team, and that we haven't shown our whole potential in any of our three weeks. But we've shown bits and pieces in each game of what we're capable of doing. It's just a matter of putting those pieces together and eliminating the burdening mistakes."
Will Levis
After Levis, veteran offensive lineman Darian Kinnard and new tight end Izayah Cummings held post-practice Q&As. Cummings was eager to talk about his first career touchdown catch, while Kinnard critiqued his Big Blue Wall.
"We're the O-line, we need to be as close as anybody on the field," said Kinnard. "I feel like we all need to do a better job in terms of coming to understand each other and how we play, what we do… we're pretty close as is, but I feel like we need to a better job completely meshing together as a better unit."
Darian Kinnard
Izayah Cummings