Daimion Collins shines in new starting role: "He can do everything."
"One guy's misery is another guy's opportunity." It's John Calipari's go-to Calism when a player is forced to step up in another's absence.
Tonight, Daimion Collins was forced into that position — ready or not. Keion Brooks Jr. warmed up with the team during shootaround, but left the floor with roughly 45 minutes before tip-off and never returned. He was later declared out with an illness.
As a result, Collins was thrust into the starting lineup for the first time this season, with the 6-foot-9 forward playing the four alongside Oscar Tshiebwe in the frontcourt. The moment was a touch too big for him to open the game, jacking up two early misses from three and committing a charge on a drive to the basket.
"I loved how Daimion started the game, then he started shooting step-back threes. What are you doing?" Calipari said after Kentucky's win over North Florida. "Block shots, rebound, dunk some, then every once in a while make a jumper or two. You're not playing for that.
"The time he had TyTy (Washington) in the corner yelling, 'One more,' he drove and was going to show his stuff. He ran the guy over, like, 'What are you doing?' He hasn't played that much."
After getting some bad shots and decisions out of his system, Collins settled in and thrived, finishing with 12 points on 6-10 shooting to go with six rebounds and a block in 25 minutes. He was active on the glass, positioned himself well for lobs and clean-up buckets, and defended well.
"I feel like I played good," Collins said after the win. "Probably could have done a little better, but I think I played well and helped the team get the win. … It felt real good being out there with my team, helping them get the win."
His biggest moments came in transition, finishing lobs and scoring on breakaway slams. At one point, he caught a lob from Dontaie Allen while leaping over Oscar Tshiebwe — a 6-foot-9, 255-pound center — to throw down the alley-oop slam.
It was a play that showed Collins' NBA-ready length and athleticism, one that had his teammates buzzing after the game.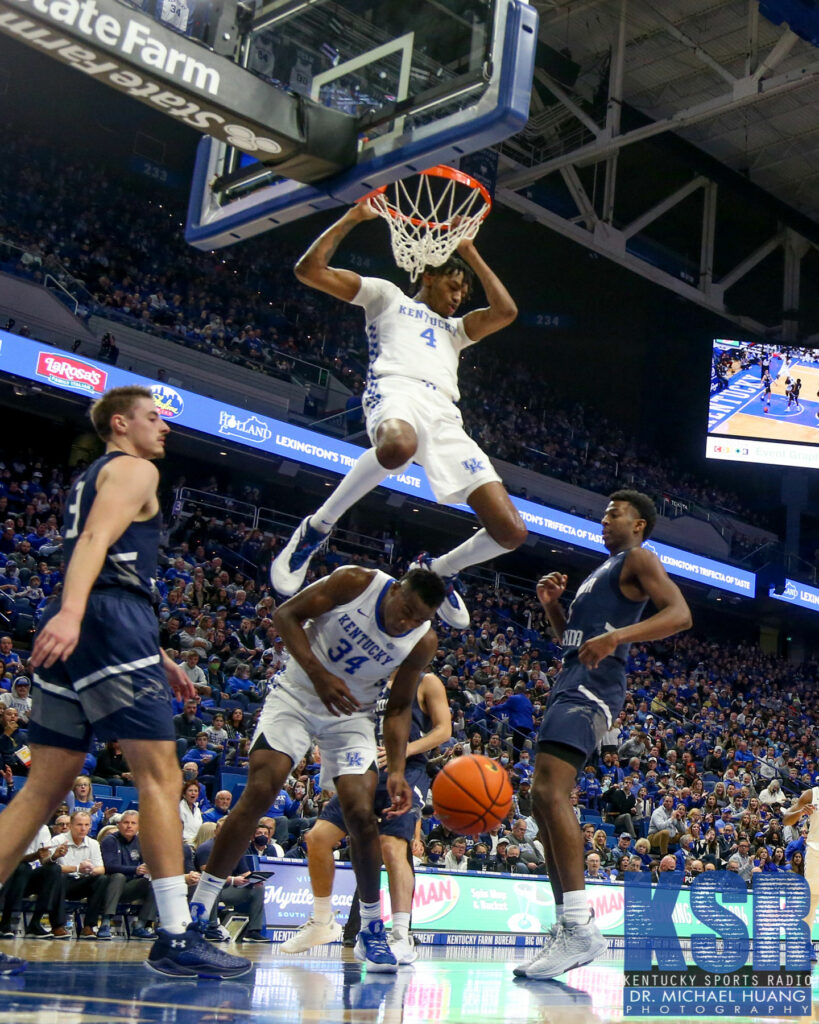 "That was crazy," Sahvir Wheeler told KSR. "We see that in practice, but for him to do that in a game, that's crazy."
As great as the highlight was for Collins, Tshiebwe didn't like being put on a poster by his own teammate, joking that the freshman forward needs to be more careful on vicious dunk attempts.
"I did not even seeing coming, to be honest," Tshiebwe told KSR. "Just heard from the back, looked up, and it was Daimion. I was like, 'Come on bro, you should not do that to me.' He said, 'I put you on a highlight, Oscar.' I said, 'OK, that's OK.'"
Collins didn't even realize the extent of his highlight until watching the replay on his phone after the game.
"I didn't (know I jumped over Tshiebwe)," Collins said. "Didn't know until I saw it after the game, looking at my phone. … I jumped over him at Big Blue (Madness), but he's the only person I've ever jumped over that big. He's the only one."
It's not just the crazy dunks that justify his extended time on the floor. He's raw and thin, but his natural ability to block shots and score in transition is second to none on the roster. Build on the strengths and minimize the weaknesses, and you've got clearly something there with Collins.
"What's the impact he makes on the game? You see the impact," Calipari said.
"Daimion was good, he looked good," Tshiebwe added. "If he keeps playing like that — we need him because he jumps, blocks shots, good at alley-oops and dunking the ball."
The weaknesses are clear. He didn't start lifting weights till he arrived on campus and just started playing basketball competitively at age 16. Collins is new to the game and his body isn't built to battle in the post — not yet, anyway.
For how new he is to the game, though, there's still so much there to work with. As UK assistant coach Jai Lucas put it earlier this month, Collins is like a "blank slate," the perfect combination of natural ability and potential.
"Daimion at his best? He can do everything," Wheeler told KSR. "Daimion at his best is a really, really, really good player. He can impact both ends of the court, you can see him backdooring, making lobs, making mid-range jump shots, catching lobs. On the defensive end, he can defend one through five. He can guard guards, guard bigs, rim protect, offensive and defensive rebound.
"He provides that lob threat, especially in transition, like 'Where's Daimion? Where's Daimion?' When he's sprinting, he's invaluable. We need him. We need him, we definitely need him."
It's a process Collins is enjoying. He knows he's got a gift — several, actually — and loves watching the growth as much as the fans are. That's why he came to Kentucky in the first place.
"It's real fun being able to do stuff like that because it's not something everybody can do," Collins said of his highlight-worthy plays. "That's my favorite part of the game. … To do something like that, it feels really good."
Collins will have more days of inconsistent play and foul trouble. There will be times he won't be able to match the physicality of other standout bigs, especially in the SEC.
But there will be good days, too. Really, really good days. Tonight was yet another step in the right direction.