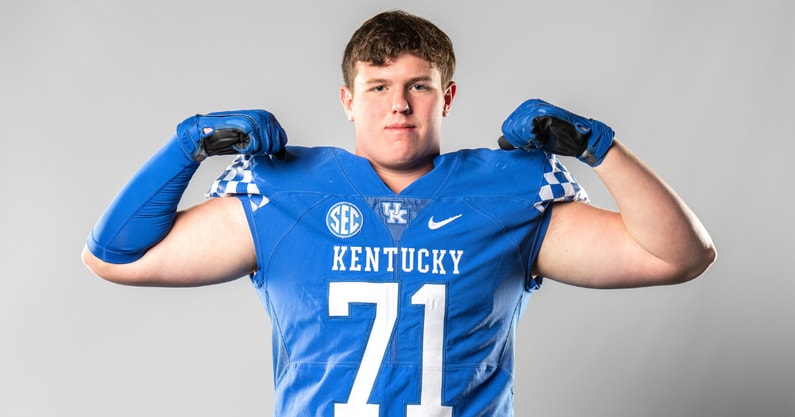 Kentucky is on the board in the class of 2024. Campbellsville (Ky.) Taylor County rising junior Hayes Johnson committed to the Wildcats on Thursday morning as this program looks to rebuild on the offensive line.
Kentucky was able to stay in-state to record its first recruiting win of this cycle as the program gets set to host a monster junior day on Saturday with multiple 2024 prospects set to be on campus. Johnson will be the only commit of the bunch.
In the past, Kentucky has had much success with recent three-star offensive lineman from their home recruiting territory in both Ohio and Kentucky. Johnson seems to fit the mold of what Kentucky desires on the line of scrimmage. This is a strong player at the point of attack with good finishing ability that appears to check the intangibles box for the Big Blue Wall.
Let's dive into the KSR Film Room to see what the first commit in the class of 2024 will bring to Kroger Field.
When you roll the tape, there are not many big dudes across the line of scrimmage from Hayes Johnson. Therefore, you would expect for this three-star prospect to maul opposing defenders quite consistently. The 2024 recruit is consistently able to gain an upperhand early by winning with a solid punch.
Lined up at right tackle, Johnson consistently flashes good play strength with the ability to knock defenders backward. There are a good amount of knockdown blocks due to sheer power at the point of attack. That should translate to the next level where the competition will be bigger and stronger.
In Liam Coen's introductory press conference, Kentucky offensive coordinator talked about how the Big Blue Wall needed to get corrected and play back to its standard. That message was repeated on Wednesday when mid-year transfer enrollees discussed playing with an edge. Hayes Johnson plays with an edge.
Johnson is quite often finishing blocks with gusto and is not afraid to let fellow competitors hear about it. The right tackle flashes another good strike upon arrival and then finishes the block with authority. This occurs frequently for Kentucky's latest commitment.
Hayes Johnson is not the most athletic offensive line prospect, but the Kentucky native does play with a good base and that allows him to control blocks and climb to the second level to take on off-ball linebackers.
Johnson does a very good job here of climbing quickly and arriving to his target under control. The offensive line prospect shows some good foot agility and locks on before beginning his drive block. We don't see Johnson outside of traditional power concepts on tape, but it seems as there may be some athleticism to tap into at the next level.
Hayes Johnson fits Kentucky's culture
As John Schlarman built the Big Blue Wall, Kentucky filled its offensive line room with numerous players from Kentucky and Ohio that played with a mean streak. There were obviously some huge blue-chip recruiting wins, but some three-star recruits were always there that developed and played with a mean streak.
Hayes Johnson fits that mold.
The rising junior at Taylor County seems better suited for guard at the next level where his linear play strength can be best utilized. Johnson seems to fit an inside zone of gap scheme run game where double teams and movement against big defensive line players is needed. As with many high school o-line prospect, pass protection is a big question but Johnson has the size and strength to translate to the next level.
But perhaps most importantly, this is a player that plays with an edge. Johnson finishes blocks with aggression, plays with bad intentions, and doesn't seem afraid to let defenders know about it. As Kentucky is looking to have an attitude adjustment along the offensive line, the first commit in 2024 should fit in well.