Forward Momentum: Justin Edwards' Commitment in Context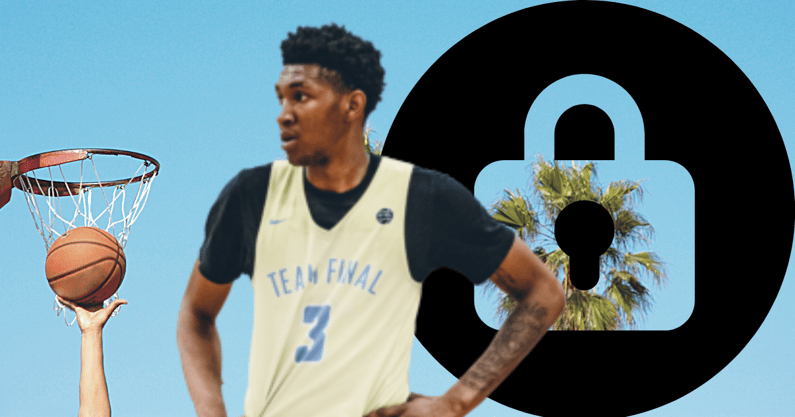 The commitment of five-star forward Justin Edwards last week presents Kentucky with an invaluable asset for their 2023-24 roster: defense-first talent on the wing. Since the days of Michael Kidd-Gilchrist, this luxury has been scarce — and its absence has frequently bitten the 'Cats in March. As the flow of college offense shifts increasingly to the perimeter, securing two-way talent at the three is becoming increasingly crucial.
Edwards' arrival is still a year away, and his skillset isn't terribly flashy or unique. He brings a versatile offensive game with catch-and-shoot ability, a solid handle, and elite ball-hawking instincts on defense; but what he signifies is much larger. For the first time in nearly a decade, Kentucky appears ready to place that missing piece.
A Series of Unfortunate Events
Where did UK's sauce-less wing problem begin? The first three years of John Calipari's tenure were rich with reliable two-way players at small forward. Darius Miller, DeAndre Liggins and MKG were all dogged defenders capable of locking down opposing scorers. But all three were gone by the fall of 2012, and they ostensibly trusted the role to Alex Poythress for several years.
Poythress was never a bad defender, but he was inconsistent, and not a perfect fit. Missing out on the likes of Shabazz Mohammad, Andrew Wiggins and Kelly Oubre in successive years clearly put a hitch in Calipari's roster plans. Still, Poythress developed into a relatively reliable frontcourt presence by his junior year; if not for his brutal ACL injury in December of 2014, the 40-0 dream might well have become reality. Instead, the bulk of his minutes that year fell to freshmen Trey Lyles and Devin Booker, neither of whom had the strength and agility needed to stay in front of Sam Dekker when he torched UK for 16 points in… well, you know the rest of that story.
In the years that followed, Calipari cast a wider net in recruiting to try and offset his losses. He landed Kevin Knox, Hamidou Diallo and Keldon Johnson, none of whom were able to fully gel as freshmen. Charles Matthews, Kahlil Whitney and Jarred Vanderbilt also projected well defensively, but they didn't stay long enough to realize that potential in Lexington. And top prospects continued to elude him, as studs like Jaylen Brown, Michael Porter Jr. and Cam Reddish committed elsewhere.
Last season, Kentucky had one of their most complete teams in recent history on paper; and still, they were vulnerable on the wing. Keion Brooks Jr., Jacob Toppin and Bryce Hopkins had all the athleticism in the world, but none of the necessary speed. And again, we know how that turned out.
This year, Kentucky brought in two potentially high-impact wing defenders in Cason Wallace and Chris Livingston. Both are top-15 recruits, and they happen to be UK's only top-100 commitments in the class. The exact nature of their roles in Calipari's defense is still TBD, but it's encouraging to see those positions being focused on for a change.
Back to the Basics
Kentucky's flurry of activity in 2023 recruiting has been fascinating to watch. The dominoes are beginning to fall for what Reed Sheppard and others have already dubbed a "dream team" of top-rated recruits, unlike any we've seen since at least 2013. If the past decade has proved anything, it's that there's a tangible difference between good and great among five-star talents. By most accounts, Edwards looks like the latter.
According to 247 Sports, Edwards rates as the No. 3 player in his class. Rivals says the same. If those scores hold, it will be the first time since Kidd-Gilchrist in 2011 that UK has netted the top-ranked small forward in any class. It's also the first time in that span that they've netted any top-5 SF (the closest being James Young, who rated 9th on Rivals in 2013).
All that to say, Edwards' commitment means one less very important thing to worry about for next season. In the meantime, I recommend checking out Brandon Ramsey's film breakdown from last week. Here's a sneak preview of those defensive instincts:
Yes, please. Sign me up for more of that… it's been too long.