Reed Sheppard helping recruit "Dream Team" to Kentucky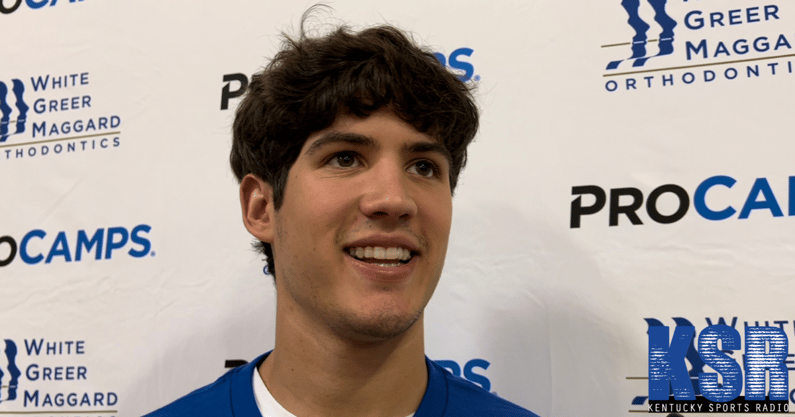 To open the 2022 Nike Peach Jam last week in North Augusta, five-star guard Rob Dillingham told KSR he was looking to form a "Dream Team" of sorts at Kentucky. It started with him and four-star guard Reed Sheppard, followed by five-star wing Justin Edwards, who would join the recruiting class just days later.
From there, Dillingham looked to add DJ Wagner and Aaron Bradshaw — five-star high school and grassroots teammates from New Jersey — along with "maybe a few more" in hopes of bringing a national title to Lexington.
"The Dream Team would definitely be DJ (Wagner), Justin (Edwards), Aaron (Bradshaw), maybe a few more people. We already know Reed (Sheppard) is there," Dillingham told KSR at Peach Jam last week. "Maybe not a super team, but a team that can win a national championship because Kentucky hasn't won it in a minute. That's what I hope to bring there, that's my goal."
It started with Edwards, the nation's No. 9 overall prospect in the 2023 On3 Consensus. He joined Kentucky's recruiting class on July 25, giving the Wildcats their third commitment overall.
It was an addition that has Reed Sheppard excited for what's to come.
"I've never played against him, but Justin is a great player," Sheppard said at his Players First Satellite ProCamp in Georgetown on Thursday. "I got to watch him play a little bit at the (NBPA) Top 100 Camp, hung out with him a little bit. It was really neat being around him, talking to him, trying to convince him to come to Kentucky while we were there at that camp. I kind of had an idea before that he was going to come to Kentucky."
Like Dillingham, Sheppard is intrigued with the idea of forming a "Dream Team" in Lexington, a group capable of making a deep run in March. To do so, he has three names in mind to add to Kentucky's recruiting class in 2023.
"It's just really cool now to have two other teammates (in Dillingham and Edwards)," he said. "Hopefully we can get some more with Aaron (Bradshaw), DJ (Wagner) and Ron (Holland). All of it is just really fun, an experience we'll never forget."
Sheppard admits he's comfortable putting on his recruiting hat to help bring talent with him to Kentucky. He's been doing it essentially from the minute he committed to the program back in November.
His pitch to other high-profile recruits interested in joining the fold? Look at John Calipari's track record with other elite prospects. If you come to Kentucky, you'll find success one way or another. Coach Cal will make sure of it.
"It's Kentucky, right? It's Coach Cal," Sheppard told KSR in Georgetown. "Look at the players they've brought in, where they are now. They're all in the NBA doing really well. If they're not in the NBA, they're overseas making a good name for themselves.
"That's kind of what I'm telling them, 'Look what Coach Cal can do with you after Kentucky. He gets you better, no matter how long you stay. He gets you better and improves your game, and he knows so many people that he can get you about wherever you want to go. Whether it's basketball or not basketball, he'll be able to put in a good word for you because he knows so many people.'
"That's kind of my pitch. He's going to get you where you need to go."
Calipari leads the charge when it comes to recruiting, with Orlando Antigua, Chin Coleman and KT Turner filling the gaps. It's an impressive group that has certainly established some clear momentum on the trail in recent months.
It certainly doesn't hurt to have Sheppard, Dillingham and now Edwards there to help, either.