Jeff Ruby's Leftovers from a Kentucky Win over Southern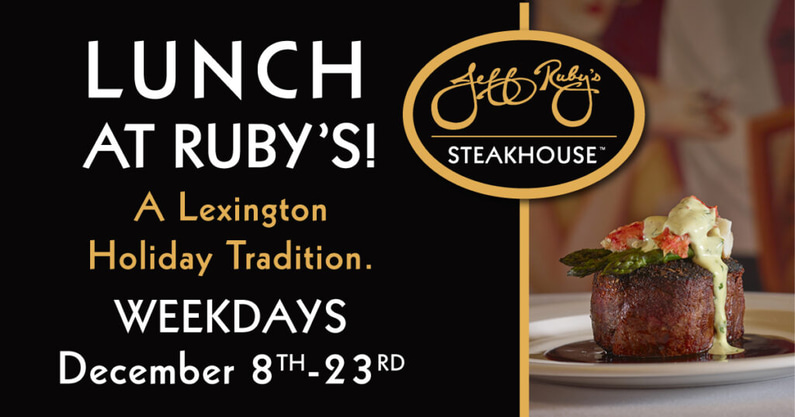 After enjoying a Kentucky win over Southern, enjoy lunch at Jeff Ruby's today. Holiday Lunch at Jeff Ruby's Steakhouse is a highlight of the Season in Lexington! Celebrate the Holidays with lunch at your favorite downtown staple, weekdays 12/8-12/23. Reservations available at JeffRuby.com.
Standard gift cards are available as are virtual gift card options ready for immediate gifting for last-minute shoppers. Purchase online at JeffRuby.com or at any of the Jeff Ruby's Steakhouse locations in Lexington, Louisville, Cincinnati, Nashville, and Columbus.
---
Leftovers never tasted so good. Kentucky is finished with its tune-up games, completing the early season stretch 7-1 with a 76-64 win over Sean Woods' Southern Jaguars in the inaugural Unity Series.
For most of the night at Rupp Arena, it felt like Kentucky was just trying to get out of there with a win. Every time the Wildcats threatened to blow the doors off the hinges and open the game up, a scoring run never materialized. Southern was able to cut the deficit to six with nine minutes remaining. Kentucky only led by eight points with 3:51 on the clock.
"Thank goodness we won because they played harder than us," John Calipari said. "Sean did a better job coaching his job than I did."
Sean Woods added, "It was good coming home. I thought I could sneak one."
Thankfully, the Wildcats have Oscar Tshiebwe. Anytime the team needed a spark, the Big O provided it. He made 9-of-11 shots to finish with 23 points and 11 rebounds, leading all players in both categories. TyTy Washington was the only other Wildcat to score in double figures, chipping in 14 points.
Kentucky was not at its best Tuesday night, and it didn't need to be to defeat Southern. Now it's time for the Wildcats to take their game to the next level. We don't truly know what this team is capable of yet, but the early seven-games stretch showed the BBN that there is a ton of untapped potential Calipari must pull out of the experienced squad.
An Outstanding Intro
UK's PA passed the mic to students at William Wells Brown Elementary Tuesday night. Lucky. Ten-year-old Nick is incredibly jealous of these kids. Very cool.
Darius Miller Returns
A Kentucky legend returned to Rupp Arena to watch the Wildcats. A Sweet 16 and National Champion, Darius Miller was given a standing ovation as he did the 'Y' in the second half of the Southern win.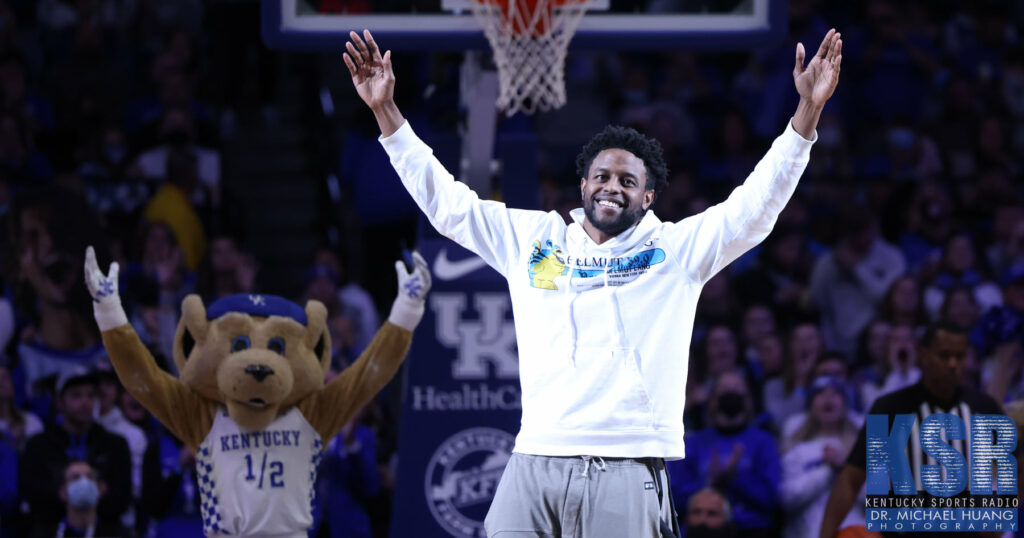 He wasn't the only former Cat in the building.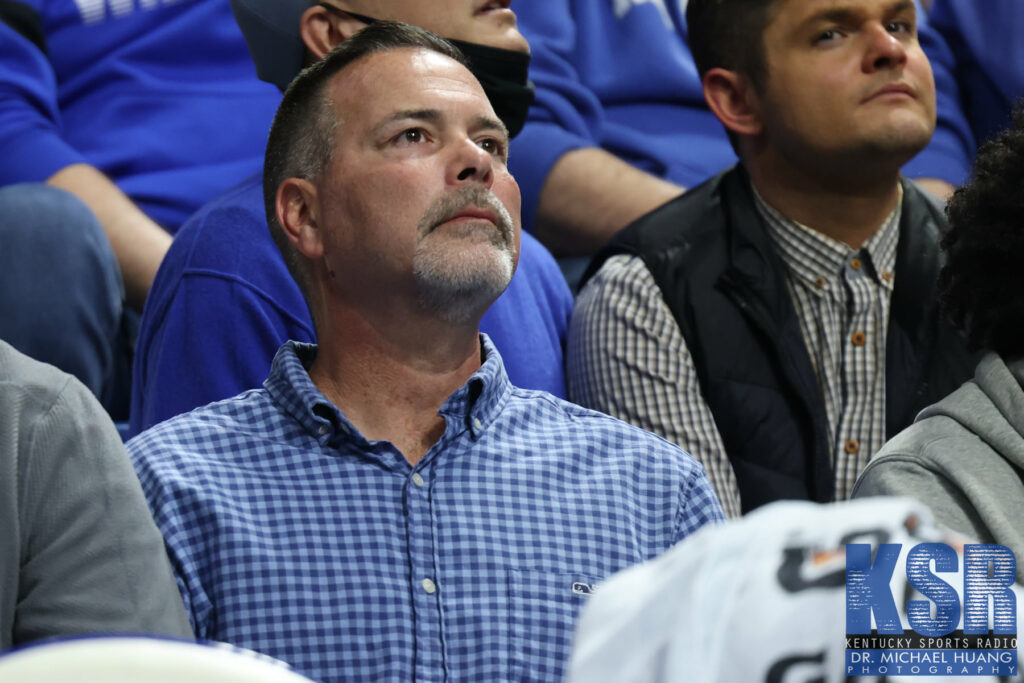 Block Party
Aside from Tshiebwe, Kentucky's bigs struggled to get going offensively. That was not the case on the other end of the floor. Oscar, Jacob Toppin and Daimion Collins held a block party, helping the Cats shot a dozen Southern shots. Check out all of the stats from the win.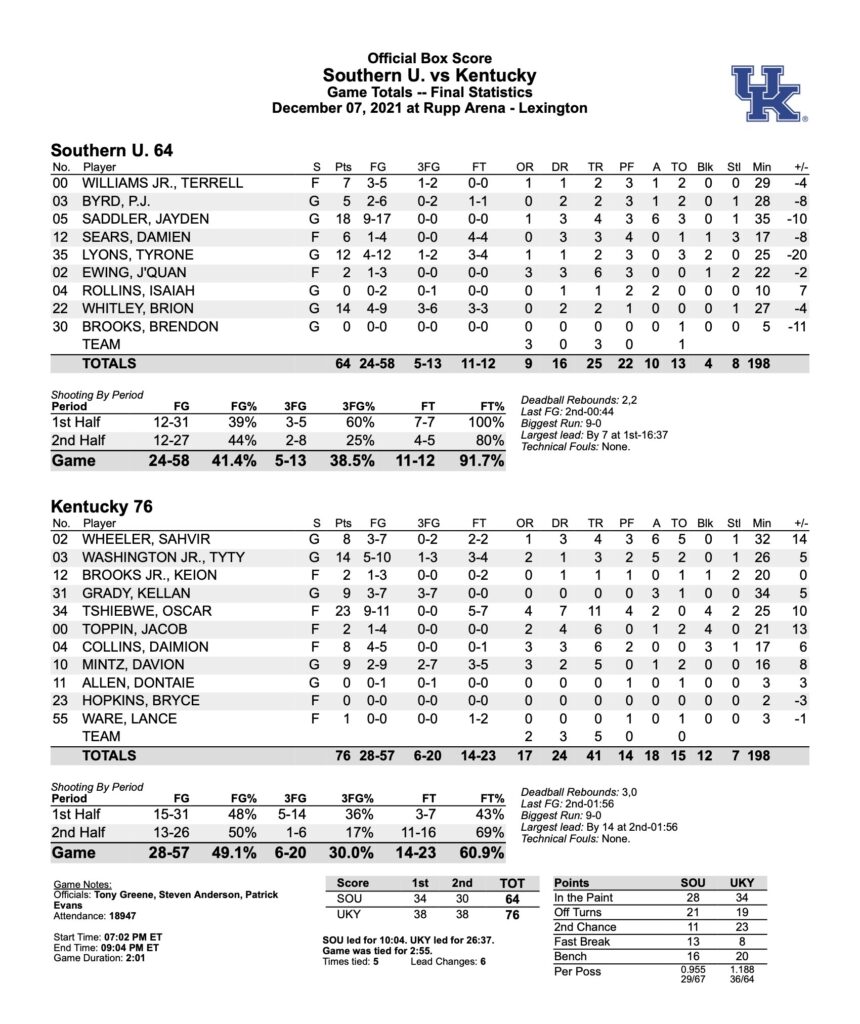 Highlights from the Win
Fantastic Photos
Dr. Mike is simply the best.
College Basketball on TV tonight
Texas Tech and Tennessee set college basketball back 40 years by missing a combined 94 shots in the 55-49 overtime win for the Red Raiders. Hopefully tonight's games will not look as bad as this.
7:00 PM (ESPN2): No. 15 UConn vs. West Virginia
7:00 PM (SEC Network): North Florida vs. No. 20 Florida
7:00 PM (BTN): Indiana vs. No. 22 Wisconsin
9:00 PM (BTN): No. 19 Michigan State vs. Minnesota
9:00 PM (ESPNU): Towson vs. No. 21 Ohio State
9:00 PM: Utah State vs. No. 24 BYU
10:00 PM (PAC12): Wyoming vs. No. 11 Arizona
One Week till Signing Day
The big day is almost here. Kiyaunta Goodwin celebrated the occasion by attending Tuesday night's basketball game after hosting Jimbo Fisher for a visit at his school. Destin Wade and Barion Brown stayed in Nashville to pick up Mr. Football honors. I'll have more on Kentucky's historic recruiting class later today to get you ready for the homestretch.