John Calipari issues urgent call for new practice facility: "We need to do this"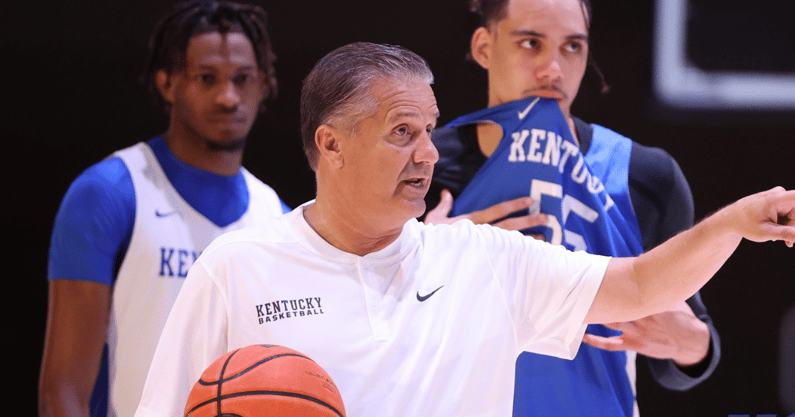 Over the past few months, John Calipari has been beating the drum for a new men's basketball practice facility, and today, he took that call for action up a notch. In an interview with KSR and other outlets in the Bahamas, Calipari shared his vision for the facility, which could also house a Kentucky Basketball museum, and discussed why it is so urgently needed. The fact that the roof in the practice gym leaked last week is just one part of it.
"This is my mindset, what I'm saying. I'm not saying just a gym — but it has to be bigger and not leak like the one we've got. But it's gotta be bigger because that's what they are now. People should come in and see this and say, 'Whoa.' But this is Kentucky Basketball. The gold standard in the country. This university, this state, basketball. So now, it's time to say, this is what we want to do. I think again, yeah, I'll push the needle. Let's go."
"University FOR Kentucky"
The Joe Craft Center was built in 2007, and, at the time, was impressive. To replace it, Calipari envisions a state-of-the-art facility, "the centerpiece of the campus," where players could not only train, but fans could come and learn about the history of the program. He mentioned how much University of Kentucky president Eli Capilouto has invested in the campus during his tenure and the results that have come with it. Calipari wants to do the same with the basketball program to ensure it's set up for years to come; not just for the university, but for the state and the fans.
"The other thing I see, University FOR Kentucky. Not University of Kentucky. University for Kentucky," Calipari said, mentioning his recent tour of the state. "It includes the history of this program. Where do you find the history of this program? Where? Do you go in a book and read it? How about, the history, where people from east and west can come and there's the history of this program?"
Calipari wants interactive displays where fans can come and get their picture taken with models of former Cats and listen to old games and interviews with players.
"This state deserves that. This basketball program has been what it's been for 100 years. It ain't changing. But that's part of it."
"It's the next challenge that we all have"
Calipari's vision is grand, but where does the money coming from? Calipari obviously is appealing to the administration, which has heavily invested in other athletic programs over the years. Once again, he mentioned the improvements to the football, baseball, soccer, and track facilities. He also thinks that given how much Kentucky Basketball means to the state of Kentucky, the folks in Frankfort should get involved too. He also mentioned former players, recalling how Anthony Davis donated $350,000 to Kentucky's flood relief telethon last week, and even fans.
"I would say, the administration should be like, 'We're doing this.' How about the state? If this is the University for Kentucky and it's the basketball program, which everybody, that's what it is, how about the state says, 'We're in. We're going to invest.' I'll tell you right now. Anthony Davis gave $350,000 on a text to me. 'I want to do this. Tell me what I do.' Do you know what our former players would do? They've just got to see it. What is it? It's the next challenge that we all have."
If Kentucky doesn't, Calipari says they may be left in the dust.
"Now, if we all want basketball to keep going like we're doing, they can say, you're doing recruiting, this that or the other, this stuff flips real quick. I think it's the next challenge we have and then it becomes — I'm telling you, why wouldn't the state come in and say, 'We're in. We'll earmark it.' Because this is the basketball program for the University for Kentucky. And everybody can enjoy this and come and see this and be on campus and look at what this is. Again, I think you would have people give to it. That's one thing people in this state will give to: men's basketball. Oh, they'll give."
When it comes to a timeframe, Calipari believes a new practice facility can be completed in one to two years, recalling how quickly the plans came together for the Rupp Arena locker room, which was renovated in 2012. Where would the new practice facility go? Calipari isn't certain yet, but wants it to be the jewel of Kentucky's campus.
"I have an idea where I'd like it to go because I'd like it to be the centerpiece of the campus. In the centerpiece of the campus, we have an unbelievable library, where it sits and all that. There are areas where you can say, 'Wow. It's that space.' But, you know what? That would be people coming together and saying, 'How do we do this? Where do we do it?'"
"This is a basketball school"
One part of the interview that will rub people the wrong way is Cal's insistence that Kentucky is a basketball school above all other sports — including football. For that reason, he believes the new facility is warranted.
"You've got to be intentional. You've got to say, 'We're doing this.' And the reason is this is a basketball school; it's always been that. Alabama is a football school. So is Georgia. They are. This is a basketball — no disrespect. Our football team, I hope they win games, ten games, and go to bowls. At the end of the day, that makes my job easier and it makes the job of all of us easier. But, this is a basketball school. And so, we need to keep moving in that direction and doing what we're doing."
"They showed me the locker room. It smelled like urine."
To hammer his point home, Calipari mentioned the renovations to the Rupp Arena locker room in 2012 and how sorely needed they were.
"I'll tell you this story. They showed me the locker room. It smelled like urine. Pee. That's what it smelled like. You know why it smelled like pee in there? The circus was in there the week before. Do you know what elephants do? They pee. And how about a giraffe? Do you ever see a giraffe pee? It's five minutes.
"So now all of a sudden, you figure out the entire building had heating and cooling, one unit that heated everything, including the locker room. So, if it was 90 degrees in that arena, it was 90 degrees, 105, you know what pee does at 105? And I went in and said, 'We can't do this.'"
With the help of Joe Craft and the Healey family, Calipari raised the money to renovate the locker room, add more locker rooms, 6,000 feet of storage space, a new media area, and, most importantly, a separate heating and cooling system. Now, Kentucky's locker room can stay at 71 degrees year-round (and not smell like pee).
"That locker room will be fine for another ten years. I want this, whatever we do, 20 years. Everybody's still talking and still, you know, building it the right way. And we can do it. And we can raise the money. But you've got to get started. You've got to get champions for men's basketball, for the basketball program. Who are the champions? Can't be just me. It's gotta be throughout. When the university stands and says, 'We need to do this. This will get done right away.'"