Jordan Wright expected to return vs. South Carolina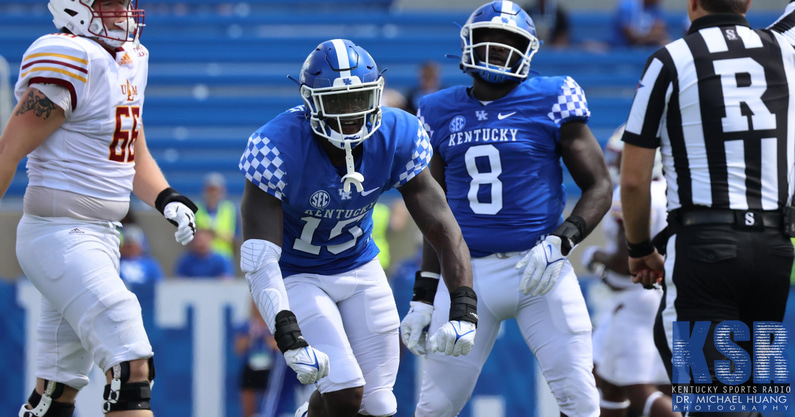 One of Kentucky's top pass-rushers is expected to return to the lineup for the first road trip of the 2021 season. Mark Stoops said during Monday's press conference that Jordan Wright will be active when the Wildcats travel to Williams-Brice Stadium to take on the South Carolina Gamecocks.
A minor injury sidelined Wright for Saturday's 28-23 win over Chattanooga. Kentucky could have used his explosiveness. The Wildcats recorded nine QB hurries but failed to sack the Mocs.
How JJ Weaver can help Wright
J.J. Weaver can help Jordan Wright at the Jack linebacker position by playing less. It feels counterintuitive, but let Mark Stoops explain.
When Wright suffered the injury setback vs. Missouri, it forced Weaver to play 30 snaps, almost three times more than the coaches' pregame snap-count. Weaver looked great vs. Mizzou, recording a crucial tackle for loss and game-saving sack. Kentucky did not exactly replicate that formula for success against the Mocs.
"We're probably putting a lot on him, to be honest with you," Stoops said. "We need to try to be conscientious of that and try to back off a touch for him."
Weaver is still making up for lost time. It's a mental and physical challenge. Even though his knee is 100% healed, he's not physically conditioned to play full-speed 100% of the time.
"His knee, it's not like you're putting him in jeopardy. That's not it," said Stoops. "It's just getting his legs up under him so he can play as fast as we need him to play in critical moments, predictable pass and things that he's good at. We all know we need some pass rush. Well he's a guy that can do that if he's fresh and rested and coming in in certain situations."
With Wright back in the lineup, Kentucky can return to using Weaver when he's at his best in predictable passing situations.