Justin Edwards named Pennsylvania Mr. Basketball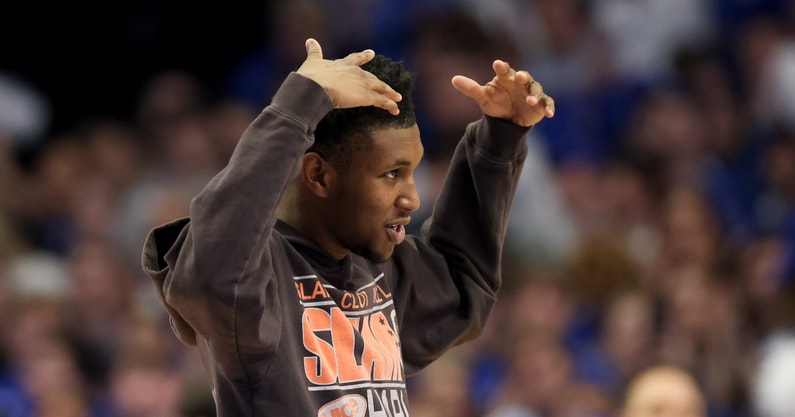 Add another accolade to the list for Kentucky signee Justin Edwards — and it's a big one. The top-ten recruit in the class of 2023 has been named Mr. Basketball in Pennsylvania, an honor recognizing the best high school player from his home state.
Edwards was selected among six finalists after helping lead his Imhotep Charter Panthers to their ninth state championship since 2009. The future Wildcat averaged 17.9 points and 7.5 rebounds as a senior to lead the team. His career highlights include being named Philadelphia Public League MVP twice while winning the Public League Championship three times and PIAA state title twice.
The 6-foot-7 wing was named a McDonald's All-American and was also selected to the Nike Hoop Summit and Iverson Roundball Classic. He was also a SLAM High School All-American alongside fellow Kentucky signee DJ Wagner.
Edwards closed out as the No. 4 overall prospect in the final 2023 On3 Player Rankings, one of four top-25 recruits (five in the top 26) for the Wildcats. Aaron Bradshaw followed at No. 5, followed by Wagner at No. 6, Rob Dillingham at No. 25 and Reed Sheppard at No. 26.
The projected top-five pick in 2024 recently showed off his abilities in front of NBA scouts leading up to the Klutch Pro Day in Los Angeles.
He's expected to arrive in Lexington next week, joining his fellow freshmen signees for move-in. From there, the Wildcats will take the floor for the first time in July for the 2023 GLOBL JAM in Toronto. That's scheduled from July 12-16, a four-game Under-23 exhibition trip with matchups scheduled against Canada, Germany and Team Africa.
What players will join the team beyond the five incoming freshmen and two confirmed returning sophomores? This week should provide some significant roster clarity one way or another.
Discuss This Article
Comments have moved.
Join the conversation and talk about this article and all things Kentucky Sports in the new KSR Message Board.
KSBoard