Karl-Anthony Towns joins Kevin Hart on "Cold as Balls"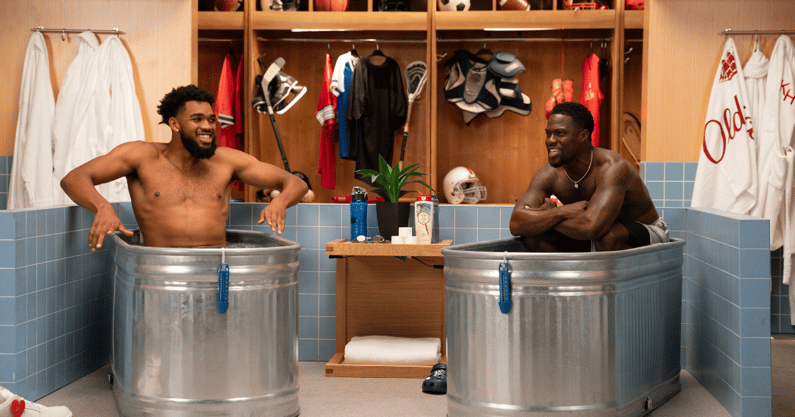 Karl-Anthony Towns has joined Kevin Hart in the ice tub for the season five debut of Cold as Balls on the Laugh Out Loud Network.
In the return of the internet's biggest sports talk show — it has earned over 1.34 billion views to date — Hart interviews Towns about life as an athlete and his journey to the NBA. In the one-on-one, the former Wildcat opens up about his decision to sign with Kentucky, other college finalists, family struggles, his well-known imaginary friend Karlito, and the hardest player he's ever had to play against.
Why Kentucky? Towns says after growing up in a paycheck-to-paycheck household, he wanted to go somewhere that would allow him to make life-changing money. That place was Kentucky.
"You know what? When you're young and you see your parents struggle, you see that check-by-check isn't the way to live," said Towns. "I was like, "I need to go somewhere I'll at least get better, but then also, I'm trying to make it to the next level. Let's not kid around."'
Had he not gone to Kentucky, Towns admitted he likely would have signed with Duke — yes, Duke — out of high school.
"My second school would've been Duke," he said. "I would've went there with Jahlil Okafor and Tyus Jones. My third was Michigan State. I loved Tom Izzo."
Towns also discussed his imaginary friend, Karlito, who emerged during his time in Lexington. The former Wildcat added that the toughest player he's had to go up against is himself, stressing the mental factor that comes with playing in the league.
"Karlito," he said. "Hardest critic, but good talks. … We're only competing against ourselves. … I always say the same thing (about my toughest opponent), myself."
You can watch the episode in its entirety below:
Karl-Anthony Towns is the first guest of season five, with Michael Strahan, Calvin Johnson, Chloe Kim, Jerry Rice, The Undertaker, and more joining the show throughout the season.  
"Bringing humor and authenticity into real conversation is one of the reasons Cold As Balls has been such a success over the past four seasons," says Kevin Hart. "This season we're excited to be back in our original locker room setup as we deliver more laughs and ice-cold truths with some of the biggest superstars and legends in the game." 
New episodes of CAB will air every Tuesday on the Laugh Out Loud YouTube channel, Cold as Balls Facebook page, and Hart's Facebook page.