How Kentucky is Responding as Offensive Line Shuffles the Deck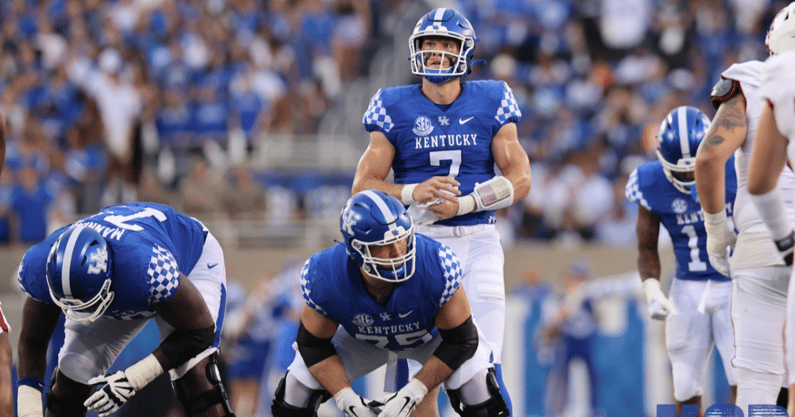 Kentucky players, fans and coaches should have left Saturday's 24-point season-opening win pleased with the performance. Instead, there was a lingering feeling of angst. After watching the Big Blue Wall maul opponents in the run game for six straight seasons, something was off. The offensive line did not dominate Miami (OH).
The Wildcats allowed four sacks and rushed for only 50 yards (76 excluding the negative sack yardage). Mark Stoops did not hesitate. On the Monday morning depth chart Kenneth Horsey moved from guard to left tackle, replacing redshirt freshman David Wohlabaugh. It's a move Kentucky knew during fall camp they might have to make at some point during the season.
"We're going to put the five most consistent guys out there," said first-year offensive line coach Zach Yenser. "It's always been a conversation if we ever thought we had to move Horsey out there with the experience and both of those other guards playing well — Jager and Tashawn both playing really well — it's hard to take both of those guys off the field. And you're not going to keep Kenneth off the field when he's healthy. We just feel like it's the right move right now."
It's not the first time Horsey's been forced to kick outside. A week before the Citrus Bowl he moved to left tackle and his inexperience at the position showed. Despite missing most of fall camp, Rich Scangarello's scheme does not drastically alter assignments between the two positions on the offensive line.
"One of the great things about this offense is that either if you're at tackle, guard or center, our combinations are our combinations," Horsey told KSR. "Of course, there's being able to set edge rushers and things like that, but there's a lot of similarities across the line. There's just subtle differences between the spots."
Stay up to date with interviews, podcasts and all things Kentucky football by subscribing to KSR's YouTube channel.
The assignments and aiming points may be similar, but Kentucky is still facing the same problem: continuity. Injuries forced the Cats to shuffle the deck throughout fall camp. Now Horsey must create chemistry and learn how to effectively communicate with Jager Burton before entering a hostile environment in The Swamp.
"It's very difficult," said offensive coordinator Rich Scangarello. "Look, they have to play better, but it wasn't nearly as bad probably as it maybe felt in some areas. I'm never going to single a player or players out in any way, but we can improve. There are little things. I can help them with scheme, I can help them with ways in which we handle some stuff, so it's a combination of things. The fact that those guys, we rotated guys through, had Horsey playing the guard, some different things to figure out some stuff. I think they'll all get better. I look at it — those five have never played together all of fall camp. We had guys in and out all fall camp, all of them. To finally get them all together, we know we're just all going to ascend."
Kentucky can do more to assist the offensive line. Scangarello can use tight ends to provide maximum protection. Will Levis is tasked to make calls before the snap at the line of scrimmage that directly impact where the offensive line will be blocking.
"But I can't snap my fingers and make them play better. They just gotta work and trust in their coaching," said the quarterback.
Mistakes made on the offensive line can send Levis into the turf. No matter what happens with this new-look group Saturday at Florida, he's always on their side.
"I just kind of get up and play the next play," he said. "They know when they mess up. I don't have to tell them. If anything, I'll let the coaches do that. It's my job to keep their heads up and to make sure I instill confidence in them so that there's no second guessing when we go out there. They can just play freely and kind of put it behind them and just focus on the next play."