Kentucky Football Recruits will play on ESPN2 Friday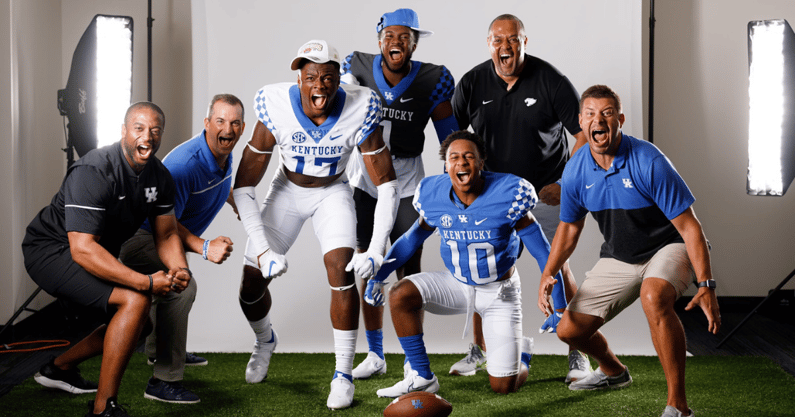 A highly-anticipated high school football matchup between two of Atlanta's top teams will feature multiple Kentucky football recruits on ESPN2.
Friday night at 7 pm ET Milton will take on North Cobb in the 2021 ESPN Geico High School Football Kickoff. This one has potential to produce some fireworks. There will be a dozen or more Power Five football recruits playing and Kentucky is actively recruiting three playmakers from this matchup.
Andre Stewart & Joshua Josephs
North Cobb has a pair of UK recruits, pictured above from their visit to Lexington over the summer.
Anwar Stewart secured a commitment from high three-star cornerback Andre Stewart (No. 1) in March, but Kentucky will be fending off competition from other schools until he signs on the dotted line. Since his commitment Stewart received offers from Ole Miss, Michigan and Tennessee. He was UK's only commit that attended The Opening, Nike's prestigious summer prep camp.
Joshua Josephs (No. 17) is a four-star prospect, ranked by 247 Sports as the No. 15 edge defender in America. He's the No. 148 player in America according to On3 Sports. Michigan, Penn State and Tennessee are the Wildcats' top competition.
Lebbeus Overton
The third high profile Kentucky football recruit on ESPN2 Friday night is Lebbeus Overton (No. 9). A consensus five-star prospect, Overton is 247 Sports' top-ranked player in the class of 2023. Overton is the top-ranked edge rusher and No. 6 overall player in On3's class of 2023 rankings.
Earlier this week Kentucky appeared in Overton's Top 12. He has a connection to UK. His mother, Eunice Thomas, was a volleyball player for the Wildcats in the 90s. Overton also has connections to Texas A&M. He was born in College Station when his father served as the Aggies' associate athletic director.