Kentucky football roster has heavy local presence in 2022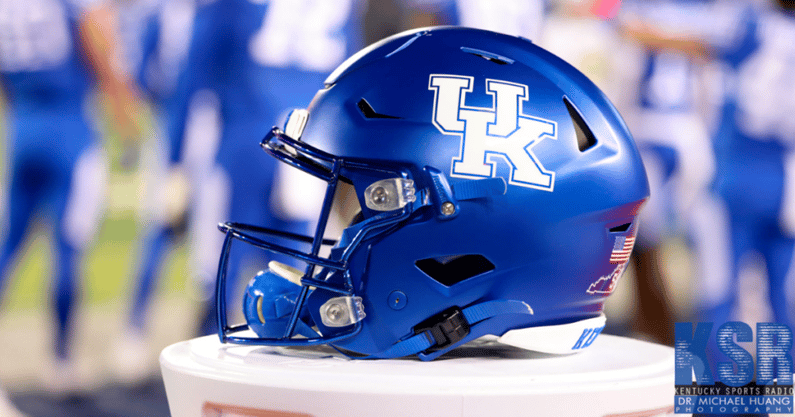 On Tuesday, we got our first look at the official Kentucky football roster for the 2022 season. Heights and weights were made available to go along with the new digits for the newcomers and some number changes for some veterans. Football season is right around the corner.
However, my eyes directly went to the hometown column when looking over the roster. After a few years of local recruiting success, the state of Kentucky has produced the most scholarship players on the roster. Let's take a look.
Improved high school football is giving Kentucky more local players
Back in the class of 2018, Kentucky did not sign one player from in-state. From that point forward, Vince Marrow took over recruiting operations in the Bluegrass. That has been a wise move as Kentucky has recorded some top-200 recruiting wins — Jager Burton and Kiyaunta Goodwin — to go along with a huge transfer addition when Wan'Dale Robinson transferred in from Nebraska.
This fall, four consecutive recruiting classes will overlap in the Kentucky football program. In-state prospects now make up the most scholarship players (20) on the roster barely edging out Ohio (17).
On offense, redshirt junior Eli Cox will have a chance at being one of the best centers in the SEC this fall, and true freshman Dane Key is trending to be a week one starter at wideout. On defense, J.J. Weaver has All-SEC potential at EDGE. On the defensive line, expectations are high for Radcliff (Ky.) North Hardin product Octavious Oxendine.
All of a sudden there is depth sprinkled throughout the roster thanks to consecutive years of successful in-state recruiting.
Ohio players will still have a big role
Assuming that former walk-ons Matt Ruffolo and Colin Goodfellow will both be on scholarship this season as super seniors, that will give the Wildcats 17 scholarship players from Ohio. A couple could play big roles.
Brenden Bates is entering his redshirt senior season, and the Cincinnati (Ohio) Moeller product leads a stacked tight end room. JuTahn McClain is now a junior and could be the starting tailback if Chris Rodriguez Jr. needs to miss some games. Kentucky will need both Tyrell Ajian and Carrington Valentine to produce consistently as multi-year starters in the secondary.
The Buckeye State is still very important to Kentucky football.
Kentucky now has a legitimate home recruiting base
Due to the coaching staff long-time connections in Ohio, recruiting that area will always be a staple under Mark Stoops. However, the surplus of talent within the state has now given Kentucky a legitimate home recruiting base.
As of now, Kentucky is getting between 5-6 players from in-state to sign national letters on intent. Meanwhile, the coaching staff is mining Ohio for 3-5 players per year. In each class, Kentucky is getting half of its players from one region. That has never been available to the program.
Entering 2022, at least 43.5 percent of the roster will be made of players from local areas. Kentucky now has a recruiting backbone that could lead to long-term success in the SEC.