Keeneland double-dip games could determine season for Kentucky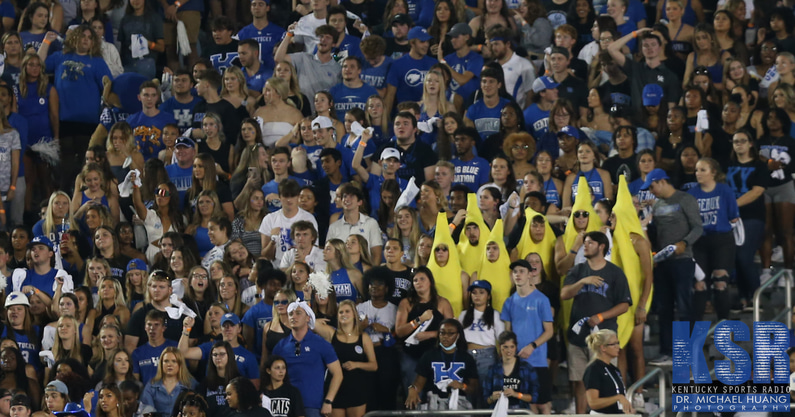 The Kentucky football team is not hiding from the elephant in the room this season. In year 10 under head coach Mark Stoops, the Wildcats want to bring home a division title and make the program's first trip to Atlanta for the SEC Championship.
Redshirt senior quarterback Will Levis went on record regarding the program's ultimate goal this week and recruiting coordinator Vince Marrow has stated that the team will be ready for a home contest with Georgia on Nov. 19. However, we are a long way away from that game.
In order for that Georgia game to have championship stakes for the third time in five seasons, Kentucky must take care of the business in front of them. With eight home games at Kroger Field on the schedule, most of that businesses will come in some friendly confines surrounded by the Big Blue Nation.
Kentucky will have to win at least two SEC road games to clinch a division title, but that is assuming that the Wildcats take care of business at home. Considering that Kentucky will be a heavy favorite over Vanderbilt on Nov. 12, two league games stand above the rest.
During the 2022 Keeneland Fall Meet, Kentucky hosts two SEC games. The Wildcats must sweep the table against South Carolina and Mississippi State before the bye week arrives the week before Halloween.
Spencer Rattler's Gamecocks
With November home wins over Auburn and Florida to go along with a huge Belk Bowl victory over North Carolina, things are buzzing in Columbia. Second-year head coach Shane Beamer is going on 1,000 podcasts this offseason to hype his program. Most of that buzz is due to one man.
Former top-25 recruit and five-star prospect Spencer Rattler has left Oklahoma after three seasons in the Big 12 and will start at quarterback for South Carolina this fall. Despite losing his job to Caleb Williams, Rattler still put up good numbers last season with a 53.5 percent passing success rate and 7.9 yards per attempt on 187 throws. He is the main reason for Carolina optimism.
The Gamecocks added nine total players from the transfer portal and have 15 super seniors on the roster. Defensive coordinator Clayton White appears to be a good hire, and that unit should be solid. However, there are big questions about play-caller Marcus Satterfield after the offense finished 104th nationally in success rate (39.5%) without much big-play pop last year.
South Carolina will be improved and could make some real noise if Rattler emerges as one of the best quarterbacks in college football. After drawing FCS Charlotte (Sept. 24) and South Carolina State (Oct. 1), Beamer's club should be fresh for the road trip to Lexington on Oct. 8. South Carolina has not won at Kentucky in a decade.
Year 3 with Mike Leach
Mike Leach is off to a 11-13 start at Mississippi State, and the Bulldogs lost some momentum to end the 2021 campaign. The SEC West program collected a pair of solid road wins beating Texas A&M in October and Auburn in November to go along with an easy home win over a ranked Kentucky team on Halloween Eve. Add in another home win over a top-20 NC State team in September, and many had forgotten about that tough loss to Memphis in Week 3.
However, things got sour fast as the Bulldogs blew numerous scoring chances in a home Egg Bowl loss to Ole Miss and were destroyed by Texas Tech in the Liberty Bowl in what many thought would be a Leach revenge game.
That end has taken some of the shine off of State entering the year, but this is a team with a roster that could make some noise in the SEC West.
Will Rogers returns at quarterback after throwing for 4,739 yards and 36 touchdowns in his second year as a starter. The junior posted a 53.5 percent success rate and that made up for the lack of explosive pop (6.9 yards per attempt).
Top wideout Makai Polk bounced, but this offense gets four players back who recorded at least 50 receptions, and most are third-year players in the system under Leach.
Meanwhile, Zach Arnett remains one of the most underrated defensive coordinators in college football as his 3-3-5 stack is a gap cancellation defense that is designed to get offenses behind the chains. Add in an experienced secondary returning, and this defense could really do some damage if that group can eliminate big plays.
The Bulldogs have a tough stretch before coming to Kroger Field on Oct. 15 as this team gets Texas A&M (Oct. 1) and Arkansas (Oct. 8) at home in consecutive weeks to begin October. In this series, a road team hasn't won a game since Dak Prescott and No. 1 Mississippi State squeaked out of Lexington with a win in 2014. Kentucky will need to extend that streak this season.
Both teams will be playing their seventh game in seven weeks, but a road trip to Alabama looms for the Bulldogs while the bye week awaits Kentucky.
Overall outlook
Let's just play this thing out. If Kentucky handles its business at home against the three Group of Five and FCS teams while splitting the road trips to Florida and Ole Miss, the Wildcats will enter this important October stretch at 4-1 (1-1). In consecutive weeks, Kentucky will be hosting foes that they have had recent dominance over at home. Win both, and then the Big Blue Nation can start dreaming.
At that point, Kentucky would be 6-1 (3-1) and heading to Rocky Top for a huge showdown with Tennessee on Halloween weekend. A win there could set the ultimate stage, but a loss could also create a scenario to play for a division title as long as Georgia loses one conference game before heading to Kroger Field. A win in the UGA matchup would create a deadlock, and Kentucky would own the tiebreaker. Meanwhile, both Florida and Tennessee have enough difficult crossover games to make you think they'll settle between 4-4 and 5-3 in league play.
Kentucky enters the season with a legit shot to host Georgia with major stakes. If that develops, College GameDay will be making a return trip to Lexington for the first time since 2007. To make it happen, Kentucky must sweep Mississippi State and South Carolina at home.