Kentucky has three of ESPN's top four recruits in new rankings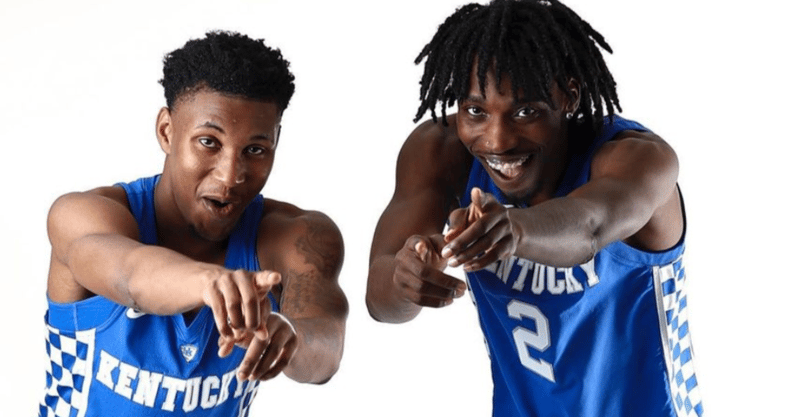 You don't have to scroll far to find Kentucky's signees in ESPN's latest recruiting rankings for 2023. Shoot, you don't have to scroll at all to see the majority of them.
The outlet released its updated 2023 ESPN100 on Friday, with three future Wildcats making up the top four, including No. 1 overall. The newest top-ranked prospect in the class? Five-star wing Justin Edwards, who was one of four players to earn a 94 grade. DJ Wagner — No. 2 overall — and Aaron Bradshaw — No. 4 — were the others.
All three players are top-rated at their respective positions.
From there, Kentucky's two other signees, Rob Dillingham and Reed Sheppard, were included in the top 25. The former sits just outside the top 10 at No. 11 overall and No. 1 among shooting guards, while the latter is ten spots lower at No. 21 overall and No. 4 among shooting guards.
As expected, five top-25 signees is the best in college basketball, with Duke the next closest at four. No other program has more than two.
Edwards entered the summer ranked No. 10 overall before jumping all the way up to No. 2 following Peach Jam and going into the fall. Now to open the new year, he is ESPN's No. 1 overall prospect.
The outlet broke down the Kentucky signee's rise to the top spot and what he's done to earn the ranking in recent months, with one scout telling ESPN that Edwards could be trusted to play spot minutes for an NBA team in a live game today.
Edwards had been knocking on the door of the top spot after a very strong summer and Peach Jam showing, which pushed him from outside the top 10 to No. 2 overall. Once he made his commitment to Kentucky, he started to play with a freer spirit.

His consistency as a senior has been a big part at Imhotep Charter's (Philadelphia) No. 11 national ranking. The versatile Edwards has been extremely productive and effective at impacting games both as a scorer and off the ball. In a nationally televised game against Cardinal Hayes (N.Y.), he finished with an efficient 26 points, 12 rebounds, 6 assists and 4 steals.

What's more, Edwards isn't done growing as a player. He can be more consistent from 3-point range and add more muscle on his 6-foot-7 frame. But he should be a heavy contributor at Kentucky, and once he fully develops, he'll be a sought-after NBA draft prospect. "I trust we could put him into a game for a few minutes," one NBA scout told ESPN.

ESPN
High praise for the future Wildcat.
What does the rest of the list look like? Check out ESPN's top 25 below:
Justin Edwards (Kentucky)
D.J. Wagner (Kentucky)
Isaiah Collier (USC)
Aaron Bradshaw (Kentucky)
Ron Holland (Texas)
Cody Williams (Colorado)
Xavier Booker (Michigan State)
Mackenzie Mgbako (Duke)
Matas Buzelis (G-League Ignite)
Omaha Biliew (Iowa State)
Robert Dillingham (Kentucky)
Jared McCain (Duke)
Kwame Evans Jr. (Oregon)
Ja'Kobe Walter (Baylor)
Stephon Castle (UConn)
Sean Stewart (Duke)
Aden Holloway (Auburn)
Mookie Cook (Oregon)
Baye Fall (Arkansas)
Jeremy Fears (Michigan State)
Reed Sheppard (Kentucky)
Elmarko Jackson (Kansas)
Andrej Stojakovic (Stanford)
Scotty Middleton (Ohio State)
T.J. Power (Duke)
What do you think of the updated rankings? Do you like where the future Wildcats are listed?