KSR Today: Kentucky hosts Missouri at Kroger Field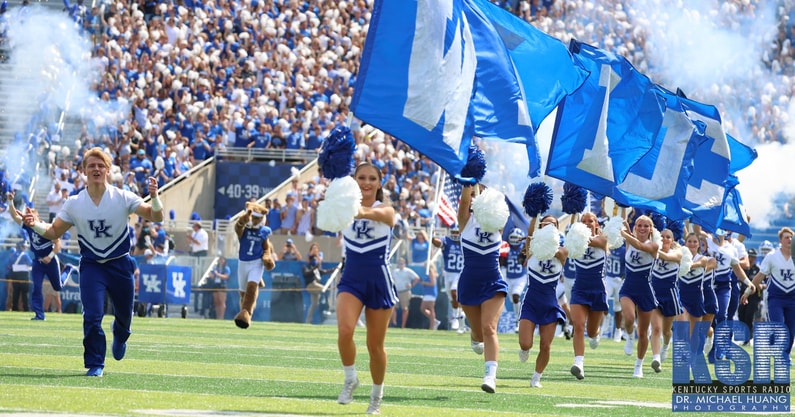 The season-opening win over ULM served as a tasty appetizer for the Big Blue Nation. The main course will arrive Saturday night when Kentucky hosts Missouri at Kroger Field. Kickoff is set for 7:30 pm on the SEC Network.
The only SEC matchup in week two, the Tigers and the Wildcats each believe they can contend with Georgia near the top of the SEC East. Only the winner of tonight's game will be within striking position. This game carries significance within the divisional standings and features bad blood. It will be an intense, exciting affair when Kentucky hosts Missouri at Kroger Field.
The Schedule
3:30 — The KSR Pregame Show Kicks Off on 630 WLAP
4:30 — Lextran shuttles begin downtown and outside of KSBar
5:15 — The Cat Walk outside of Gate 1
7:30 — Kickoff on the SEC Network
Vegas, TV, Radio
The Wildcats opened as three-point favorites over a Missouri, a number that quickly grew to UK -5 and has since grown by a half-point to UK -5.5. The total is set at 56.5. Before you take out a second mortgage, remember that underdogs have been outright winners more times than not in the recent history of this series.
Taylor Zarzour, Matt Stinchcomb and Alyssa Lang are on the call for the 7:30 pm kickoff on the SEC Network. If you'd rather listen to the Voice of the Wildcats, there are multiple ways to hear today's game.
AM: 840 WHAS, 630 WLAP
FM: 98.1 WBUL
Satellite: XM-81 and Sirius-81
Online: iHeart Radio
Kentucky is Confident
The Wildcats have an extra pep in their step this week. Mark Stoops typically tries to temper expectations publicly, but even he could not help himself Thursday evening. I can't put my finger exactly on it, but I can say that this is the most confident I've seen a Kentucky football team leading into a game since the 2019 beatdown of Louisville.
This is a big game. Last year the Wildcats were not ready to play when they took the field at Missouri. That will not be the case tonight at Kroger Field.
Get Hyped
Last year left a bad taste in the mouths of Kentucky football fans, players and coaches. The first game John Schlarman missed, Missouri snapped a five-game losing streak and treated it like the Super Bowl. That memory is fresh on the players' minds. If that game doesn't get you fired up and ready to beat Missouri, this will.
In case you need more ammunition, relive the improbable 2018 comeback that left one ceiling tile battered and broken by Mark Stoops.
There's also another video that slipped through the cracks on a busy Thursday. KyWildcatsTV is bringing back the cinematic recaps, and boy, they are good at their jobs.
Today's Fit
There will be a clash of colors Saturday night at the Kroge. Missouri will white out their uniforms, while Kentucky is rocking all blue everything.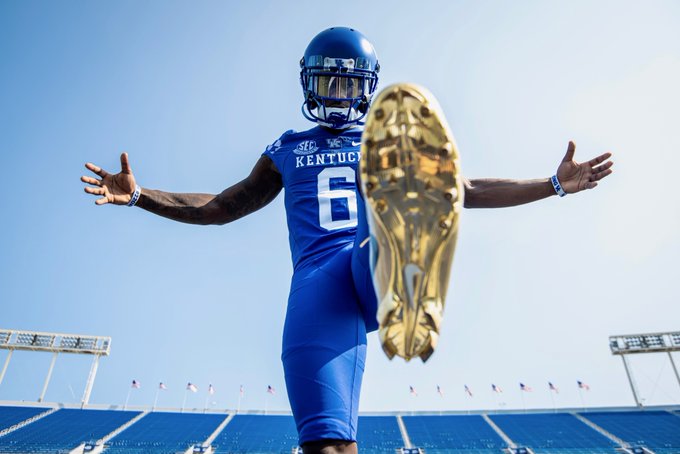 Podcast Lineup
Need to kill some time before the KSR Pregame Show at 3:30? We got you covered.
Big Recruiting Weekend
This weekend UK is hosting three official visitors, including a class of 2022 commit, Tomiwa Durojaiye. The biggest name in the building is wide receiver Barion Brown, a 5-star prospect ranked as one of the top 15 players in America. Liam Coen will want to put on a good show for one of the fastest high school football players in the country.
College Football Schedule
In an unusual move, there are two kickoffs before noon this Saturday, including a clash of styles between Army and Western Kentucky. Despite a drop-off in quality games, there are still a few entertaining ones before (and after) Kentucky hosts Missouri at Kroger Field.
11:00: Illinois at Virginia on ACCN
11:30: WKU at Army on CBSSN
Noon: #12 Oregon at #3 Ohio State on Fox
12:00: South Carolina at East Carolina on ESPN2
Noon: Pitt at Tennessee on ESPN
1:00: #13 Florida at USF on ABC
2:30: Toledo at #8 Notre Dame on Peacock
3:30: UAB at #2 Georgia on ESPN2
3:30: #5 Texas A&M vs. Colorado
3:30: Air Force at Navy on CBS
4:30: #10 Iowa at #9 Iowa State on ABC
7:00: #15 Texas at Arkansas on ESPN
7:00: NC State at Mississippi State on ESPN2
10:15: #21 Utah at BYU on ESPN
10:30: Stanford at #14 USC on Fox
10:30: UNLV at #23 Arizona State on ESPN2
KHSAA Football Scores
Louisville Central took control early in the Kroger KSR Game of the Week, blowing by Belfry 37-6 on the night the Yellow Jackets named its stadium for the late, great head coach, Ty Scroggins. Hear how everything went down from Barkley Truax and check out other scores from around the state.
Ballard 31, Franklin County 13
Bryan Station 25, Scott County 21
Mayfield 32, McCracken County 14
Paintsville 33, Somerset 6
Corbin 49, Pulaski County 6
Spencer County 37, Collins 26
Bullitt Central 42, North Bullitt 38
Owensboro 35, Owensboro Catholic 7
Montgomery County 21, George Rogers Clark 14
LCA 37, CAL 14
Lex Cath 45, PRP 30
La Salle (Oh) 48, Trinity 27
Frederick Douglass 56, Dunbar 13
Hopkins County Central 54, Todd County Central 52 OT
Fern Creek 20, Butler 10
Daviess County 21, Floyd Central (In) 14
Beechwood 49, Simon Kenton 21