Kentucky MBB all over 5-star Justin Edwards as his recruitment heats up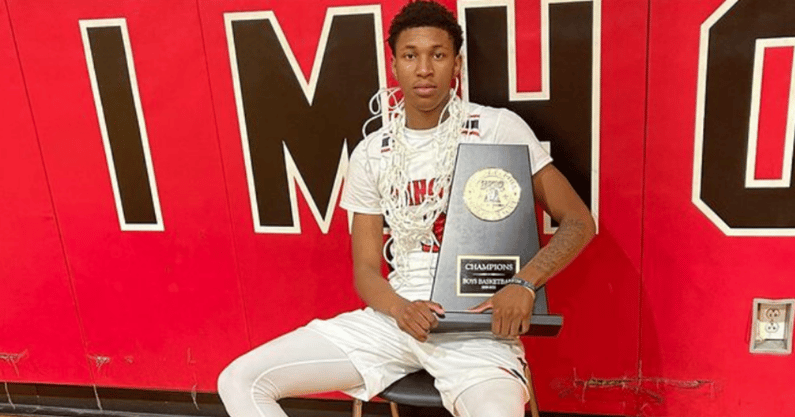 One of the biggest risers this summer in the class of 2023, Justin Edwards has had a slew of college programs in and out of Imhotep Charter Institute (PA) throughout recent weeks. One of those regular visitors has been the University of Kentucky Men's Basketball program.
Head coach John Calipari and assistant coach Orlando Antigua have already been in to see Edwards this month, with Antigua coming back for a second time earlier this week. We briefly wrote about Kentucky's early interest in Edwards the other day, but now we know how serious it is after speaking with his head coach at Imhotep, Andre Noble, on Thursday.
"Coach O(rlando) has been here twice, once with Coach Cal(ipari) and then he came back again this week at our open gym," Coach Noble told KSR. "I don't think Kentucky comes to visit you twice in your junior year unless they think highly of you."
Edwards was a relatively unknown prospect not even 10 months ago. He was unranked throughout his entire freshman season and early into his sophomore year. Then, once 2021 got rolling, Edwards stock exploded.
He went from having just three offers (DePaul, Virginia Tech, and Seton Hall) in 2020 to adding 20 more this year alone, including the likes of LSU, Ohio State, Syracuse, Auburn, Georgetown, Virginia, UConn, Marquette, Penn State, Tennessee, Oklahoma State, and several others. Kentucky has yet to formally extend an offer, but even with the carefulness that Calipari hands out scholarships, it's one that could be coming in the near future.
Now, Edwards is a bonafide five-star prospect. The recruiting services at both Rivals and On3 recently updated their databases, agreeing that the 6-foot-7 small forward is a top 10 player in his class. Rivals has Edwards at No. 8 overall while On3 tabs him at No. 6.
His rise in popularity isn't random, though. Edwards has continued to improve year over year at an impressive rate. He went from not starting his freshman year of high school to being named a starter midway through the season. By the time he was a sophomore, Edwards was easily Imhotep's top college prospect. But since his team only played 14 games in 2020 due to a COVID-19 shortened season, the opportunity for college coaches to see him wasn't as available as in years past.
"With his length, he's really versatile. Can really shoot the ball. What's the most impressive thing to me about Justin Edwards is how much he's improved," Noble added. "He didn't come in as the ninth greater that was top 20 in the country. That's not who he was. He wasn't top 200 in the country. He's just a worker, he works really hard and has really improved his game. I'm really proud of what he's done."
Edwards possesses a mindset that fits the mold of what Calipari is looking for. Edwards has been coached hard and responds appropriately. He's had to work for everything he's earned.
"We hold him accountable. So when he doesn't play well he gets fussed at. He's used to getting coached hard," Noble said. "Coach Cal came and he talked about how they competed… You go to Kentucky there are no promises. Go to Kentucky it's gonna be some 12 other guys who can play and you see where you fit in. And that's been his experience here."
On the floor, Edwards is an extremely versatile offensive weapon. The lefty is skinny, but he sure can fill up the scoreboard from all areas of the floor. Calipari has been harping on utilizing a four-guard lineup, where Edwards would be an ideal fit as the small-ball fourth guard option.
There is much to be done with his game but his work ethic implies he'll make it happen down the road. He's only in the early stages of his junior year in high school.
"He's made some more jumps and that's because Justin is really serious about his work," Noble continued. "The other thing is–you know some kids it takes them a long time to pick up skill stuff? It doesn't take him a long time to pick up skill stuff. You teach him something and he's using it next week. He has a high IQ… That's his biggest asset, is his mentality."
Calipari's pitch to Edwards was the exact same he's used on all his recruits since the day he arrived as head coach in Lexington: Kentucky isn't for everyone, even for a kid who has previously considered UK his "dream school".
"He's been consistent. It's not for everyone," Noble said about Calipari." But it's a great opportunity when you look at all the things that happen there under Coach Cal. Justin understands that. He's loved Kentucky since he was a little kid. The level of interest and Coach Cal coming to his high school, and sitting there and talking to him about ball and life–because that's a big part of Coach Cal's pitch is life. Not even basketball, it's life–from a school that (is a) dream school, a school that he's loved ever since he was a little kid, it's cool for a kid who's done things the right way."
Both sides are in conversations about setting up a visit sometime down the road, although no date has been ironed out. Expect Kentucky to keep the pressure on Edwards moving forward.