Kentucky-South Carolina will get SEC Nation treatment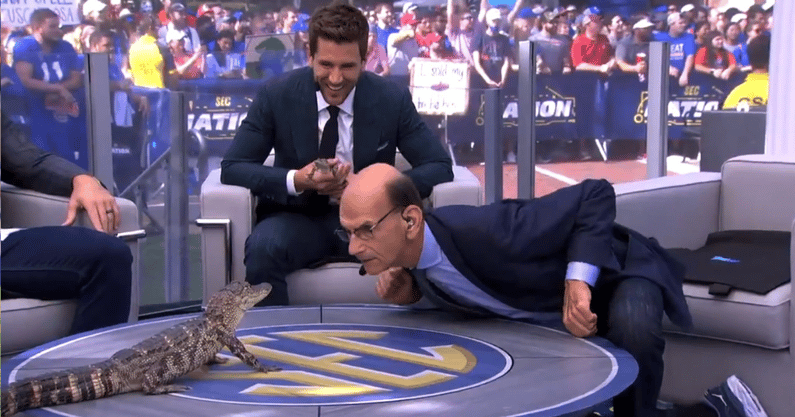 Despite a top 20 matchup taking place this Saturday between No. 7 Texas A&M and No. 16 Arkansas, SEC Nation won't be heading to AT&T Stadium in Dallas. Instead, the Southeastern Conference's version of College Gameday is hitting the road, heading to Columbia's campus for Kentucky's (3-0) game against South Carolina (2-1) on Sept. 25.
The Marty & McGee show will get things rolling at 9 a.m. EST before the SEC Nation crew takes over at 10 a.m. The last time SEC Nation featured a Kentucky game was when the 'Cats fell to the Florida Gators at home, 29-21, in 2019. The show did not travel in 2020 due to the COVID-19 pandemic.
Kentucky-South Carolina will kick off this Saturday at 7:00 p.m. EST on ESPN2.
SEC Nation features famous personalities such as Paul Finebaum, Tim Tebow, Roman Harper, and Jordan Rodgers, along with Laura Rutledge as the show's host.
Kentucky will have its work cut out for it against South Carolina, even if the Wildcats are currently 4-point favorites. The Gamecocks aren't one of the better teams in the SEC, but this will be the first road outing of the 2021 season for UK. Considering how poorly the 'Cats played on Saturday's win over UT-Chattanooga, Kentucky has plenty to clean up between now and next weekend.
College Gameday will take place at Soldier Field in Chicago for a top 20 matchup between No. 12 Notre Dame and No. 18 Wisconsin. The game will kickoff at noon on Saturday, airing on FOX.