Kentucky Women's Basketball shine at Big Blue Madness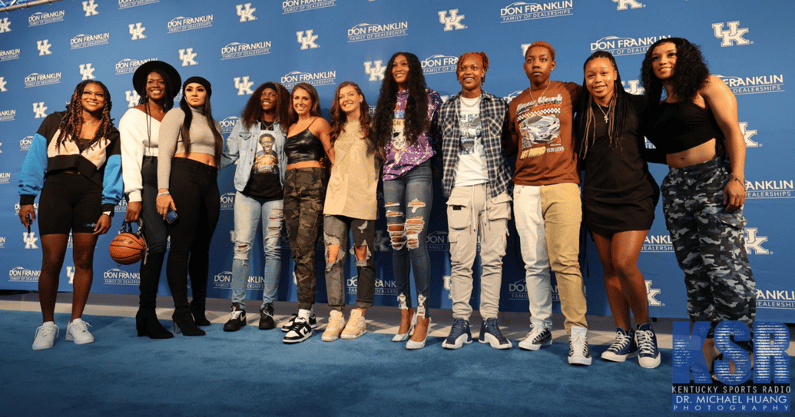 After a year without Big Blue Madness, the Kentucky women's basketball team was ready to soak in the spotlight. There were certainly ample opportunities at the revered event on Friday night.
Before the Madness
There's no doubt Kentucky knows how to throw a party, but who knew they could throw a… County Fair? Small-town Kentucky vibes were riding high in the Rupp Arena Convention Center during UK's "Before the Madness" event.
From petting zoos to good old-fashioned raffles to video games, there was something for everyone in the leadup to Big Blue Madness. Rhyne Howard even showed up to take endless photos while signing autographs for fans alongside Men's Basketball guard Dontaie Allen.
Best festival ever.
Kentucky women's basketball walk the Big Blue Carpet
The court isn't the only place the 'Cats know how to put on a show. The team traded in their festival flair for something a little more fitting as they strutted down the Big Blue Carpet.
While there's no doubt the whole Kentucky women's basketball team was putting some serious swagger on display, I have to admit Rhyne Howard's outfit was my favorite.
Though it wasn't necessarily a basketball showcase, fans certainly saw some things to be excited about. First, the Wildcats are unusually tall this year with the vast majority of their squad standing over 6-feet-tall. Furthermore, BBN got their first, true chance to meet the newly-added Kristen Crenshaw-Gill.
The Big Blue Carpet was fun, but let's get to what you all have been waiting for.
Big Blue Madness
Listen, Matthew Mitchell's dances at Big Blue Madness are essentially untouchable, but Kyra Elzy surely gave him a run for his money with her nutty entrance.
Elzy's actions were exhilarating, but her words may have been even more rousing. With each word she spoke, fans seemed to buy more and more into her vision.
Elzy wasn't the only one having fun with the BBN. Dre'Una Edwards put on a show with some impressive dance moves, Blair Green rocked her Kentucky roots with her country-themed entrance and Rhyne Howard shined again with her own special apparel.
The team's performances on the stage were a good time, but their performances on the court were even better. Seniors Blair Green and Rhyne Howard went toe-to-toe in a thrilling 3-point contest. If anybody was wondering if the new 3-point line distance seemed to be affecting them, I think they're doing okay.
Spoiler: Blair Green won.
To follow up the Kentucky women's basketball team's shooting clinic, the team did a 10-minute blue-white scrimmage. While, admittedly, there wasn't much to gain from the scrimmage, it was fun to see the team back on the court.
A few things that were evident from the infamously slow-paced scrimmage were that Dre'Una Edwards' jumper is looking extremely smooth, Rhyne Howard's still got it and, most importantly, the 'Cats were having a lot of fun.
Closing thoughts on Kentucky women's basketball big night
If the Kentucky women's basketball team grabbed your attention tonight, you're in for a crazy year. With endless storylines and infinite potential, only one thing seems to be certain for this year's 'Cats: it's going to be a fun ride.