Kroger KSR Game of the Week: Pikeville at Lexington Christian Academy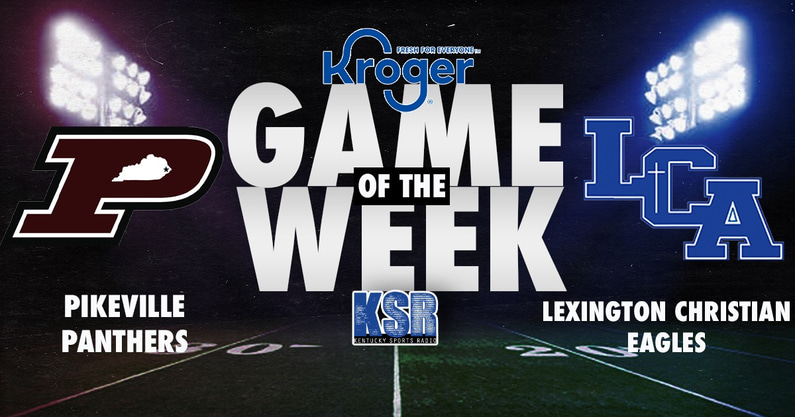 The mountains are traveling to the big city for Friday's Kroger KSR Game of the Week. Pikeville will take on Lexington Christian Academy in a matchup that features the No. 1 team in 1A vs. one of the tops in 2A. 
With several key components returning for another run to Kroger Field in 2021, the Eagles are absolutely loaded and coming off an impressive 43-7 win over crosstown rival Lexington Catholic. LCA is 5-0 on the season and sports quality wins over Boyle County, CAL, and Madison Central. 
LCA is led by a pair of seniors that are committed to FBS programs. Xavier Brown is pledged to Virginia and Mason Moore to Miami (OH). Quarterback Drew Nieves returned from injury and has the Eagles are rolling. 
Pikeville is a proud program that is familiar with state championships. The 5-0 Panthers have reached the pinnacle on five occasions and are in the hunt for number six. Blake Birchfield is one of the state's top rushers. He's joined by quarterback Isaac McNamee and receiver Zac Lockhart to form a formidable offensive attack that will test LCA. 
This week's matchup features two undefeated teams that are chasing state championships. Should be a fun night in Lexington. 
A Message from Kroger
We're excited to tell you about something new from our friends at Kroger. Did you know Kroger is America's largest grocery chain that started over 135 years ago? They are doing something they've never done before: bringing fresh groceries right to you with a new service called Hometown Pickup.
That's right, for those of you in Cynthiana, Midway, Eminence, Bedford, McKee, Dry Ridge, Carlisle, Eubank, Georgetown, Mt. Vernon, Jackson, Frenchburg, Irvine, Mt. Olivet, and Paris, Kentucky you can now order all your groceries online and pick them up at a central location in your hometown. No more long drives into the city to get fresh food for you and your family. Now THAT is truly Fresh for Everyone. Thanks, Kroger.
Learn more and place your first order at Kroger.com/hometown.