KSR Today: A dominating win over Tennessee, plus HoopHall Classic notes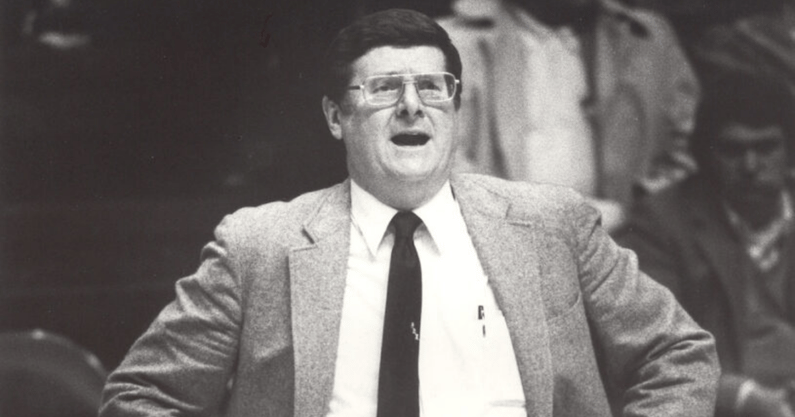 Good morning, folks! I can't think of a better way to start a Sunday than by talking about a 28-point Kentucky win over the low down and dirty Tennessee Volunteers. And doing so to honor the magnificent life of the great Joe B. Hall? It truly doesn't get much better. So let's get right into it.
No. 18 Kentucky smacks No. 22 Tennessee
Rupp Arena was the most electric it had been in probably two whole years. With the tragic news of Coach Hall's death breaking on Saturday morning, the looming game quickly became less about the final score and more about how the Hall of Famer would be honored.
As expected, John Calipari made sure it was done right. He coached with Hall's classic rolled-up program in his hand, and even began the game in Hall's classic 1-3-1 defense. Calipari and Hall have formed a special bond since the former arrived in Lexington as head coach. We all knew he was going to make sure Hall was honored the right way, and that's exactly what happened ahead of the game.
The Big Blue Nation showed up in droves well before tipoff, too. The energy was rocking from the stands and it transferred down to the Kentucky bench. The Wildcats played its best offensive game in years, and one of the most impressive overall offensive performances in program history, considering Tennessee came in with the nation's No. 2 ranked defense. It wasn't close early and it got even worse later on. Both you and I combined to score as many points as Fulky did for the Vols. It was the first time Rick Barnes has allowed 100 points while at Tennessee. Again, it quite literally could not have gone better for Kentucky…
Now let's dive into the links.
Links
HoopHall Classic underway
The HoopHall Classic is halfway through in Springfield, MA, where myself and Jack Pilgrim are watching as many Kentucky MBB targets as possible, including a pair of commits in Chris Livingston and Skyy Clark.
Expect more content from the event flooding this website over the next few days, but we're going to start with a brief scouting report from the first full slate of games.
94-feet with Jay Bilas
Ahead of Saturday's game, Jay Bilas and Oscar Tshiebwe walked and talked for 94 feet at the Joe Craft Center, talking about Oscar's multilingual skills, his first American meal, and how he literally "cleans the glass".
As always, any Oscar content is great content.
Tyrell Aijan coming BACK
As Freddie Maggard would say: significant…
Kentucky will keep some experience in the secondary for the 2022 season. Tyrell Ajian announced Saturday afternoon that he will return for a sixth season as a Super Senior for the Wildcats.
"I have decided to come back for one more year," Aijan tweeted. "Returning will allow me to grow more on and off the field. There are also goals I want to achieve for myself and for the team."
Kentucky WBB travels to No. 5 Tennessee
Coming off a rough road loss to No. 1 South Carolina exactly one week ago, Kentucky Women's Basketball will now face another daunting challenge away from home.
No. 19 Kentucky is down in Knoxville today for a matchup against No. 5 Tennessee in what is the start of "We Back Pat Week", which helps raise awareness for Alzheimer's disease.
KSR's Grant Grubbs has a full preview for you right here. Tipoff is scheduled for 3:00 p.m. EST on ESPN.
Kentucky WBB vs. Auburn rescheduled
Sticking with news for the ladies, Kentucky WBB will now take on the Auburn Tigers on Tuesday, January 25 at 8 p.m. ET.
Originally scheduled for December 30, the game was postponed due to COVID-19 issues within the Auburn program. Both teams agreed on the new date.
The rescheduled matchup now means Kentucky will finish the month of January with four games in eight days. UK will play Florida on Jan. 23, at Auburn on Jan. 25, at Vanderbilt on Jan. 27 and at LSU on Jan. 30.
Memphis lost on a buzzer-beater
To East Carolina!
LOL!
---
That's all the news and notes I have for you this morning. Go ahead and continue to enjoy that sweet, sweet win over the Vols.