KSR Today: Antonio Reeves Lights Up Icy Ole Miss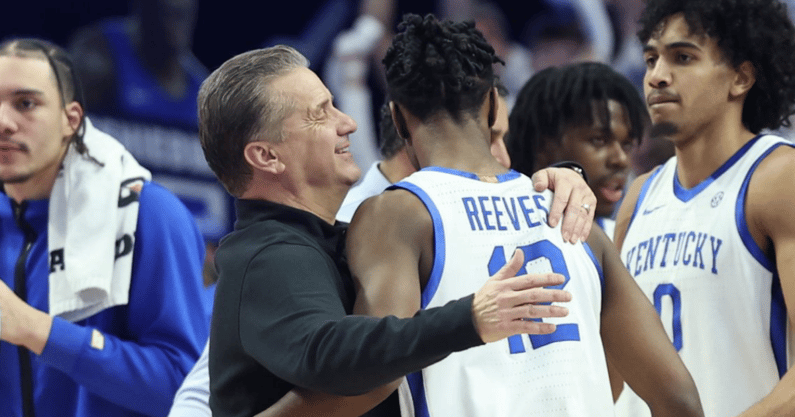 Not even an ice storm could cool down Antonio Reeves. The sharpshooter from Chicago had his best shooting night as a Wildcat, knocking down 6-of-7 three-pointers to score a season-high 27 points in a 77-65 win at Ole Miss. Reeves' threes were exactly what the Wildcats needed Tuesday night to end January with a 15-7 record, 6-3 in SEC play.
Ole Miss started the night 5-of-7 from the floor and Amaree Abram totaled his season average with nine points in the first 4:40. Struggling to find their offensive footing with Cason Wallace sidelined by a leg contusion, Reeves delivered a pair of three-pointers to help the Cats erase a 7-point deficit with a 10-0 run.
Tied at intermission, Kentucky slowly but surely pulled away from inferior Ole Miss in the second half. Back-to-back dunks from Jacob Toppin and Oscar Tshiebwe gave the Cats a double-digit lead midway through the second half to keep Kermit Davis' squad at bay.
Kentucky is far from a finished product. Tuesday night they did what they had to do: get in and out of Oxford with a win. Unfortunately, they still aren't all the way out of town, thanks to the ice. They should have asked Reeves to thaw the charter to get out of Mississippi Tuesday night.
Sahvir Wheeler Steps Up
It looked like Kentucky was going to pull away in the first half. Then John Calipari lost his second point guard of the night. Filling in for the injured Wallace, Sahvir Wheeler rolled his ankle. The Rebels immediately responded with a 9-1 run to knot the game by halftime.
Wheeler returned for the second half and helped bring the offense back to life. Despite his dip in minutes, he's still the SEC's assist leader. Last night he added to that number with nine. He also contributed four points and four rebounds.
"Here's a kid that was coming off the bench. We needed him to start. His ankle was busted up, swelled, and he said, 'I'm playing cause I know you guys need me to win this game.' And he played," John Calipari said after the win. "Here is a young man that's playing for Kentucky, for the state, for the basketball program, not playing for himself or he wouldn't have played."
CJ Fredrick Shooting Struggles Continue
While Reeves delivered from downtown, CJ Fredrick could not get off the schneid. He missed both field goal attempts, one three-pointer, and was scoreless in Oxford. Since he knocked down three threes in the win at Tennessee, Fredrick is 5-of-26 (19.2%) from behind the three-point line. The rest of his game has improved, particularly on defense, but for Kentucky to reach its potential they need Fredrick to get out of this funk and knock down outside shots.
Kentucky Must Figure Out Ball Screen Defense
Opponents are going to pick-and-roll Oscar Tshiebwe to death until the Wildcats do something different. Time and time again Kentucky's talented big gets stuck in no man's land, in-between covering his man and the ball-handler, leading to an easy shot for either player. It was one thing to see the under-sized Kansas team use their athleticism as an advantage in the matchups. It's another to watch a bad Ole Miss team throw lobs and knock down open shots against Kentucky.
This problem is fixable. There are multiple ways to approach it, but one simple one: B-E AGGRESSIVE. Instead of playing passive, let Oscar go all-out with a hard hedge on the ball handler, or even better, try trapping the action. It's abundantly clear that Oscar Tshiebwe is never going to be a great pick-and-roll defender. However, he has proven he can create turnovers by jumping into passing lanes. This would give him one more opportunity to play aggressive defense. Besides, what does it hurt to change things up? The Cats' ball-screen defense can't get any worse.
More Analysis from the Kentucky Win over Ole Miss
Subscribe to the KSR YouTube Channel for press conferences, interviews, original shows, fan features, and exclusive content.
National Signing Day for Kentucky Football
Mark Stoops could add a couple of players to Kentucky's 2023 recruiting class on Wednesday. Kendrick Gilbert was the first to make a move Wednesday morning. The four-star defensive lineman from Indianapolis was set to sign this morning at 8 am EST. We're still waiting to see if he'll stick with Purdue or flip to Kentucky.
William "Woo" Spencer will wait until later tonight to announce his decision. He's picking between Kentucky, Louisville and Michigan State after the Louisville native visited both local schools over the last two weeks. It feels like a toss-up entering the homestretch. KSR will be in the house at Aspirations Gym for the announcement ceremony at 6:30 pm ET.
What. A. Dunk.
When they say It Just Means More, they specifically mean "more air." This move from Arkansas' Ricky Council IV is one of the most impressive dunks you'll ever see in the college ranks.