KSR Today: Kentucky Baseball Begins Postseason Run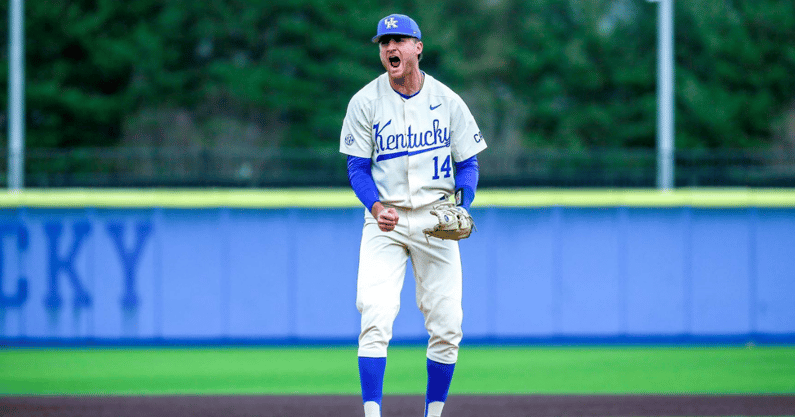 Today's a great day to watch the Wildcats go on a run. Nick Mingione's Kentucky baseball team has been fighting tooth and nail for this opportunity. The last of 12 teams to make the SEC Tournament in Hoover, the Cats control their own destiny. Survive and advance, or lose and go home.
Likely on the outside of the NCAA Tournament bubble looking in, Kentucky can change that by winning a few games this week. The Bat Cats open the event by facing off against the team they just beat twice in two days, Auburn. The first pitch of the nightcap is expected to be thrown between 8:30-9:00 pm ET on the SEC Network. A win will advance Kentucky into the double elimination portion of the tournament where anything can happen. A loss ends the Bat Cats' season, a common trend. The Wildcats are only 17-34 in SEC Tournament history. Yikes. For more information, let Adam Luckett explain all the finer details.
Keion Brooks is Back
He's not coming back to Kentucky, but he will return to college basketball. Jeff Goodman was the first to report the former Wildcat is removing his name from NBA Draft consideration. Notre Dame, Washington and Arizona are the most likely next destinations for Brooks.
A week ago he was "all in on the NBA Draft." Put a pin in that quote. This time next year you'll be hearing that same exact quote from all of the other fringe players at the NBA Combine.
So is Colin Goodfellow
Colin Goodfellow is back like he never left, because he never left. The Kentucky punter did the transfer portal dipsy-doo, withdrawing his name for the second time this offseason to return to Kentucky. What's the explanation? My best guess is it having something to do and whether or not Stoops had enough room on the roster to keep him on scholarship. Either way, getting back the SEC's third-best punter should be seen as a net positive.
Warriors Bring Brooms to Dallas
It's a good night to say good night to Mark Cuban. The Dallas Mavericks are walking dead men. Even if they live to see another game in the Western Conference Finals, it does not matter. The Warriors will advance to the NBA Finals. It's only a matter of time. Game four is tonight at 9 pm ET on TNT.
There's much less certainty out East. Every game goes back and forth from one blowout to the next. Last night it was the Celtics' turn to beat up the Heat, defeating a Tyler Herro-less Miami squad by 20. Maybe we'll see one close game in the final three games of this series, but only if we're lucky.
More Nutty Numbers for Lance Ware
A couple of Cats keep putting up big numbers in Brazil. Lance Ware racked up 31 points, five rebounds, four steals and four assists in a 17-point win. Kareem Watkins was not too shabby either, snagging three offensive boards and scoring five points. They'll be back stateside soon as the Wildcats prepare to return to campus after Memorial Day.
Goodbye Pay Phones
Remember pay phones? Those things that used to be everywhere? Not anymore. 133 years after the first one was installed, the last pay phone standing was removed from New York City Monday afternoon, marking the end of an era.
Is a Hot Dog a Sandwich?
It's a very important question that can only answered by Stephen A. Smith and Kendrick Perkins in a Cut for Time skit from the SNL season finale.
Hot Takes from Nanette in Alabama
If you thought those sports takes were spicy, wait until you hear what Nanette from Alabama had to say on The Paul Finebaum Show. It took her a while to figure out she wasn't talking to Paul, but by God, that didn't stop her from sharing her thoughts on the Tide with Richard Johnson and Spencer Hall.