KSR Today: The Sweet 16 and preparing for Kentucky football's Pro Day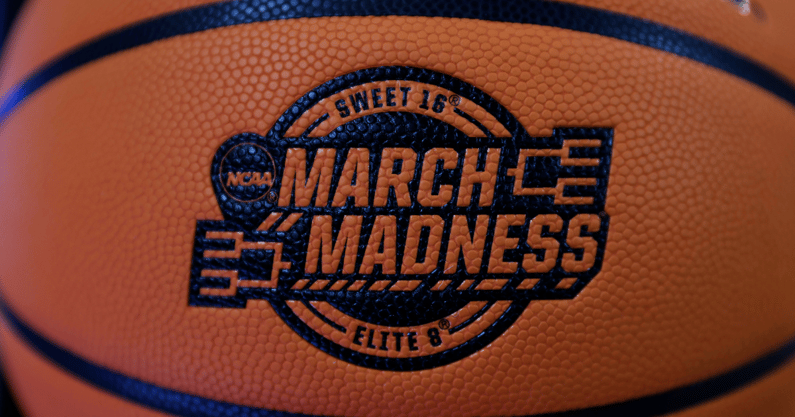 Good morning, folks! Today is the start of the NCAA Tournament's Sweet 16, which isn't nearly as fun to say when Kentucky will be watching from home. Four of the eight games will take place later tonight with the remaining four set for Friday night. Winners will play in this weekend's Elite 8. Here's what we've got scheduled for this evening.
6:30 PM (TBS) | No. 7 Michigan State (-1.5) vs. No. 3 Kansas State
7:15 PM (CBS) | No. 8 Arkansas vs. No. 4 UConn (-4.0)
9:00 PM (TBS) | No. 9 Florida Atlantic vs. No. 4 Tennessee (-5.0)
9:45 PM (CBS) | No. 3 Gonzaga vs. No. 2 UCLA (-1.5)
Meanwhile, in Lexington, the majority of the Wildcats will continue to mull over decisions for next season. Will they stay or will they go? It feels safe to bet that the likes of Cason Wallace, Oscar Tshiebwe, Jacob Toppin, and Sahvir Wheeler will find themselves playing somewhere other than at Kentucky next season, but as for the rest, everything is up in the air. Chris Livingston and Antonio Reeves will be the two the Big Blue Nation is keeping an extra close eye on in the coming weeks.
Head coach John Calipari has said he will meet with each player individually beginning next week to see where everyone's head is at. We'll go from there…
Keep buying Will Levis stock
The 2023 NFL Draft is still roughly one month away, but the mock drafts continue to heat up. And the man everyone wants to talk about is Kentucky quarterback Will Levis, whose stock continues to float in and around the top 10. Here's where a handful of recent mocks have Levis projected in next month's draft.
ESPN's Mel Kiper: No. 3 –> Colts (via projected trade with Cardinals)
ESPN's Todd McShay: No. 7 –> Raiders
The Athletic: No. 7 –> Vikings (via projected trade with Raiders)
The Ringer: No. 11 –> Titans
CBS Sports: No. 4 –> Colts
Levis will get one more opportunity to change the minds of NFL scouts in person Friday morning at UK Pro Day. Speaking of… We'll actually hear from Levis this morning ahead of Friday as all of the Pro Day participants from Kentucky are expected to talk with the media in just a bit. We'll also hear from defensive coordinator Brad White and members of the current Kentucky defense later on, too.
All this is to say you should keep your eyes glued on KSR throughout the day.
New contracts for a pair of 'Cats
One current and one former Wildcat recently agreed to significant new deals. Starting on the gridiron, defensive backs coach Chris Collins agreed to a two-year contract that will keep him in Lexington through the summer of 2025. The deal was initially agreed upon earlier in the month.
With Collins coaching the secondary, Kentucky ranked seventh in the nation in 2022 in terms of passing yards allowed, giving up just 173.8 yards per game through the air — second-best in the Southeastern Conference. UK ranked 56th nationally in passing yards per game (222.8) during his first season with the program but took a significant leap this past season under his leadership.
Collins will earn $375,000 in the first year of this new deal with a slight raise to $400,000 in year two. His initial contract with Kentucky previously expired.
Elsewhere, third-year Nick Richards earned a nifty three-year extension with the Charlotte Hornets that will net him $15 million over the course of the deal. Richards is averaging a career-best 7.9 points and 6.1 rebounds per game this season. This more than doubles his averages from last year when mustered just three points and 1.7 rebounds per contest. Richards has turned into a legitimately good NBA center, one that the Hornets preferred to lock in now instead of letting him test the restricted free agency waters this summer.
Tyler Ulis' brother in transfer portal
On Wednesday afternoon, news broke that Ahron Ulis, the younger brother of Kentucky graduate assistant Tyler Ulis, has entered his name into the transfer portal. Ahron has spent the last three seasons playing at Iowa under head coach Fran McCaffery, starting in 27 of his 36 games played as a junior in 2022-23. The younger Ulis brother averaged 6.1 points and 2.1 assists in 22.6 minutes per game on 39.6 percent shooting for the Hawkeyes this past season.
Ahron Ulis went from an end-of-bench player to a consistent starter in Iowa City. The 6-foot-3 guard averaged just 7.0 minutes per game in 17 contests as a freshman in 2020-21 before doubling his playing time as a sophomore in 2021-22 to 13.9 minutes per outing across 35 games played. Following a productive junior season, Ulis will now look for a new home in search of an even larger role.
Could that home be in Lexington?
EKU lost in the CBI championship
After surviving four total overtimes across the first three games of the 2023 College Basketball Invitational, Eastern Kentucky's luck finally ran out. The No. 8 Colonels fell to the No. 3 Charlotte 49ers in the championship game on Wednesday night, 71-68, nearly completing a 20-point comeback with 12 minutes left in the game before just falling short down the stretch.
KAT returned for the first time since November
After sitting out the last 51 games with a strained calf, Karl-Anthony Towns finally made his long-awaited return to the floor for the Minnesota Timberwolves on Wednesday night. The former Wildcat dropped 22 points, four rebounds, three assists, and two steals in 26 minutes in what was his first appearance since Nov. 28. Minnesota picked up the win in KAT's return, beating the Atlanta Hawks 125-124, but only because Towns came up huge in the clutch.
Down by one point with just 3.6 seconds left on the clock, Towns went to the free throw line after getting fouled on a drive attempt. He showed no rust at the stripe, knocking down both freebies to put the Wolves up by one. Atlanta failed to convert on the other end, creating a memorable moment for Towns, who was rather fired up after the win.