KSR's Kentucky High School Basketball Preseason Preview: Regions 9 and 10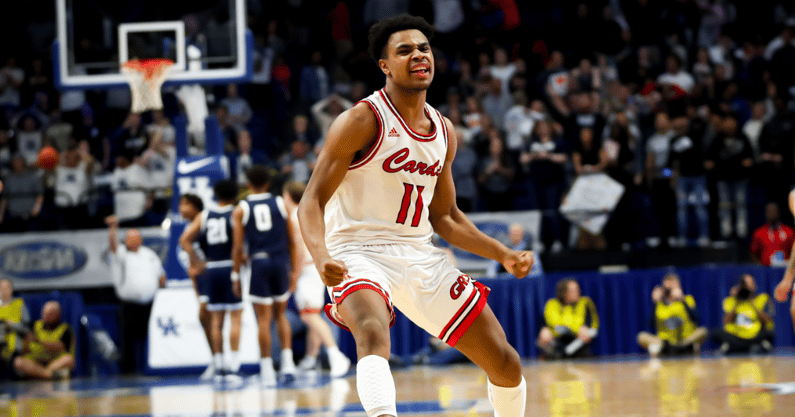 It's basketball time in the Bluegrass, and there's no better feeling in the world. The 2022-23 Kentucky high school basketball season officially began across the state on Monday night, highlighted by a big win from UK commit Reed Sheppard and No. 3 North Laurel against No. 7 Lexington Catholic. With the season underway, we're continuing our region-by-region preview series. Up next are Regions 9 and 10.
Highlighted numbers in parentheses are what the team is ranked in the entire state, according to KSR's preseason rankings. You can check out previous KSR regional previews below.
Region 9 Preview
2021 champion: Covington Catholic
Troy's Top 10
1. Covington Catholic (30-5) (#11) – The Colonels, which are looking to build off a trip to last season's state semifinals, took a hit due to the transfer of Chandler Starks and graduation of Mitchell Rylee.  Both were very effective in the paint last season. Look for the Colonels to be a more guard-oriented team this season. Evan Ipsaro (21.7 ppg, 90% FT), who should be on everyone's first-team All-State list, put on a show at the Sweet Sixteen last season. He will be in the running for Mr. Basketball. Sharpshooters Kascyl McGillis (7.7 ppg, 40% from downtown) and Brady Hussey (6.7 ppg, 42.6% from downtown) also return.  Hussey is one of the top tennis players in the state. His brother, Austin, played tennis for UK. 
2. Conner (22-7) – The Cougars will look to challenge Covington Catholic for the region crown thanks to the return of their three leading scorers, the senior trio of Landen Hamilton (17.4 ppg), Daniel Campbell (12.8 ppg), and Ayden Lohr (12.2 ppg, 43.5% from 3-point range). All are top-10 caliber players in the region.
3. Lloyd Memorial (22-8) – 6'8 sophomore E.J. Walker (10.7 ppg, 6.2 rpg) is one of the top Class of 2025 players in Kentucky. He recently had an unofficial to Indiana and has the skills to essentially play any position on the floor. He has tremendous upside and shot 56.2% from the field last season. Lloyd will rely heavily on Walker and senior Jeremiah Israel (16.1 ppg) due to the graduation of several other key players. Lloyd made it to the 9th Region semifinals last season, where they fell 71-52 to Covington Catholic.
4. Cooper (22-7) – The Jaguars had a fine season last year and look to be even better this year thanks to the return of senior Caleb Brooks. The 6'9 Brooks, who is one of the top players in the region, led the team in scoring (14.3) and rebounding (6.7). Sophomore Gavin Lutz (5.8 ppg) and senior Gavin Lutz (7.4) will also be key factors this season.
5. Covington Holy Cross (21-10) – Holy Cross got a major boost when the state's leading scorer, Jacob Meyer, decided to stay home and not transfer to Skill Factory in Atlanta after all. Meyer, who averaged 38.2 points per game last year, is expected to be one of the top players in the state this season. He has offers from Miami (OH) and Bowling Green, among others. Javier Ward (17.2 ppg, 76 3-pointers made) will form a nice 1-2 scoring punch with Meyer. Holy Cross made it to the 9th Region semifinals last season, where they fell 65-57 to Dixie Heights.
6. Highlands (22-9) – After winning the state title in 2020, the Bluebirds regressed a little last year due to the graduation of several starters, including Sam Vinson. Sharpshooter William Herald (18.4 ppg, 50.5% from downtown) is the only key player back from that state championship team.
7. St. Henry (14-10) – After winning the All-A State title, along with the 9th Region crown in 2020, the Crusaders took a step back last year due to heavy graduation losses from that 2020 team. Seniors Jack Grayson (8.8 ppg) and Rhet Ravenscraft (6.8 ppg) will provide leadership and stability.
8. Dixie Heights (22-7) –The Colonels made it all the way to the 9th Region finals last year before falling 59-43 to the powerhouse Covington Catholic Colonels. Junior Hudson Blank (10.2 ppg) is the only returning starter.
9. Boone County (14-16) – The Rebels faded down the stretch last year, losing nine of their last 11, including a 73-63 loss to Conner in the first round of the district. Leading scorer and rebounder Jashaun Pouncy (14.2 ppg, 10.1 rpg) has graduated. Thomas Williams (9.7 ppg) and Will Raleigh (7.2 ppg) return.
10. Beechwood (7-19) – After starting out 4-2 last year, the Tigers lost 14 of their last 17 including nine straight to end the season. They will look to bounce back with leading scorer Cameron Boyd (21.3 ppg) returning.
Region 10 Preview
2021 champion: George Rogers Clark
Troy's Top 10
1. George Rogers Clark (37-1) (#1) – The Cardinals went undefeated against Kentucky competition last year, including a narrow victory over Warren Central in the state championship. They will certainly miss the scoring of Tanner Walton (12.2 ppg) and the ball handling of Aden Slone (6.8 ppg) but have plenty of key players back in starters Jerone Morton (18.7 ppg), Sam Parrish (13.1) and Trent Edwards (12.8) along with key reserves Reshaun Hampton (7.7), and Tyleik Maxwell (2.9). Morton was the MVP of the state tournament last season and will be a Mr. Basketball candidate. Edwards provides a monster defensive presence inside that makes most players think twice about going to the hoop. Head coach Josh Cook and the Cardinals will try to become the first team to go back-to-back since Fairdale in the early 90s.  Look for GRC to be in the mix again this year, though 37-1 is likely not possible to replicate.
2. Mason County (24-6) – After being among the state leaders in defensive interceptions this fall and helping the football team make the 3A semifinals, Terrell Henry (20.5 ppg) will move back over the hardwood to try and help the Royals make a run at the region title. He has been among the top players in the region for several years. Senior starters Philip Bierley (8.6 ppg) and Khristian Walton (8.4 ppg) will also look to provide more scoring due to the graduation of Nate Mitchell (15.7 ppg). The Royals, which fell to Lexington Catholic 57-55 in the 2A basketball tournament semifinals last January, will look to make another run this year.
3. Bracken County (24-10) – The Polar Bears look to keep the momentum going after making the quarterfinals of the State All "A" Classic championship last season and winning two thrillers in the 10th Region tournament before falling to George Rogers Clark in the finals. Expect another high-scoring, exciting year of basketball thanks to the return of several key players including brothers Blake Reed (28.5 ppg, 4.9 rpg) and Cayden Reed (17.2 ppg, 5.2 rpg). Expect Blake to content for region player of the year honors after making 123 3-pointers and 211 free throws last season. Starters Devonte Jefferson and JuShod Commodore also return.
4. Harrison County (20-9) – The Thorobreds exceeded expectations last season but lost a double-overtime heartbreaker to Bracken County in the first round of the region tournament. The return of leading scores Kaydon Custard (14.3 ppg, 6.9 rpg) and JD Kendall (8.8 ppg) provide reason for optimism. Custard is a tremendous athlete who excelled at quarterback for Harrison County this fall as a junior.
5. Campbell County (20-11) – Had big man Eric Davie (17.5 ppg, 11.7 rpg) been on the roster (he was a junior last year) the Camels could have pushed for the second spot.  However, Campbell still has plenty of weapons, most notably Aydan Hamilton (19.6 ppg, 5.7 rpg) and Jake Gross (12 ppg). Hamilton is one of the top players in the region.  The Camels came within two points of the 10th Region finals last season, falling to Bracken County 71-69 in the semifinals.
6. Montgomery County (12-15) – Expect the Indians to have tremendous improvement after taking their lumps last year with a very young lineup that ended in a surprising first-round district loss to Paris.  Second-year head coach Jon Bently has a strong freshman duo in Luke Fawns (12.3 ppg, 4.5 rpg) and Dawson Gentry (7.1 ppg, 43% from downtown) along with senior leadership from Trey Carroll (12.3 ppg) and Alex Hatton (6.4 ppg, 7.6 rpg).  Hatton played very well at quarterback and Carroll helped lead the Indians to another 10th Region soccer title this fall. Fawns is the son of Billy Ray Fawns, who helped lead Montgomery County to its first regional basketball title in 1995.
7. Augusta (15-12) – The Panthers put up valiant efforts in close losses to Bracken County (59-57 in the All A) and Mason County (63-52, in the district first round) last season. They lose two very good players in Kason Hinson (16.0 ppg) and Riley Mastin (15.5 ppg, 10.1 rpg) but will look to build around senior LJ Conner (12.0 ppg) and juniors Kylan Hinson (10.1 ppg, 5.9 rpg) and Conner Snapp (7.4 ppg).
8. Scott (7-21) – Leading scorer Nolan Hunter (11.8 ppg) is back but the Eagles lost several key players from last year's 7-win team. Brayden Howell (11.8 ppg) also returns and has a great last name if I do say so myself.
9. Bishop Brossart (12-19) – Benjamin Franzen takes over as the head coach and will look to seniors Mason Sepate (11.5 ppg) and Luke Schumacher (6.6 ppg, 5.3 rpg) to provide leadership. David Govan (14.9 ppg, 6.5 rpg) was the only senior last season but leaves a big void after leading the Mustangs in scoring and rebounding.
10. Nicholas County (10-19) –The Blue Jackets had a young team last year with only two seniors. Wyatt Clark (22.7 points per game, 68 3-pointers made) will likely be among the top scorers in the 10th Region this season.