Former Kentucky forward Lance Ware visiting Providence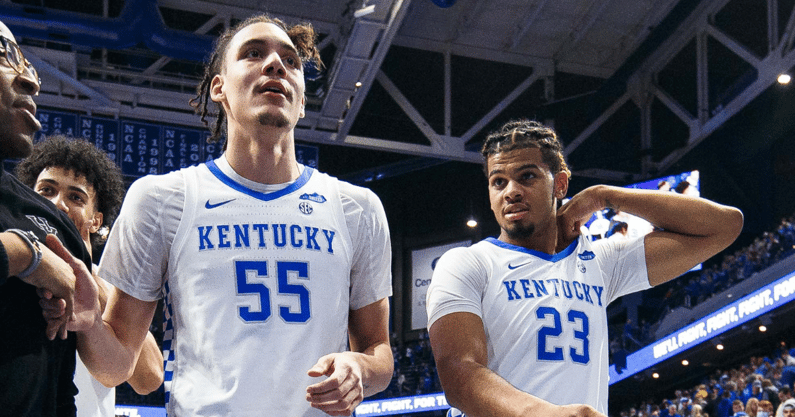 Are former Kentucky Wildcats Lance Ware and Bryce Hopkins about to reunite? According to Travis Branham, Ware is on an official visit to Providence today. Of course, Kentucky beat the Friars in the first round of the NCAA Tournament in March, with Hopkins scoring seven points and grabbing eight rebounds against his former squad.
Ware and Hopkins were teammates during the 2021-22 season, after which Hopkins transferred to Providence. On May 4, Ware entered the transfer portal after three years in Lexington. In 2022-23, Ware averaged 2.0 points and 2.0 rebounds in 9.9 minutes per game. Over three seasons, he averaged 1.8 points and 2.2 rebounds in 9.2 minutes, his most productive year coming as a freshman when he averaged 2.0 points, 3.0 rebounds, and 0.5 blocks in 12.1 minutes per contest — all career-highs.
St. John's has also been mentioned as a potential destination for Ware, a native of Burlington, New Jersey and former star at Camden High School. Shortly after he entered the portal, Adam Zagoria reported that Ware was in the process of setting up a visit with Rick Pitino and his staff. Now, Providence is in the mix, albeit with a new head coach, Kim English, who took over for Ed Cooley, who left the Friars to take the job at Georgetown. Hopkins considered transferring or going pro after Cooley's departure but ultimately decided to return to Providence for his junior season.
Ware and Hopkins' connection
Ahead of the NCAA Tournament game in March, Ware told reporters that Hopkins and his former teammates are still very close.
"We love Bryce. He is a brother to us," Ware said. "We had good times last year with him, and to be able to go out here and play the game that we all love together is special."
In the summer before Hopkins' freshman year, Hopkins and Ware had some fun during an interview session at a satellite camp tour stop, with Ware stealing a reporter's mic to ask Hopkins some questions.
"That's like my big brother here," Hopkins of Ware. "He's just been showing me around, making me feel welcome, making me feel comfortable, simple stuff like that."
Now, the two may play together once more.
Sign up for the KSR Newsletter to get breaking news and daily headlines delivered directly to your inbox.
Kentucky Basketball 2023-24 Roster Tracker
Here's where we stand with Kentucky's 2023-24 roster. Antonio Reeves, Oscar Tshiebwe, and Chris Livingston have until May 31 to decide whether or not to remove their names from the NBA Draft to return to school. Both Oscar and Livingston will participate in this week's NBA Draft Combine, along with Cason Wallace.
Discuss This Article
Comments have moved.
Join the conversation and talk about this article and all things Kentucky Sports in the new KSR Message Board.
KSBoard