Liam Coen, Kentucky will keep open mind with QB recruiting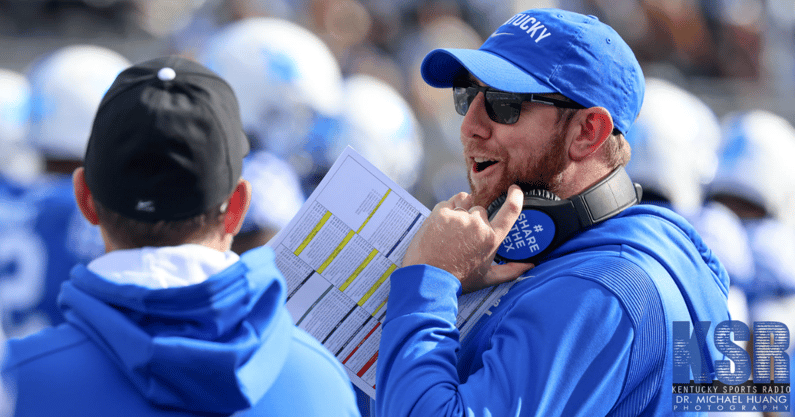 Drew Barker entered the 2016 season as Kentucky's starting quarterback. Three games into the season, the former blue-chip prospect was lost for the season. That was the last high school quarterback recruit signed by Kentucky to start a game for the Wildcats behind center until Kaiya Sheron started against South Carolina in Week 6 during the 2022 season.
We've seen junior college transfers (Stephen Johnson and Terry Wilson), FBS transfers (Will Levis and Sawyer Smith), and wide receivers (Lynn Bowden Jr.) play QB before a high school recruit signed by the Wildcats. After Barker, UK signed seven high school quarterbacks over seven recruiting cycles. That group has combined to make two career starts, and each came in 2022. High school QB recruiting is this program's biggest issue as Mark Stoops heads into year 11.
Fortunately, the transfer portal era arrived at a very good time. Kentucky used it to find Levis and the former Penn State transfer appears to be a lock to be a top-10 pick after two years in Lexington. That success helped the Wildcats land NC State transfer Devin Leary this offseason. The former four-star recruit out of New Jersey will spend his final year of college in the SEC.
Liam Coen has returned to the Bluegrass, and one of his top tasks will be to help the Kentucky football program fix some of the QB recruiting issues. However, this is a situation that must be managed correctly.
"I think eventually you'd like to be able to get somebody you can start for a few years," Coen told the media on Thursday. "But the way that this thing is going with the portal — especially at the quarterback position — I mean how many Mac Joneses are there any more? How many times is that really going to happen with a guy that's just going to buy his time, sit behind some guys, and compete for the job? Might not win it the first time around but then the second and third time around he ends up winning the job."
"I just don't know how realistic that is in the landscape of college football anymore. You gotta believe if you don't win the job for your first two years a lot of these guys are probably going to take off. To each his own. I don't think that you need to force it."
First things first, Kentucky will need to do everything it can to make sure Leary plays to his potential in 2023. If that hits, the Wildcats will produce an NFL Draft pick in consecutive years at quarterback, and that should give the program some real momentum to use both in the transfer and high school market. But the return of Coen could also give the Wildcats some real juice for some future targets.
Cutter Boley and Ryan Montgomery are top 50 overall prospects in the class of 2025. The Wildcats are expected to host each for a junior day visit over the next two weekends. The Wildcats now have more than a puncher's chance at both blue-chip prospects with Coen back in the fold. This program has not signed a top-250 prospect at quarterback since landing Barker in the class of 2014. That needs to change soon.
Some class of 2024 names should start to emerge over the next few weeks as Kentucky begins to zone in on potential targets with Coen now officially able to speak with recruits. But the program will not put all of its eggs in one basket. Kentucky will look to the high school ranks and the transfer portal to fill needs at quarterback. Maybe another trip to the portal will be made again in May to address Kentucky's backup situation.
"If you do your job and you do a nice job recruiting and they're not pleased with the situation they're going to leave," Coen said. "I don't really feel like you have to fix it immediately. Do I believe that's something we're going to attend to? Absolutely do."
Subscribe to the KSR YouTube Channel for press conferences, interviews, original shows, fan features, and exclusive content.