LOOK: New Kentucky Wildcats Move Into Dorms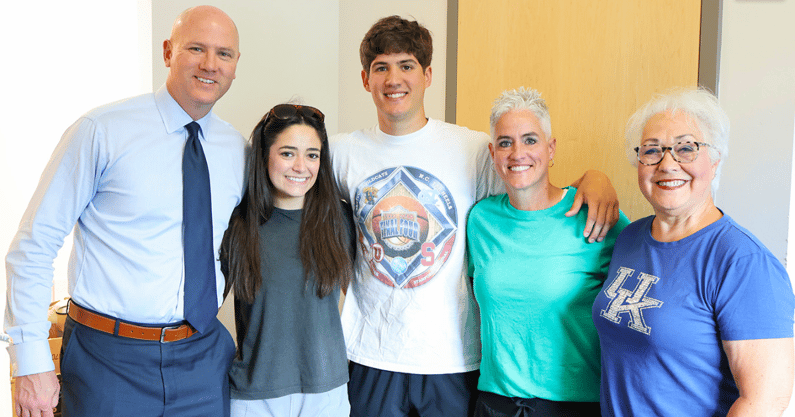 The Kentucky freshmen are receiving a warm welcome to college life this summer in Lexington. On Wednesday Reed Sheppard and members of the Kentucky football team unpacked boxes in their new on-campus home.
The long saga of Reed Sheppard from North Laurel phenom and legacy recruit to a Kentucky Wildcat has finally brought him to Lexington. In a not-so-subtle salute to his father, he wore a 1998 Final Four t-shirt to the Wildcat Coal Lodge, the same year his father, Jeff Sheppard, was named Most Outstanding Player and brought a banner back to the Bluegrass.
Kentucky's Mr. Basketball and a McDonald's All-American prematurely ended his prep career, backing out of the Kentucky-Indiana High School All-Star Game earlier this week to attend summer orientation and other on-campus obligations. Last fall he averaged 22.1 points, 8.5 assists, 8.5 rebounds, and 4.0 steals per game to lead North Laurel to a second straight 13th Region Title.
Take advantage of our KSR+ Launch Special and join the conversation on KSBoard, the KSR+ Message Board.
Kentucky Football Move-In
On the other side of campus, the Kentucky football team welcomed a few new freshmen. Six of the 20 high schoolers in the 2023 recruiting class enrolled for the spring semester. The rest of the crew — including some of the class' highest-rated prospects — is arriving on campus. UK shared snapshots of DB Avery Stuart, RB Jamarion Wilcox, DE Kendrick Gilbert, TE Tanner LeMaster, TE Jakob Dixon, DL Tavion Gadson and LB Grant Godfrey.
This week they'll be getting acclimated to college life by attending various meetings with player development personnel. It's an awful lot at once, but Kentucky's support staff gives them the tools they need to succeed. Well, they get almost every tool.
Their alarm clock will be put to good use with workouts for the true freshmen starting at the crack of dawn Monday, June 5. Corey Edmond, Mark Hill and the rest of the UK strength and conditioning staff will happily welcome the new guys to college with an experience they'll never forget.
Discuss This Article
Comments have moved.
Join the conversation and talk about this article and all things Kentucky Sports in the new KSR Message Board.
KSBoard