Mark Stoops on coaching rumors: "I absolutely plan on being here."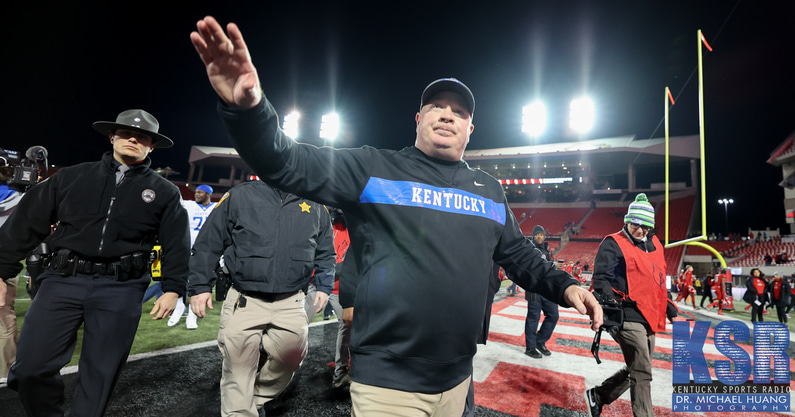 Mark Stoops does not plan on taking another head coaching job this offseason.
Despite the speculation and reports connecting the Kentucky head coach with other jobs — namely the LSU vacancy — Stoops tells KSR he is "absolutely" planning on staying in Lexington.
It was an answer, though, that came with clear frustration.
"Absolutely," Stoops said on the KSR Postgame Show. "I mean, I don't appreciate you putting me on the spot like that. I come on your show and give you my time. Really appreciate you and the way you get the fans fired up — but I love the Big Blue Nation. Yes, I absolutely plan on being here."
His next step? Hitting the ground running on the recruiting trail immediately. His plan is to go to sleep, wake up, and get back to the office tomorrow.
"Let's put it this way, I'm going to work tomorrow," Stoops said. "I'm on my way home, my butt's gonna get in bed, I'm going to be at my office tomorrow, and I'm going to hit the pavement this week to go get us some players."
The recruiting schedule is a busy one, with Stoops visiting two or three states every day from Monday to Wednesday. He'll also continue to explore the transfer portal and fight to keep his current commitments locked in leading up to signing day.
The goal? To get some "impact players" added to the roster for 2022.
"We're going to hit the pavement," Stoops said. "I had visits scheduled tomorrow, but may alter that a bit because of the (KHSAA) playoffs, some things that happened there. But I'm in three different states Monday, two states on Tuesday, three states on Wednesday. I'm going to be hitting the pavement. We've got to get some impact players, finish up this class, hold the guys we have, balance it with what happens in the portal."
Stoops has been connected to a few job vacancies, but the majority of buzz has centered around LSU in recent weeks. KSR was the first to report that LSU was in contact with the Kentucky head coach on Nov. 19, with college football insider Bruce Feldman later reporting that the Tigers had "legitimate interest" in Stoops.
"Stoops' name has gotten hotter inside LSU in the past week or so," Feldman reported Wednesday, "and sources say the Tigers have legitimate interest because they see him as a proven a program-builder."