Nationally ranked 2025 prospect Leah Macy breaking out as in-state star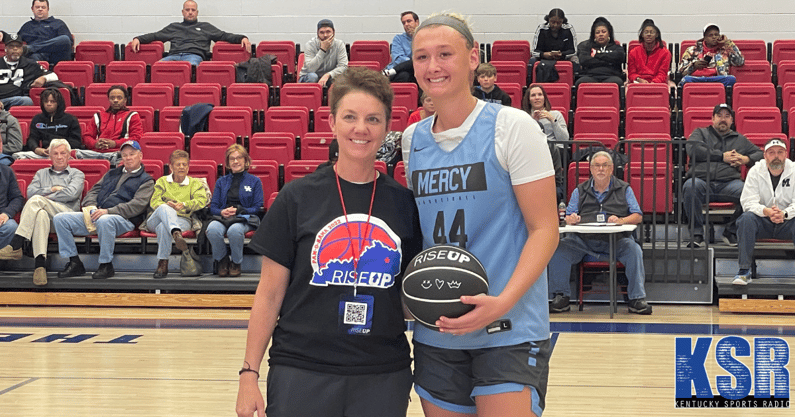 The Bluegrass State doesn't typically produce five-star-caliber high school girls basketball players. Maddie Scherr, who is now a junior at the University of Kentucky after transferring from Oregon, is the last high school superstar to come out of the area. Scherr graduated from Ryle County in 2020 as a five-star recruit and is the current starting point guard for UK.
But the 2025 in-state class has a chance to buck that trend in emphatic fashion. Kentucky has not one, but two nationally ranked high school sophomores who both play out of Louisville. One of them is Zakiyah Johnson, a 5-foot-11 guard ranked No. 2 in the entire country, per ESPN's Terrific 25 rankings. She was the star for Sacred Heart Academy as a freshman last season and will look to lead the Valkyries to consecutive state title victories this coming year.
The other sophomore — the one we're about to discuss — is Leah Macy, a 6-foot-2 post player out of Mercy Academy. She's not far behind her good friend Johnson in ESPN's rankings, checking in at No. 17 in the country. Johnson and Macy are completely different players on the court too, providing a complete range of skills between the two. With three more years of high school left for these two, the future of KY hoops is bright.
Focusing on Macy, she's about as versatile of a frontcourt player as you could create. In 32 games played as a freshman at Mercy in 2021-22, Macy averaged 20.1 points and 12.3 rebounds per game, both easily team highs. She also shot an incredibly efficient 62.3 percent from the floor and is steadily improving her floor-spacing abilities.
"I'm just so versatile, whatever matchup, nobody can really stop me because I can play inside or out," Macy told KSR on Saturday. "That's really hard to guard. Depending on the game I can show different aspects of my game, but a huge aspect of mine is rebounding, so that's usually on every game."
KSR got a first-hand look at Macy earlier in the weekend at the inaugural Rise Up Sports Media Pan-O-Rama, which took place at Montgomery County High School in Mount Sterling, KY, and was operated by women's sports advocate Tonia Witt.
In what was officially recorded as a preseason event, Mercy was able to fend off a pesky Corbin squad on Saturday morning by a final score of 61-56. Macy was tabbed the MVP after the game as she finished with 24 points, nine rebounds, two assists, and two steals, including an 8-10 mark from the free-throw line.
At times, the game almost looked too easy for Macy, who typically towers over her opposing matchup by a few inches. She can catch almost anything around the rim, is a textbook rebounder, and runs the floor for her guards.
The next step is developing her outside shot, which she spent the offseason honing in on. Macy was a respectable 17-54 (31.5 percent) from 3-point range a season ago. Bumping that figure into the high 30s (or even low 40s) will make her that more dangerous on the offensive end. She's an elite-level rebounder and quick on her feet.
"When college coaches look at me, they talk about how I can play inside and out, but a huge aspect is rebounding," Macy added. "They like how I can go get a double-double every night usually in high school, and then in AAU I'm just able to guard inside or out. In high school I have to guard a lot the post players, I guess you would say, but I can also match up with a guard outside."
Speaking of college coaches, they already know all about Macy. She first started getting noticed as a seventh grader playing varsity for Elizabethtown and her recruitment exploded once the COVID-19 pandemic began to simmer down last summer. The likes of Arizona, Oklahoma, LSU, Mississippi State, Louisville, Tennessee, Ohio State, Michigan, North Carolina, and several other Power 5 programs have already offered. Kentucky is chief among them, too, reaching out to Macy all the way back in August 2021.
"It's been really fun just building relationships with all these coaches," Macy said. "I haven't got to take as many visits as I would like. I played volleyball in the offseason — that was a fun experience, it wasn't really my forte. So hoping to go on a lot of visits this year and going into my junior year next year. But I just have great relationships with so many coaches and I'm excited to see where it boils down to."
Macy has been to Lexington many times for visits already, including the last two Big Blue Madness events at Rupp Arena. Wildcats head coach Kyra Elzy has developed a sound relationship with the in-state star. UK assistant Amber Smith was at Montgomery Co. HS on Saturday to watch Macy in person.
"It was really fun, I liked it," Macy said of this year's Big Blue Madness. "I went last year with Rhyne Howard, that was a really cool atmosphere with Rhyne there. But I got to meet Maddie (Scherr) at Big Blue Madness this year, so it was really fun to build that connection. We both played (on AAU program KY) Premier. But the atmosphere was really nice."
And as you might expect, there's another nearby school keeping plenty of tabs on Macy too. Louisville head coach Jeff Walz extended her an offer in Oct. 2021. The Cardinals have been a favorite of Macy's since she was a child and remain high on her list.
"I have a really good relationship with Coach Walz and Coach (Stephanie) Norman," Macy added. "I went to Louisville Live and that was so fun, I met Jack Harlow. That was so fun. We were just talking about basketball and everything. He kinda came up to the recruits. But he was really nice and cool. I like Louisville a lot."
But putting recruiting aside, Macy has big goals this season — and for the rest of her high school career. She wants to win a state tournament in Rupp Arena and believes Mercy has the all-around talent to pull it off sooner rather than later. Macy is complemented by budding star guard Alyssa Murphy, who is also a sophomore receiving Division I interest.
Mercy's regular season tips off on Nov. 28 against Mercer County. A showdown with Zakiyah Johnson and Sacred Heart is scheduled for Feb. 12 in Louisville.