Opportunity for early playing time at Kentucky has caught 4-star LB Arion Carter's eye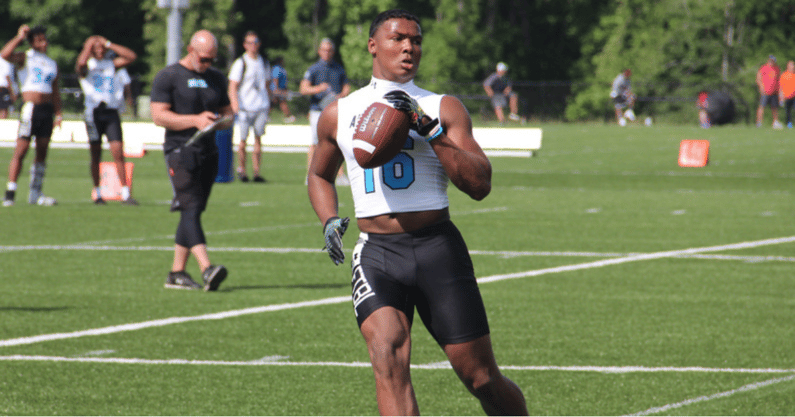 At the moment, Arion Carter might be the hottest '23 prospect in all of high school football. After all, who else can say they've hauled in scholarship offers from the likes of Alabama, Auburn, USC, Tennessee, Kentucky, Michigan, LSU, and Florida all within a matter of five days?
Committed to Memphis since July, Carter's stock has exploded over the last couple of weeks, although he remains firm with the Tigers. He took an unofficial visit to Alabama last weekend where he sat down and talked with head coach Nick Saban, ultimately receiving an offer. The 6-foot-1, 210-pound linebacker out of Smyrna (TN) High School has gone from unranked to a consensus four-star recruit in just a week's time.
"It's been a blessing, to say the least, first and foremost," Carter told KSR on Tuesday about his recruiting popularity. "And then not only that, it's just been a real eye-opener to the opportunities that I have now that I didn't have before. To play at a really really high level. No disrespect to Memphis at all, but playing in the SEC, biggest conference in college football, most dominant conference for years in college football, just having the opportunity to play for any team in that conference is a blessing, let alone being offered by one of the top schools. It's really opened my eyes to my recruitment and where I could go."
After starting his high school career as an efficient running back, Carter began to play both sides of the ball as he entered his senior season. Now suiting up at both linebacker and running back, his ability to play both sides of the ball with equal levels of efficiency has college coaches drooling over his potential.
Through four games for Smyrna this season, Carter has recorded 29 total tackles (three of them sacks), two pass breakups, and two forced fumbles on defense. On the offensive side, he's rushed for 372 yards and 10 touchdowns.
"Playing running back helped me a lot, finding holes and knowing where to be and being real athletic to stay with those running backs and wide receivers, it just translated defensively for me," Carter said. "With me putting that on tape and college coaches seeing that and they constantly tell me that they love my change in direction, speed, and the way I strike the ball, the way offense really translates to me on defense. That's what's been an eye-opener to the colleges now."
Kentucky is one of the many Power 5 programs to extend him an offer over the last few days. Defensive coordinator Brad White was the one who reached out to Carter, making sure the Tennessee native knows he could make an immediate impact if he were to seriously consider the 'Cats.
Carter has seen that immediate impact firsthand, too. He's from the same area as Kentucky freshman WR Barion Brown, who he played against on the field during their high school days. Carter pointed out Brown's 100-yard kickoff return for a touchdown in the season opener as something that really stuck out to him. That play showed Carter he could come in and make an immediate impact for the 'Cats, just like Brown has.
"(Coach White) said if I go there I would have my opportunity to play as a freshman," Carter added. "He gave me examples like Keaten Wade and Barion Brown going to Kentucky and being able to start as freshmen and play as freshmen. That was a big eye-opener."
Not only does Carter know of Brown and played against him in high school, but he can also say the same about the Wade twins, Keaten and Destin, a pair of four-star Kentucky freshmen.
"Especially with (Kentucky) being highly ranked and then not only that but with Barion Brown being from literally 10-15 minutes up the street from where I'm at," Carter said about what sticks out about UK. "Him committing there, me seeing him go through the process of committing there over Alabama, and going there and making an impact and also that touchdown when he scored the kickoff. That was explosive and it just shows you can make a difference there at Kentucky."
As of right now, Carter does not have any official visits planned. That being said, he intends to use the next two weeks to flesh out those dates. Carter added that he wants to early enroll in the winter, so the process of picking OVs is likely to move rather quickly. Kentucky very well could be one of the five schools to receive an official visit.