It's time to start Oscar Tshiebwe's National Player of the Year campaign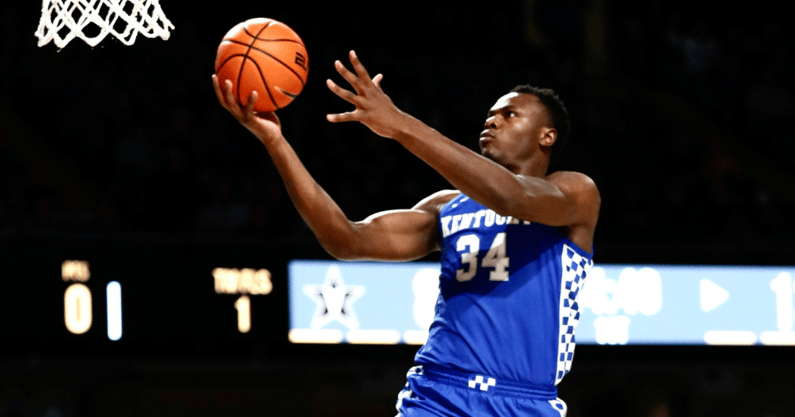 We know Oscar Tshiebwe the rebounding machine. For the second game in a row, we got to see Oscar Tshiebwe the scoring machine. Kentucky's junior big man finished with a career-high 30 points and 13 rebounds in the Cats' 78-66 win over Vanderbilt, his 12th double-double of the season.
Oscar is the first Kentucky player with at least 30 points and at least 10 rebounds in a game since Patrick Patterson had 33 points and 11 rebounds on Dec. 22, 2008 vs. Tennessee State. Over the last two games, Oscar is averaging a staggering 29.5 points and 15 rebounds, further proof that it's beyond time to get his National Player of the Year campaign rolling.
The extraordinary is becoming the norm
Before we get to the numbers, I think the fact that we're now used to Oscar doing extraordinary things speaks for itself. In his first season playing at Kentucky, Oscar set the Rupp Arena single-game rebounding record with 28 boards vs. WKU, shattering Shaquille O'Neal's previous mark of 21. That's tied for the sixth-most in Kentucky basketball history and the most by a Wildcat in more than 45 years.
If Oscar keeps up this pace, he'll be the only player ever in the modern era (post-1985) to average at least 15 points and 15 boards per game. Right now, he leads the nation in almost every rebounding category. With this burst of offensive production, the sky truly is the limit. That's why it's beyond time to start his National Player of the Year campaign.
Currently, Oscar ranks second in KenPom's Player of the Year standings behind Ohio State's EJ Liddell. As Adam Luckett noted earlier, Liddell is having a great season, averaging 20.1 points and 7.2 rebounds in 30.8 minutes per game. With tonight's performance, Oscar is now averaging a team-high 17.0 points and 15.1 rebounds in 29.3 minutes. No player is more essential to their team than he is, which was evident when he went to the bench tonight. John Calipari is well aware, which is why he tried to give Daimion Collins and Bryce Hopkins extra minutes vs. Vandy.
"We've gotta keep giving those guys a chance but when they go in, the score can't go the wrong way," Calipari said. "It just can't happen. We've to keep working with them, which we will. How many minutes can [Oscar] play? He's one of those guys that would say, 'I'm good.'"
"Yo, Oscar's really good."
Does the team fully appreciate Oscar's mind-blowing stat lines this season? Keion Brooks recalled a moment during tonight's game when he and his teammates just shook their heads in amazement.
"There was actually a moment on the bench. I can't remember who I was talking to, it might have been Lance [Ware] or Bryce [Hopkins]. I was like, 'Yo, Oscar's really good.' It wasn't the fact that we were surprised but sometimes you've got to take the time to appreciate what somebody does. Oscar has been tremendous for us all year. He's playing exceptionally well. I feel like we've been doing a good job of getting him the ball and when he gets it, he scores just about every time so Oscar's been doing everything we've asked of him."
John Calipari had a slightly different answer to that question. Instead, he reflected on how far Oscar has come, even in just a few games.
"We had a game a couple of games ago where he graded out on his sprints the worst he had all season and so now I am focused on him running that court. It puts him ahead of the action. It means he's not going to foul. He's going to get some easy ones. He's in a great position to rebound."
"Do you remember early in the year he couldn't make two-footers and offensive rebound and throw it out? Now he's shooting jumpers, making free throws. I don't want him to dribble the ball up the court. Not doing that, but really happy to see how he's playing."
Oscar said he embraced the challenge from his coaches to run harder.
"I think I improved that because the coaches, they need me to run. When I run, I get easy buckets. When I run, no big can run with me because when you run, you open up for all your teammates so that's why coaches say I have to go back to doing what."
"I never had a dream about scoring 30 points in a game"
Oscar's 30 points tonight are the most by a Kentucky player since Immanuel Quickley hung 30 on Texas A&M back in February 2020. It broke his previous career-high of 29, set one game ago vs. Georgia; for a player who focuses so much on rebounding, Oscar admitted this was never one of his goals.
"No, I never had a dream about scoring 30 points in a game," Oscar said when asked about his career-high. "It just happened. The team, they're helping me. They look at me down there and I showed them I can do things. I can score to help the team. I can do a lot of different things. It was good to finish with 30 points, but I have an ability down in the post to finish. That's what helped me and making free throws. That was a good thing."
Oscar's performance in the last two games came against two of the SEC's weaker teams, but will only accelerate what has become a rolling bowling ball of momentum. At times early in the season, Oscar looked indecisive on offense, hesitating in the post instead of going for an easy score or passing it back out instead of trying a jump shot. Not anymore.
"It is about confidence," Oscar said. "Since the beginning of the season until now, I've got a lot of confidence now. I can see the floor really good when I've got the ball and I just stay positive and you've got to know the game of basketball. I've got a lot of confidence and I think I've grown a lot since the beginning of the season."
"I want my name to be remembered as Oscar who was different, not just as a basketball player"
As humble as he is, Oscar Tshiebwe has made it clear that he wants to go down in Kentucky Basketball history. He's said more than once he wants to be remembered alongside greats like Anthony Davis. When informed that was the first Kentucky player to score 30+ points and grab 10+ rebounds in a game since Patrick Patterson in 2008, he did what he always does — gave the glory back to God.
"That is crazy because I never even think about, today I'm going to kill. I just say, today, I'm going to go out there and fight. I guess it — I believe in God and I trust in God and I always give all glory back to God because I don't really perform on my own strengths because God always helps me.
"I just go out there and fight. I just go out there and the first thing I do better is to invite God into everything I do. I say, I don't want to do it on my own. Come in, let's have fun together and God always helps me a little bit. I always stay focused. It is one of the amazing things because the Bible tells us you can do anything. Anything is possible. Like I see my name and I want to be remembered forever. Not just as a basketball player. The way I treat people, the stuff I'm bringing to this place, Kentucky Basketball, it's not just being a basketball player. I want my name to be remembered as Oscar who was different, not just as a basketball player."
Add in his comments about the Big Blue Nation and I'd say he's already there.
"Those fans, we've got to do whatever we've got to do for them because without them, we can't do anything," he said after seeing blue take over Memorial Gym. "Especially little kids. I love spending time with little kids. I can do anything for those kids because they come into the game and we are their examples for what we do because they want to do that too one day so we need to shout them good things so when they grow up, they can follow our good examples."