Reclassifying to 2024 was the right move for Kentucky QB commit Cutter Boley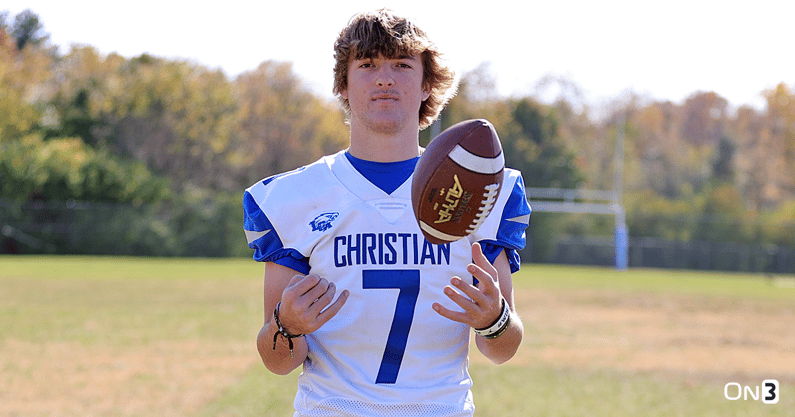 New Kentucky football commit, four-star QB Cutter Boley, really isn't all that far away from arriving on the Wildcats' campus and preparing for his freshman campaign.
After announcing his pledge to UK on Thursday, the top 75 prospect in the country will finish out his final season of high school football with Lexington Christian Academy this fall before enrolling early at Kentucky in January. That's roughly seven months between the time he committed to UK and the time he'll begin learning under offensive coordinator Liam Coen. Boley was initially expected to spend another season at the high school level before making the jump to college, but unprecedented circumstances changed the situation.
Boley is originally a member of the 2024 class, but when the COVID-19 pandemic hit in 2020 and the world shut down, plenty of unknowns began to present themselves. He reclassified to 2025 soon after in hopes of being able to draw more eyes to his game as he developed on the field. At the time, Boley was much smaller and skinner than his current frame of 6-foot-5, 200 pounds. He was already very much an under-the-radar prospect with little college interest entering high school. The world going virtual only made his recruitment more difficult as opportunities to gain recognition had all but vanished.
"He was just about to enter high school when COVID hit and that's part of it," Cutter's father, Scott Boley, told KSR about the decision to reclass to 2025. "That first year of COVID, nobody knew how this was going to go. They weren't going to school and everything was virtual. All the way around — socially, academically, and athletically — you weren't getting what you normally would get in that year. It felt like a wasted year. It's nobody's fault. It's just what was going on in the world."
With that in mind, the Boleys elected to hold Cutter back one year. The family knew he possessed enough talent to make it in college in some capacity, but the uncertainty of everything going on in the world made the switch to 2025 feel like the safer bet.
It still was, but if they had to do it over again, he would have remained in 2024 from the jump. Hindsight is always 20/20 though — it turned out Cutter didn't need long at all to announce himself as a nationally-ranked prospect.
"We thought it's the perfect time, coming out of eighth grade, let's just stay back, give him time to grow and see what happens," Scott Boley said. "Looking back now, it went so fast for him that it turns out he wouldn't have had to stay back, but you don't know that at the time. He was three or four inches shorter. He's skinny now, but he was super skinny then. You're looking ahead and saying, hey, this is going to take three or four years for anybody to notice him. It turns out, it took him six months before he started getting noticed, which is good. Looking back, we wouldn't have done it, but we were trying to make the best decision at the time with the information we had."
When Cutter made his commitment to Kentucky, he immediately notified everyone that he was jumping back into the class of 2024, which wasn't exactly a surprise to hear. He already held enough academic credits to be considered a high school junior by the NCAA, which approved him to take an official visit to UK the weekend of June 9-11. Boley might have to add a few more subjects to his course load this summer, but he never truly fell off the path of graduating from the class of 2024.
The one good thing that changing to the class of 2025 did present was more options, especially once Boley blew up on the national scene. He could have stayed in '25 if he wanted, drawing out his recruitment to find the best possible situation — and it sure did get crazy in the spring. But Kentucky already had what he was looking for and the program needed to add a quarterback from '24.
Getting to college sooner rather than later is going to give Boley a significant leg up in his on-field development, even if he doesn't see the field right away as a true freshman.
Boley will still have another high school season to improve, too. There will be plenty of opportunities for him to develop even further ahead of his arrival at UK. LCA has loaded up this season's schedule with some of the state's top-end programs. While he had an impressive sophomore (now technically junior) season with the Eagles in 2022, he still threw 15 interceptions. There's always room to grow, even when you're a four-star recruit.
"We want to make sure (Boley's) a little more efficient," LCA head coach Doug Charles told KSR. "He had some early interceptions last year and he learned from those. Play a little cleaner, not try to make every play. There's not much deficiency in his game. We're going to train him and get him as right as we can.
"We play a brutal schedule this year. We're playing all over the state. We're playing at WKU, Bowling Green, against Bowling Green week one. We're playing Boyle County at Boyle County week two. There will be dudes all over the field on both sides. That'll be worth the price of admission. He's going to be playing against some very, very talented people. That's only going to help him translate to the next level."
Everyone involved — Cutter, his family, his coaches, his teammates, etc. — can hardly wait to see what's in store for this fall and beyond.
"I kind of wish the season started right now because his confidence is at an all-time high," Scott Boley said of his son. "He's feeling really good wherever he goes and really confident."