Sahvir Wheeler confident he and TyTy Washington will mesh seamlessly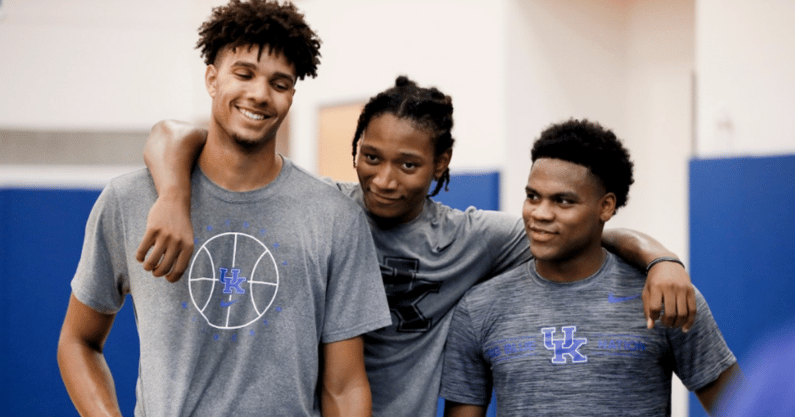 With all the noise surrounding the future of Kentucky Basketball, let us not forget that Big Blue Madness for the 2021-22 squad is now under a month away. Following the debacle that was the 9-16 season of 2020-21, Wildcat head coach John Calipari reloaded on talent with three impressive freshman and four veteran transfers, not to mention a handful of key returners.
Kentucky is going to be deep this year, with as many as 12 players worthy of playing Divison I minutes. However, the "platoon" system of 2014-15 doesn't appear to be returning, so a regular seven- or eight-man rotation might be all Calipari rolls with. But we already know for sure who the primary point guards are going to be.
Wheeler and Washington taking charge
Georgia transfer Sahvir Wheeler and rookie TyTy Washington will fill in the backcourt this time around, hopefully shoring up the biggest hole from last season's poor showing at Calipari's most valued position. Wheeler already has two years of SEC experience under his belt and Washington might very well be the best freshman ball-handler in the country. The offense will absolutely run much smoother than it did back in the winter.
But will there be enough basketball to go around? Wheeler and Washington are both ball-dominant players who are at their best when attacking the basket and getting others involved. Creating a harmonized chemistry will take some practice, and a bit of sacrifice, but Wheeler is confident that won't be anything close to an issue.
With Calipari once again expected to take a multi-guard approach, Kentucky might actually be at its best this season when both Wheeler and Washington are playing at the same time.
"I mean why not? Why wouldn't (TyTy and I) be able to play at the same time?" Wheeler said on KSR during Thursday morning's show. "We have things that complement each other and we play against each other in practice, but we also play with each other. So I don't see why we would have to play at separate times."
A talented backcourt
Kentucky will have its choice of backcourt teammates to add with Wheeler and Washington if it wishes; Kellan Grady, Davion Mintz, Dontaie Allen, and C.J. Fredrick could all slide in to make up a three- or even four-guard lineup. With that much talent around them, there will be instances where Wheeler and Washington are not together. But you can bet that Calipari is going to get weird with his guard rotations early on. Wheeler and Washington will have opportunities to showcase they are capable of meshing on the court.
Wheeler's argument is this: he and Washington are so talented that any issues will iron themselves out before it can form a wrinkle.
"I think our games complement each other. (TyTy) can create for himself and others and I can do the same as well. So it's nothing really conflicting," Wheeler said. "We do a really good job of sharing the ball with each other when we do play with each other. The game is fun, the game is easy, it's relaxed, smooth. And also when we're against each other we compete. We're two of the better guards in college basketball and we push each other every day to make each other better."
Kentucky already has the backcourt of the future locked in, but the current point guard situation sure does sound exciting.