Scouting Report: Louisville Cardinals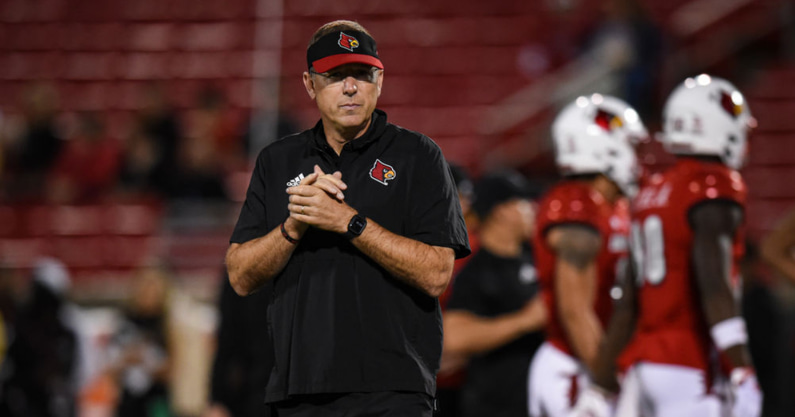 Kentucky football is 1-3 since the bye week and in danger of dropping a fourth game at home. The Wildcats have their backs against the wall as rivalry week arrives.
Scott Satterfield's fourth team at Louisville is 5-1 since a bad loss to Boston College on Oct. 1 and is playing with a lot of confidence as the season comes to a close. The Cards are currently flirting with a top-25 finish as the program could reach nine wins for the first time since 2016.
The Governor's Cup has some legitimate stakes in 2022. Let's dive into Louisville's team that is riding a playmaking defense to big results.
Nuts and Bolts
Scott Satterfield is less than a month away from signing a borderline top-20 recruiting class. The Cards have a group of blue-chip prospects committed, and now all that's left is to land signatures in December. Unfortunately, those players are not on the roster right now.
Recruiting to a Power Five program had been tough for Satterfield until NIL rolled around. Luckily, the transfer portal showed up at the perfect time.
The Cardinals added 11 players from the portal in the offseason, and most have made an impact this fall.
At tailback, Tennessee transfer Tiyon Evans leads the offense in yards per rush (6.3). Central Arkansas transfer Tyler Hudson has become a clear WR1. Former Virginia Tech transfer Bryan Hudson is one of the best centers in the ACC
On defense, Florida State transfer Jarvis Brownlee, Jr. leads the team in pass breakups. Ole Miss transfer Momo Sanogo leads the team in tackles. Middle Tennessee transfer Quincy Riley leads the team in interceptions.
Syracuse transfer Jawhar Jordan enters this week as RB1, former Liberty transfer Kei'Trel Clark is an NFL prospect at cornerback, and former junior college transfers YaYa Diaby and Monty Montgomery are two of the better players on defense.
Satterfield's high recruiting has been a big issue until the class of 2023 showed. Luckily, good usage of the transfer portal has led to success for the Cardinals in 2022.
Saturday will be the 34th meeting between the in-state rivals with Kentucky owning an 18-15 series lead. These programs have met every year since 1994. The Cats have won 4 of 5 in the series after Louisville won five straight from 2011-15. Since the game moved to rivalry week in 2014, Kentucky is 4-3 against Louisville.
Out in the desert, Kentucky is a 3-point favorite with a total of 43. That's a projected final score of 23-20. Both teams are 7-4 against the spread (ATS) this season. The under is 10-1 in Kentucky games and 7-4 in Louisville games. UofL has two outright upsets as a road dog this season. UK is 5-10 ATS in their last 15 games as a home favorite against power conference foes. Mark Stoops is 5-2-1 ATS in this series. Scott Satterfield is 5-6-1 ATS as a road dog at Louisville with three outright wins.
Louisville offense
In his first three seasons at Louisville, Scott Satterfield put together three top-20 yards per play offenses as the Cards consistently had one of the top offenses in the ACC. However, that has not been the case in 2022.
Despite returning a star quarterback and four starters on a good offensive line, the results have not been great for Louisville's offense this season. Let's take a look at the data heading into Week 13.
Scoring: 28.5 (T-67 overall)
Success Rate (from CFB Graphs): 37.2% (No. 93 overall)
Yards Per Play: 6.1 (No. 42 overall)
Yards Per Rush: 5.0 (T-27 overall)
Yards Per Attempt: 7.5 (T-60 overall)
3rd/4th Down Conversions: 37.8% (No. 99 overall)
Red Zone TD Rate: 48.8% (No. 112 overall)
Points Per Drive: 2.13 (No. 77 overall)
The efficiency of this offense has been very bad throughout the season. Luckily, Louisville has been explosive enough (No. 26 in plays of 30-plus yards) to create some easy scores. But this offense has issues putting drives together.
Injury issues have not helped.
Louisville lost expected WR2 Dee Wiggins in Week 3 for the season. There have been multiple injuries along the offensive line. Running backs have been in and out of the lineup. But the biggest issue is at quarterback.
Malik Cunningham (6-1, 190, Super) missed starts against Virginia and NC State. The veteran quarterback with 34 career starts is "day-to-day" this week. That takes the offense's most dangerous player off of the field.
The passing game has struggled for Louisville as Cunningham is putting up a career-low 7.3 yards per attempt on 23.6 throws per game with eight touchdowns and four interceptions on a 42.7 percent passing success rate. However, he is still a very dangerous rusher.
Cunningham leads the offense with 633 non-sack rushing yards and 11 touchdowns. The Alabama native is averaging 6.8 yards per rush and has nine runs of 20-plus yards. If the veteran can play on Saturday, it will be with a shoulder and left-hand injury. Two weeks ago against Clemson, Cunningham wore a glove on that left hand with heavy padding. That could make ball handling and rushing very difficult.
Former junior college transfer Brock Domann (6-2, 228, RSr.) is the next guy up and will be the guy if Cunningham cannot go. The Colorado native led Louisville to ACC wins against Virginia and NC State, but it's clear the offense takes a step back without Cunningham in the lineup. Domann's completion percentage (51%) and passing success rate (36.4%) are lower than Cunningham's. Plus, the junior college transfer does not provide near the run element, but he has connected on some vertical passes when given an opportunity.
Switching over to tailback, there have also been some injury issues. Tennessee transfer Tiyon Evans (5-11, 210, Sr.) leads the running back room in yards per rush (6.3), rushing success rate (44.6%), and rushing touchdowns (6) but has been limited by an ankle injury. Satterfield told reporters that Evans would be RB3 this week. That has opened up playing time for former Syracuse transfer Jawhar Jordan (5-10, 180, RJr.).
The Arizona native has rushed for 555 yards on 5.0 yards per rush and has rushed for over 100 yards in two of the last three games as his workload has increased. Jordan has poor efficiency numbers (36.9% rushing success rate) but has speed and provides some big-play pop.
In the passing game, another transfer has emerged. Tyler Hudson (6-2, 197, Sr.) was an All-American performer at Central Arkansas on the FCS level, and that play has translated to the Power Five. The Texas native leads the Louisville passing offense in targets (97), receptions (63), and receiving yards (951). Hudson is the clear WR1, and the passing game runs through him. Only three other players have more than 15 receptions on this offense. Kentucky must have a plan for No. 0.
The lack of a true No. 2 at receiver has hurt this offense. Former walk-on Marshon Ford (6-2, 240, RSr.) has had a productive career and is a solid weapon at tight end with 28 receptions on 41 targets. Ford often plays in an off-ball role as Satterfield likes to be in 12 personnel to get an extra hat to help block in the run game.
On the line of scrimmage, Louisville entered the year with one of the most experienced offensive lines in college football. However, this group has had some issues. Some injuries have had guys in and out of the lineup, and that has caused some issues. Virginia Tech transfer Bryan Hudson (6-4, 310, Sr.) has provided excellent play at center. The Cards are seven deep and can have a lot of success when the run game gets rolling.
Overall, Louisville has had many issues with efficiency, and there have been problems with ball security (16 turnovers). A lot of the problems are due to the passing game, but this is an offense that can hum when the rushing attack can create chunk plays. The offense can be dangerous on the ground with Cunningham in the lineup. Stopping the UofL rushing attack has to be the No. 1 goal for any defense.
Louisville defense
Fourth-year defensive coordinator Bryan Brown entered the season facing a lot of pressure. Many Louisville supporters were hoping that Scott Satterfield would move on from the play-caller. Satterfield decided to stick with his guy, and that is paying off.
Louisville has a defense playing at a top-25 level in Week 13. Let's take a look at the numbers.
Scoring: 19.6 (T-19 overall)
Success Rate: 38.4% (No. 47 overall)
Yards Per Play: 5.2 (No. 36 overall)
Yards Per Rush: 3.8 (No. 35 overall)
Yards Per Attempt: 7.0 (T-57 overall)
3rd/4th Down Conversions: 33.6% (No. 12 overall)
Red Zone TD Rate: 48.6% (No. 19 overall)
Points Per Drive: 1.66 (No. 17 overall)
During the Satterfield era, lack of size has been an issue and that is still the case for Louisville this season. After losing Arizona State transfer Jermayne Lole for the season following Week 1, the Cards do not have one player at 300 pounds in their three-man front. Louisville asks a pair of walk-ons to play major snaps. However, this front seven has still found a way to create a boatload of havoc.
Out of a 3-3-5 structure, Brown will move around his front seven pieces a ton to show offenses numerous looks. Louisville runs a lot of games upfront including twists, simulated pressures, overload blitzes, and occasional drop eight to try and confuse offenses. That pre-snap confusion has led to a lot of negative plays.
The best player on the defense is EDGE Yasir Abdullah (6-1, 242, Super), and the South Florida native has started 40 games in his carer and has always created havoc. The former mid three-star recruit entered his fifth year in college with 27.5 tackles for loss, 14 sacks, and four forced fumbles. Those numbers have only increased this year.
Abdullah has recorded 53 tackles, 13 tackles for loss, eight sacks, four forced fumbles, four pass breakups, and two interceptions this season. The veteran has a great case for ACC Defensive Player of the Year honors. The edge rusher should get All-American consideration and be an NFL Draft selection in April. Having played over 2,000 snaps in his career for Louisville, Abdullah owns an outstanding pressure rate this season (18.2%), and can wreck the opposing offense at any point.
At defensive end, YaYa Diaby (6-4, 270, Super) is another player who returned for an extra year, and that has paid off for the former junior college transfer. In year three at Louisville, Diaby has 10.5 tackles for loss and 6.5 sacks. The veteran is Louisville's best line-of-scrimmage player and helps anchor the defense away from Abdullah.
At the second level, Louisville has some more super seniors. Ole Miss transfer Momo Sanogo (6-1, 235, Super) and former junior college transfer Monty Montgomery (5-11, 220, Super) have been highly productive. Sanogo leads the team in tackles (79) and has contributed 8.5 tackles for loss with 3.5 sacks. Montgomery provides a bit more playmaking with 53 tackles, 8.5 tackles for loss, five sacks, three forced fumbles, two interceptions, and two pass breakups. Brown moves both of these players around a ton and asks them to assist with the pass rush constantly. The veterans have responded by creating a combined 36 pressures.
The style of play that Louisville is using does not work unless the coverage and tackling in the secondary are very good. This defense needs its secondary to win in one-on-one situations and get players on the ground when an offense gets a skill talent player in space. There has been some glitchiness, but overall the Cards do a good job of creating playmaking and limiting explosives.
Once again, another transfer is making a huge impact. Jarvis Brownlee, Jr. (5-11, 186, RJr.) was added from Florida State in the offseason and the South Florida product has immediately become an integral part of Louisville's success. Teams have looked to attack the cornerback early and often, but Brownlee has responded with production.
The former high three-star recruit has recorded 55 tackles and ranks No. 18 nationally with 13 passes defended (11 pass breakups, 2 interceptions). Brownlee leads the defense in snaps (683) and has had some bright moments. However, the cornerback has given up a reception of 20 or more yards in seven games this season. Big plays are there when you attack No. 12.
Former Liberty transfer Kei'Trel Clark (5-10, 177, Sr.) is back and having another good year. Some see Clark as an NFL prospect who has had great ball production in three seasons in the ACC with 23 pass breakups and five interceptions during his time at Louisville. Clark has scored two defensive touchdowns this season. At times, UofL has experimented with Clark at nickel to get Quincy Riley (6-0, 185, RJr.) on the field. The Middle Tennessee transfer has been Louisville's best cover corner and leads the team in interceptions (3) on just 229 coverage snaps.
Overall, all of Louisville's cornerbacks have great ball skills and have provided a good amount of playmaking. However, big plays are there for the taking when offenses take vertical shots.
At safety, Louisville (Ky.) Ballard product Josh Minkins (6-2, 196, Jr.) has taken over a starting spot with 45 tackles and a handful of havoc stats (2 tackles for loss, 3 pass breakups, 1 interception, 1 sack, 1 forced fumble). There are havoc stats everywhere on this defense.
Brown has done an outstanding job with this group. The Cards have four players that are in year three starting in this system and that shows up on tape. This unit is connected and plays on a string. There are nine junior or senior starters on this unit. That experience shows up weekly. Louisville knows its scheme well, and the defense has carried the team to wins this season.
It's really showing up in the takeaway department as the Cards rank No. 2 nationally in takeaways (28). Louisville has forced multiple turnovers in seven games this season. That has created additional stops and is a big part of this defense.
Louisville special teams
Kentucky has had all kinds of issues in the third phase. The same cannot be said for Louisville. The Cards are very good in the third phase.
In last week's win against NC State, the kicking game got Louisville to the winner's circle.
James Turner connected on four field goals, and a kick return touchdown by Jawhar Jordan was the only touchdown for Louisville until the fourth quarter. The defense plays a major role in Louisville's new winning formula, but the kicking game is very important.
Turner is 19 of 21 on field goals this season with his only misses coming for 40-plus yards. The kicker is a perfect 17 of 17 from anything under 40. Punter Mark Vassett is averaging 44.6 yards per punt with 15 downed inside the 20. Opponents are averaging just 5.9 yards per return.
On kickoffs, Brock Travelstead has a 64.5 percent touchback rate as Louisville has done a great job limiting returns. Last week, Jordan provided the first return touchdown of the season. The Cards rank inside the top 50 in net field position due to a solid kicking game.
If the game turns into a field goal contest, Louisville will have the advantage.
Keys to Victory
— Both Mississippi State and Missouri own a similar defensive philosophy to Louisville. The Bulldogs and Tigers use games up front to try to create confusion in order to create havoc plays. In each contest, we saw offensive coordinator Rich Scangarello get into heavy sets and get run-heavy. That will be a good plan this week as Louisville currently ranks No. 68 in rushing success rate. Clemson rushed for 259 non-sack yards on 6.0 yards per rush. Boston College and Pittsburgh also found rushing success. Saturday is going to be a big opportunity for Chris Rodriguez Jr. on the ground. Kentucky needs its star tailback to get the offense consistently ahead of the chains to keep some of Louisville's blitz packages in check.
— Speaking of the running game, Louisville has had some issues getting their ground game going. The Cards rank No. 108 in rushing success rate and could have a limited Malik Cunningham. If the Cards cannot establish the run, they are going to get behind the chains a lot. Louisville's passing game has shown it is not good enough to score points without balance. However, Kentucky's run defense has had some issues the last two weeks. Vandy sliced Kentucky with splash plays before Georgia just came at Kentucky with extreme efficiency. If Louisville has success it will be due to the former. Kentucky's must fit the run to limit explosives. If it does, the defense will create a lot of winnable situations.
— This is not going to be a game of efficiency for the Kentucky passing offense. The coaching staff is going to want to stay out of obvious passing downs at most points. When pass plays are called, Kentucky should be looking for home run swings. Louisville is excellent in situational football (third down, red zone, scoring opportunity defense). The Cats may need some chunk plays to score. Will Levis must take some swings on vertical throws throughout this contest. Explosive pass plays will likely play a critical role in just about any scoring drive on Saturday.
— When digging into the personnel, there is one player that jumps out when studying Louisville. It's not Malik Cunningham. Central Arkansas transfer Tyler Hudson has been a true No. 1 for the offense this season and will get a heavy workload in the passing game on Saturday. Kentucky must be able to match up with No. 0 and eliminate explosives. If Hudson is limited and the rushing attack can't get rolling, it will be very hard for this offense to put together scoring drives.
— The elephant in the room is the raw total of takeaways Louisville's defense has produced this season. Turnovers won UofL home games against Wake Forest and Pittsburgh. It put them in a position to beat Florida State. If Louisville wins on Saturday, takeaways will likely play a big role. Ball security will be vital for Kentucky's offense on Saturday. Louisville attacks the football to create fumbles and has a secondary with terrific ball skills on top of all the havoc this defense tries to create. A clean game from the Kentucky offense likely means a win.
— Oh, try to avoid special teams catastrophes. Specifically, ones that lead directly to points for the other team. That could be very important in a game that could likely turn into a defensive slugfest.