Scouting Report: Missouri Tigers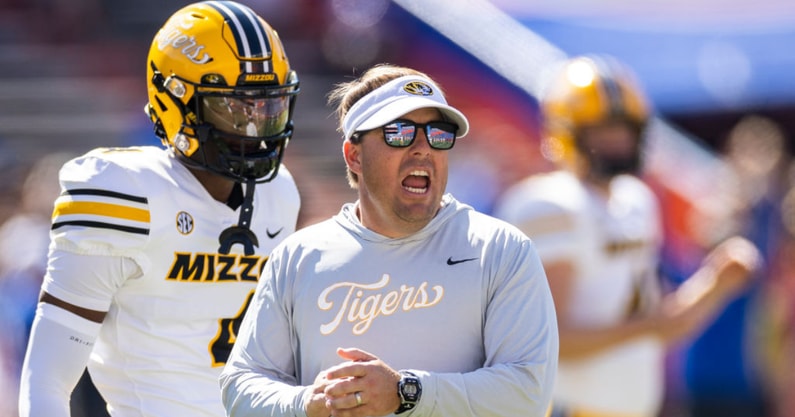 In the biggest spot of the season, Kentucky came out and played its worst game against Tennessee. The Wildcats were quite atrocious on offense and special teams leading to a 38-point blowout loss where things never looked right for Mark Stoops' team.
However, there is no time to dwell as the calendar has turned to November this week. Kentucky must get off the mat for a real challenge on Saturday afternoon.
Kentucky is heading to Columbia to face a Missouri team that has been giving opponents some real issues for a month now. The Cats will need to show some resolve and bounce back after a lackluster performance.
KSR's Scouting Report is back to provide a full report on Drinkwitz's third team in the SEC.
Nuts and Bolts
The University of Missouri is over halfway through year 12 in the SEC. Since making the conference realignment move, the Tigers are on their third head coach and own a 73-60 (.549) overall record. This has very much been a .500 program that got hot from 2013 and 2014 for 23 wins and two SEC East titles.
As year three under Eliah Drinkwitz enters the stretch run, Missouri has come in just below that SEC standard at 15-16 (.484). The Tigers avoided disaster after ugly losses to Kansas State and Auburn, but need a strong November that will have home games against Kentucky and Arkansas to continue Drinkwitz's build in Columbia.
After signing a top-15 class that included 10 top-500 prospects last recruiting cycle, expectations were raised by Mizzou supporters but this was still a build that was going to take some time. The coaching staff took a huge swing and miss in the transfer portal by not landing a quarterback, but are a strong close away from the hype picking up again heading in 2023.
Drinkwitz enters a critical stretch this month and it starts with a big home contest with Kentucky in Week 10.
Saturday will be the 13th meeting between the two SEC East programs with Kentucky owning an 8-4 series lead. The Cats are 6-4 against the Tigers since the Big 12 program made the conference switch, but all of those wins have come in the last seven meetings. Last time at Faurot Field, Missouri snapped a five-game losing streak to Kentucky in a dominant 20-10 where the Tigers out-snapped Kentucky 92-36 and were an efficient 14 of 25 on third/fourth down to grind out a win.
Out in the desert, Kentucky is a one-point favorite with a total of 40.5. That's a projected score of around 21-20. UK is 5-3 against the spread (ATS) this season, and Mizzou is 6-2 ATS. The under is 7-1 in Kentucky games and 7-1 in Missouri games. UK is 3-3 ATS as a road favorite since 2018 with two upset losses.
Missouri offense
Missouri entered year three with Eliah Drinkwitz as the primary play-caller having a lot of unknowns. The Tigers had to replace All-SEC tailback Tyler Badie and were going to be dealing with a lot of youth at quarterback and wide receiver. All signs pointed to a tough year for this offense.
That has played out maybe even worse than Missouri expected. Through eight games, an argument can be made that this is the worst offense in the SEC.
Scoring: 23.9 (T-97 overall)
Success Rate (from CFB Graphs): 36.4% (No. 104 overall)
Yards Per Play: 5.4 (No. 91 overall)
Yards Per Rush: 4.0 (T-75 overall)
Yards Per Attempt: 7.4 (T-70 overall)
3rd/4th Down Conversions: 43.7% (No. 58 overall)
Red Zone TD Rate: 51.6% (T-106 overall)
Points Per Drive: 1.68 (No. 111 overall)
The Tigers are averaging just 17.5 points per game against Power Five foes as this attack does nothing truly well. Offensive ineptness ruined great chances at wins against Auburn and Florida. The inability to finish drives with touchdowns against Georgia cost Mizzou one of the biggest wins in program history.
Drinkwitz's group has many issues. Let's start at quarterback.
Brady Cook (6-2, 205, RSo.) was a three-star recruit out of St. Louis (Mo.) Chaminade who committed to the Tigers in the class of 2020. However, the in-state prospect joined the program one year after four-star signee Connor Bazelak and one year before Elite 11 QB Tyler Macon. For a while, it looked like Cook was going to be the odd man out.
That changed once Bazelak left the program for Indiana in the offseason. Missouri would be forced to turn to Cook after missing out on transfer targets Gerry Bohanon (USF), JT Daniels (West Virginia), and Jayden Daniels (LSU).
The third-year player has very much looked like a new starter this season. Cook is completing 65.3 percent of his 27.8 passes per game but has a woeful passing success rate (38.7%) and has thrown more interceptions (7) than touchdowns (6). However, Cook does provide a run element (280 non-sack rushing yards) in the zone read game and has connected on five completions of 40-plus yards. The young quarterback is also fresh off his best performances as a starter in wins over Vanderbilt and South Carolina.
The efficiency is lacking, but Cook can hurt defenses with an occasional vertical throw or scramble.
When the quarterback looks to go deep, it is usually for his no. 1 target.
Dominic Lovett (5-10, 185, So.) leads the team in targets (54), receptions (44), and receiving yards (659). The former top-300 recruit ranks No. 2 in the SEC with 12 receptions of 20-plus yards. Lovett is primarily utilized out of the slot in Mizzou's offense and excels at tracking the ball in the air and making competitive catches. Kentucky must have a plan for No. 7. In big moments on the road against Auburn and South Carolina, the St. Louis native delivered for the Tigers.
Lovett is the Missouri wideout competing for All-SEC honors as he's emerged as the clear top player on the offense, but that wasn't necessarily expected. Five-star true freshman Luther Burden III (5-11, 208, Fr.) was the St. Louis native many expected to have a monster season.
So far, Burden is getting a high volume of intended touches (44 targets, 9 carries, and 8 punt returns), but the big plays have been hard to find. The blue-chipper has scored four total touchdowns but is averaging only 7.7 yards per reception. Missouri will have schemed up touches for their star recruit, but the consistency hasn't been there.
Seniors Barrett Banister (18 receptions on 26 targets) and Tauskie Dove (10 receptions on 25 targets) each play a complementary role in this passing game. However, the action mainly goes through Lovett and Burden. If the former cannot create chunk plays this passing game has had issues.
In the rushing game, Missouri has turned to a pair of transfers for answers in a scheme that is very zone-heavy. The unexpected transfer has emerged as the top tailback in this offense.
Division II transfer Cody Schrader (5-9, 214, RSr.) leads the team in carries (90), rushing yards (443), and rushing touchdowns (5). The Truman State transfer has not shown much pop with only seven attempts going over 10 yards, but the veteran has been dependable with zero fumbles and was given a true RB1 workload of 22 carries in last week's win over South Carolina. Expect Mizzou to use Schrader early and often.
Stanford transfer Nathaniel Peat (5-10, 206, Sr.) was expected to be the guy for the Tigers in the backfield this season, but the veteran was benched last week. The Columbia (Mo.) Rock Bridge product has 12 carries of 10-plus yards this season and can also be a receiving weapon. Missouri tailbacks have 23 combined catches as they are quite often used on screens and via checkdowns.
Overall, this rushing attack does not have much pop as Missouri's top three tailbacks are averaging 4.7 yards per rush on 24.1 attempts per game this season. Cook is the most dangerous rusher in this offense. Defenses have been able to make Missouri one-dimensional this year, but Drinkwitz does a good job committing to the run even when things don't look pretty. That really plays out when the Tigers have a lead. Missouri will milk the clock if ahead in the second half.
On the line of scrimmage, Missouri had one of the top centers in college football over the last couple of seasons with Michael Maietti. His absence has been missed as Connor Tollison (6-4, 286, RFr.) has stepped in. Javon Foster (6-5, 319, RSr.) is the unit's best player at left tackle and should have an NFL future. But overall, the offensive line has had some issues this season along with the rest of the offense.
In many ways, Dominic Lovett has been the Missouri offense this season. The Tigers want to establish the run and then use play-action out of the pistol to try and hit their star wideout deep. If the explosive slot receiver is kept in check, this offense has issues putting scoring drives together.
Missouri defense
Things got very ugly for the Missouri defense last year under play-caller Steve Wilks. The Tigers were one of the worst units in the Power Five. Eliah Drinkwitz made a change at coordinator and addressed the defense with key additions in the transfer portal.
In just one season, new defensive coordinator Blake Baker has turned Missouri into one of the best defenses in the SEC.
Scoring: 21.5 (T-30 overall)
Success Rate: 33.5% (No. 11 overall)
Yards Per Play: 4.9 (No. 24 overall)
Yards Per Rush: 3.6 (T-36 overall)
Yards Per Attempt: 6.2 (T-14 overall)
3rd/4th Down Conversion Rate: 39.2% (No. 39 overall)
Red Zone Touchdown Rate: 45% (T-11 overall)
Points Per Drive: 1.65 (No. 17 overall)
The Tigers returned nine starters on defense, and some transfer additions have helped this unit get stronger at each level. In Baker's four-down front structure, Mizzou will be very aggressive and is hunting negative plays. The defense leads the SEC in tackles for loss per game (7.1) and has forced 13 turnovers.
Missouri forces the issue to make things difficult for opposing offenses. It all starts with their front.
At defensive end, Isaiah McGuire (6-4, 274, Sr.) has been outstanding this season recording 9.5 tackles for loss and four sacks while leading the defensive line in tackles (26) and snaps (357). The former low three-star recruit leads the way for a defensive front that plays eight players who have recorded 10 sacks and 10.5 non-sack tackles for loss.
An argument can be made that Mizzou has one of the top defensive lines in the SEC. That has created space for the linebackers to be playmakers. Florida transfer Ty'Ron Hopper (6-2, 221, RJr.) has been one of the top havoc players in the SEC.
The former top-100 recruit out of Shelby (N.C.) Roswell leads the team in tackles (48). Hopper ranks second in the SEC in solo tackles (40). Alabama's Will Anderson leads the conference in tackles for loss (12), but Hopper is right behind him with 11. The SEC East transfer has an absurd pressure rate (32.8%) on 64 pass rush snaps to go along with two sacks, a forced fumble, and an interception. Missed tackles were somewhat of an issue earlier in the season, but this is a clear All-SEC linebacker that could push for All-American honors. Kentucky must be aware of No. 8 at Will before every snap.
McGuire and Hopper are the top two players on this defense, but the secondary is the biggest strength. The Tigers are very good at cornerback, safety, and nickel.
Martez Manuel (6-0, 213, Sr.) plays the Star position for the Tigers as a fifth defensive back that will spend a lot of time in the box. The veteran has stuffed the stat sheet with 35 tackles and seven tackles for loss. At cornerback, Kris Abrams-Draine (5-11, 178, Jr.) and Ennis Rakestraw Jr. (6-0, 176, RSo.) have combined to record 16 pass breakups. At safety, Jaylon Carlies (6-3, 219, Jr.) and Clemson transfer Joseph Charleston (6-0, 195, RJr.) have combined to record 81 tackles, 5.5 tackles for loss, four pass breakups, and three interceptions.
Abrams-Draine has a legit shot to be a day two pick at the 2023 NFL Draft while Carlies, Charleston, Manuel, and Rakestraw each bring a ton of experience to the table. This secondary plays with extreme confidence and is the No. 1 reason why every opposing quarterback has had issues moving the ball through the air against the Tigers.
Baker has installed an aggressive defensive approach in Columbia. Some solid transfer portal work has added the best player on the defense (Ty'Ron Hopper) to go along with depth on the defensive line and a quality starter at safety. That aggressive nature works because the Tigers have good coverage players in the secondary. With future draft picks being playmakers at all three levels of the defense, Mizzou has turned into a top-15 unit overnight.
Major kudos to both Baker and Eliah Drinkwitz for identifying weaknesses and bolstering them in the transfer portal but also for the continued development of former high school recruits on their roster. That blend has led Mizzou to high-level defensive play and helped save their season from going way off the tracks.
The Tigers start 10 juniors and seniors and that has shown on the field. Baker has a legit defense.
Missouri special teams
Mizzou has had a rocky year in the third phase. Things have been great at times, but the overall consistency has not been there. It all starts at kicker.
Harrison Mevis is back for year three at Missouri after earning All-SEC honors in 2021. The 5-foot-11, 243-pound kicker has 10 career field goals of 50-plus yards, but accuracy has been an issue for the Indiana native this season. Mevis has missed four field goals under 40 yards including a chip shot at the horn against Auburn that cost the Tigers a huge road victory. However, Mevis is still 15 of 20 on the season and can easily hit from 55 yards out. He's a legit weapon.
At punter, Jack Stonehouse has taken over and the freshman is averaging 42.9 yards per attempt with 8 of 28 attempts downed inside the 20. However, punt return defense has been a major issue with foes averaging 23.1 yards per return including a 76-yard touchdown allowed to Kansas State.
Sean Koetting serves as the kickoff specialist and has a very efficient touchback rate (81.4%). Don't expect many kickoff return opportunities for Barion Brown. The kickoff returns have been pedestrian, but Luther Burden III is dangerous as a punt returner with three returns of 20-plus yards in eight attempts.
The Tigers have a huge weakness (punt return defense) and some huge strengths (placekicking, touchback frequency, punt returns). But typically this third phase does more good than bad. At its peak, Missouri has one of the best special teams units in college football.
Keys to Victory
— Both offenses in this matchup have played sloppy football. When it comes to turnovers, each enters the game with 15. Meanwhile, Missouri's defense has forced more takeaways (13) than Kentucky's (8). There will very likely be a slugfest at Faurot Field. The offense that avoids the big mistake will likely give their team an advantage.
— On paper, this Missouri defense has no weaknesses. The Tigers play good team defense and win one-on-one matchups in coverage so their front seven can play downhill with aggression. Going on 12-play scoring drives will be very difficult against this group. The Cats must find ways to create explosive plays on offense. Particularly, teams have found some success creating explosives on the ground against Mizzou. Kentucky has struggled to create explosive rushing plays all year. Can Rich Scangarello's offense scheme something creative up this week to take some pressure off the passing game?
— On the other side, Missouri's offense should have difficulty putting scoring drives together on Kentucky's defense. The Tigers are very inefficient and struggle to finish possessions with points when scoring opportunities arrive. However, big plays make everything easier. Dominic Lovett has made huge explosive plays when Missouri has been able to have success. Kentucky cannot let No. 7 get behind their coverage and beat them the easy way. If the Cats take Lovett out of the game and force Mizzou to go on sustained drives, a lot of good things will happen for the road team.
— At the end of the day both of these defenses are very good, but Kentucky does have a better offense on paper. That is mainly because Will Levis is better than Brady Cook. That needs to play out on Saturday afternoon. Kentucky does not need their QB1 to be superman, but he has to play much better than last week. The Cats need a good passing performance from the redshirt senior to take care of business on the road. Getting Levis in an early rhythm will be vital as the offense quickly needs to shake off the performance from last week.
— Can't believe we're still focusing on this, but Kentucky is again at a disadvantage on special teams this week. The Cats must make sure they avoid catastrophic errors. Make extra points, don't get a punt blocked, and don't negate a return with an illegal block. Harrison Mevis is a real weapon that will put points on the board for Missouri. If the Tigers get good field position, it's nearly automatic points because of that. Kentucky doesn't need the third phase to win the game, but it can't be a total disaster again.
— The start feels like everything in this game. Whichever team gets the early lead will have the advantage. Two years ago, Missouri won a slugfest by converting a ton of third and fourth downs and keeping Kentucky's struggling offense off the field. In that game, the Wildcats could establish no rhythm on offense. That cannot happen on Saturday. If the Cats get an early lead, they can lean on their star tailback and shrink the game in their favor. An early deficit could lead to a struggling offense forcing the issue again. The first quarter feels very important.
— It's hard to envision the Kentucky offense scoring many points, but Kentucky's defense needs to be Kentucky's defense on Saturday. In a similar spot earlier in the season, Brad White's unit played its worst half of the season giving up 17 points after halftime to a South Carolina offense that has had a lot of struggles this year. That can't happen this week. The Wildcats need to play a full 60 minutes on Saturday. The team cannot afford to have any defensive lapses right now.