Scouting Report: ULM Warhawks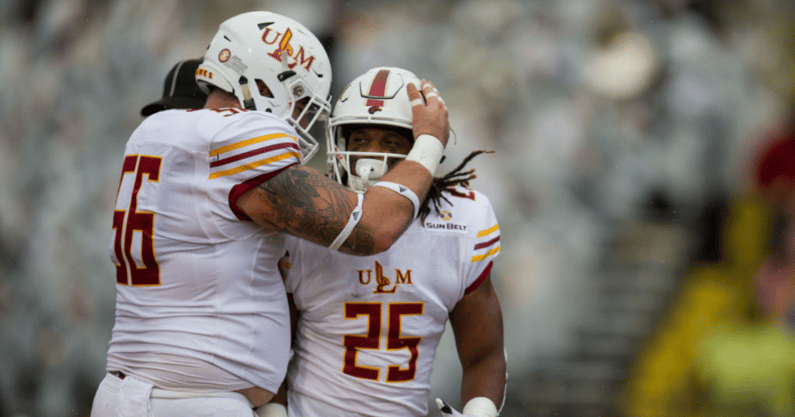 The 2021 Kentucky football season kicks off at high noon on Saturday when Terry Bowden brings his first ULM team to Kroger Field.
Expectations are high for head coach Mark Stoops and his Kentucky football program heading into year nine. The Wildcats have a new-look offense with a brand new offensive coordinator and quarterback. Meanwhile, the defense has seniors at every level and third-year play-caller Brad White appears to be a rising star in the coaching ranks.
To begin the party, Kentucky will start the campaign facing a Sun Belt program that is in the beginning stages of a long rebuild.
Nuts and Bolts
Terry Bowden has been around for a long time.
The 65-year-old head coach and son of legendary head coach Bobby Bowden is now running his sixth program in college football. Bowden got his first opportunity at Salem University at the age of 26 and quickly moved over to Samford in 1987. From there, Bowden would help transition the Bulldogs into FCS where they made the FCS semifinals in 1991.
Then, the Southeastern Conference came calling.
At 36 years old, Bowden took over for Pat Dye at Auburn and took over a program facing NCAA sanctions. The Tigers were not allowed on television in 1993, but Bowden led the program to an 11-0 mark in his first season. In 1997, Bowden took Auburn to the SEC Championship Game, but things went south quickly. Auburn had recruiting and player discipline issues with some boosters pushing for a coaching change — this seems to happen at Auburn frequently.
Then, Bowden decided to hang it up.
For a decade, the coaching legacy worked in the media serving as a studio analyst for ABC. However, the former coach decided to get back into the game in 2008 when he took over Division II North Alabama for three seasons.
After a 29-9 record and three playoff appearances, Bowden was hired by Akron. He spent seven seasons in the MAC and won a division title in 2017 before being fired after posting a 35-52 record in seven seasons.
Soon after his firing, Bowden went to Clemson to work in an analyst role for Dabo Swinney over the last two seasons before ULM came calling.
This will be Bowden's 26th year as a head coach and he's taking over a program that has not had much success. ULM moved to the FBS in 1994 and has been a member of the Sun Belt Conference since 2001. Despite 20 years behind them, this is a program that has only been to one bowl game.
The bar is low in Monroe where it can be tough for the Warhawks to attract talent to Northeast Louisiana.
This will be the sixth meeting in program history and Kentucky currently leads the series by a count of 4-1. All games have occurred in Lexington. The Wildcats defeated ULM in 2014. The only loss came in the first-ever meeting back in 1994.
Out in the desert, Kentucky is a 31-point favorite with a total of 54. That's a projected final score of 42.5-11.5. The Wildcats are 7-1 against the spread (ATS) in their last eight non-conference games. ULM has not been a 30-point underdog since 2017 when the Warhawks covered a 37-point number against No. 6 Auburn.
ULM Offense
It did not take Terry Bowden long to make a splash once hired by ULM. The head coach quickly turned to Rich Rodriguez to run the offense in Monroe. The 58-year-old has had a long and winding career.
Better known as "Rich Rod", Rodriguez experimented with a spread option offense out of the shotgun while at NAIA Glenville State from 1990-96. From there, Tommy Bowden hired Rodriguez to be his offensive coordinator at Tulane. With Shaun King at quarterback, the Green Wave finished undefeated and in the AP top-10 in 1998. Rodriguez would follow Tommy Bowden to Clemson.
After that, everyone knows the rest of the story. Rodriguez got the head coaching job at West Virginia and set records. Pat White and Steve Slaton were the best duo in the history of the NCAA Football video game, and the Mountaineers were one win away from playing for a national championship in 2007. Rodriguez would later bomb in three years at Michigan before having a resurgence out at Arizona going 43-35 in six seasons before being fired.
Rodriguez would later move to Ole Miss to call plays in 2019, and will now reunite with another Bowden in 2021. This time, his own son will be running the show in his offense
Rhett Rodriguez is in his fifth year in college after spending four years at Arizona from 2017-20. While in Tucson, the younger Rodriguez tossed for 578 yards in 11 games while averaging 5.78 yards per attempt and throwing more interceptions (4) than touchdowns (3). When able to play clean, there is enough arm talent to attack multiple zones against the defense, but this is a quarterback that can struggle under pressure and is not a real threat to consistently hurt the defense with his legs.
However, the rest of the offense has not been good. The data backs it up.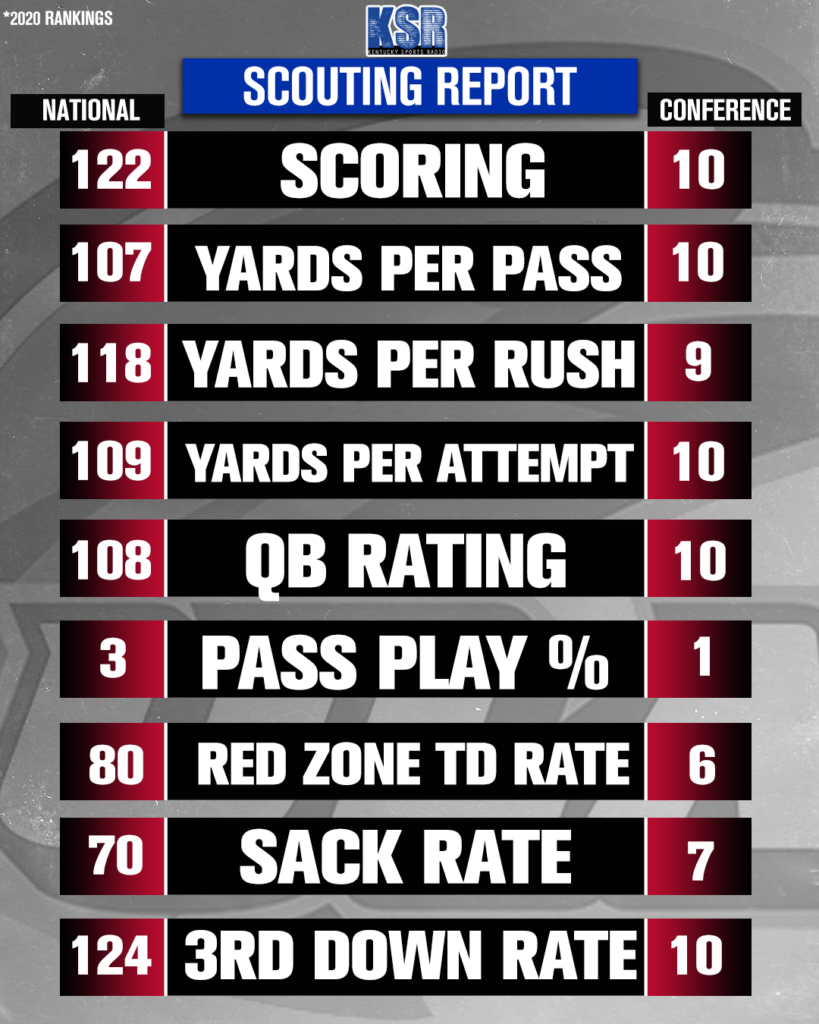 The Warhawks aren't releasing a depth chart this week and their roster has not been updated since the spring. There are transfer additions, but those players are currently not confirmed.
It's important to notice that due to the inefficiency in the running game, ULM was very pass-heavy with the previous regime. That could remain the same under Bowden and Rodriguez until the new coaching staff can turn over the roster.
On the offensive line, Blake Lodes (No. 70) started 10 games as a redshirt freshman last year and performed admirably. The third-year player from Texas should be an all-conference caliber performer in 2021.
At the end of the day, not much is known except for what Rodriguez wants to do. There will be some tempo mixed with a boatload of 10 and 11 personnel and zone-read actions. Alignment and assignment will be critical for Kentucky on Saturday.
ULM Defense
Terry Bowden hired a coach on offense with a ton of experience. The seasoned head coach went the opposite direction on defense.
In 2011, Zac Alley became a student assistant coach at Clemson while studying for his undergrad. For eight seasons, Alley worked for defensive coordinator Brent Venables and helped the Tigers win a pair of national championships. This led to Alley landing a job at Boise State where he spent two seasons working for Bryan Harsin.
Now the fast riser is a play-caller at the ripe age of 27. Not much is known about him, but Clemson uses a four-down front with two traditional off-ball linebackers combined with what could be a hybrid player at Sam 'backer. The new defense will likely look somewhat similar.
The numbers are not pretty.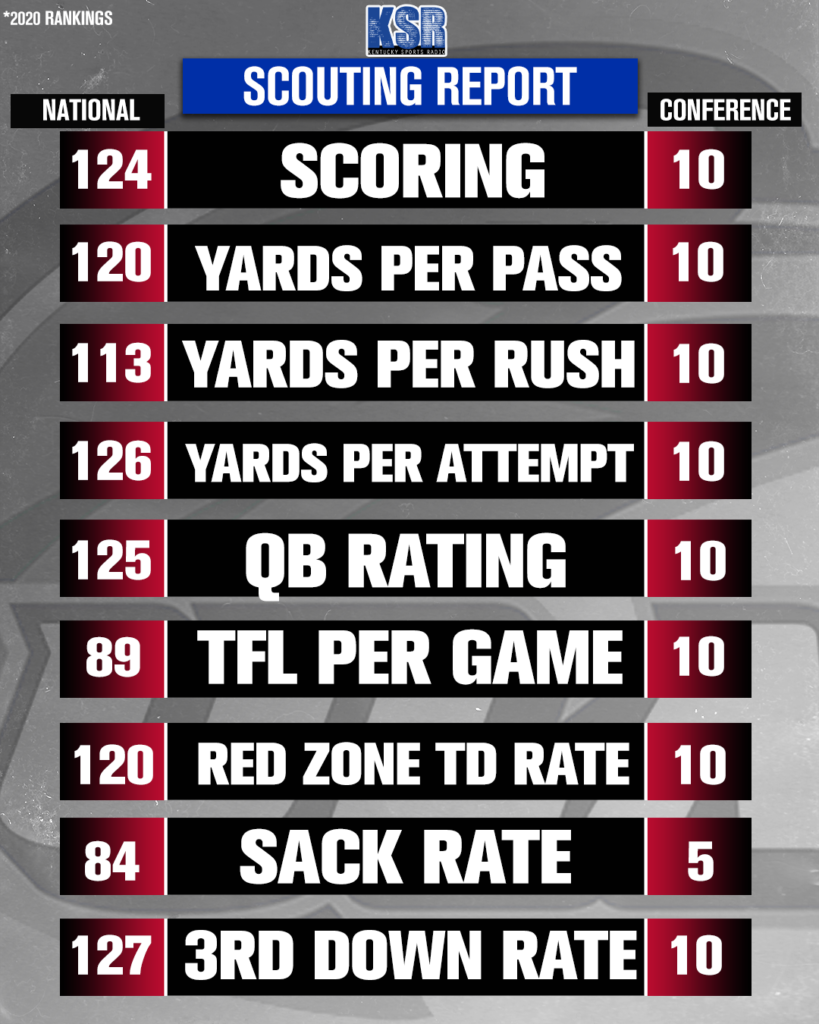 Leading the way for the unit will be Will linebacker Traveion Webster (No. 10). The super senior from Texas is a former safety who has made the transition to the box. The veteran is fresh off a career season where he recorded 82 tackles (37 solo) with 8.5 tackles for loss and 2.5 sacks. He is this group's top playmaker.
At EDGE, there is another super senior that can make some plays. Ty Shelby (No. 44) has played in 44 games at ULM with 19 starts. Last season, the Houston Friendswood product recorded 36 tackles and 6.5 tackles for loss. Shelby is the best player on the defense.
Inside, Sir'Darrius Ellis (No. 90) might have the highest ceiling of anyone on the unit. The sophomore from Louisiana was good last season and could be a challenge for Luke Fortner at the point of attack in his first game at center.
However, there is no hiding from how bad this defense has been in recent seasons. The Warhawks have ranked No. 110 or worse in yards per play defense every season since 2016. Alley has his hands full in his first coordinator gig. With a couple of assistants with Clemson ties, ULM is banking on the Venables blueprint to work some magic in Monroe.
ULM Special Teams
At punter, ULM's Daniel Sparks is scheduled to return after averaging 44.57 yards per punt last season. However, he's not listed in the transfer portal or on the roster. This is the mystery of ULM football, but the Warhawks ranked 119th in net punting average last season. Return opportunities could be available for Josh Ali and Wan'Dale Robinson.
ULM placekicker Davis Hughes is also not listed on the roster after going 2-of-5 from field goal range. Meanwhile, ULM had a touchback rate under 20 percent on kickoffs.
Kentucky should dominate the third phase on Saturday.
Keys to Victory
Kentucky is much better than ULM. This game will be a mismatch at nearly every position. For the Wildcats, the team is playing themselves this week. Play fast, play smart, play clean. A win should follow as long as those three things happen.
This first game will be a great chance to build some confidence with the passing game. The Wildcats have worked hard at establishing a rhythm in the passing game during spring, summer, and fall camp. Now the work needs to translate to a game setting. Helping Will Levis build a rapport early could lead to positive things as the schedule heats up.
Due to Kentucky's size and physicality on the defensive line, running the ball should be difficult for ULM. Therefore, Kentucky will get multiple pass-rushing opportunities. The Wildcats must improve in this area, and if they are that should show up on Saturday.
This is not really a key, but how the defensive structure looks will be the thing to watch on Saturday. How is Davonte Robinson used? Is he on the edge, in the box, or playing wide to the field? Does Jordan Wright play mostly on the edge or do the 'Cats go to some 3-3 stack looks? Does Trevin Wallace pop when on the field? These are all things KSR will be watching closely.