Tim Couch's dad walked out of his recruiting visit with Tennessee
Tim Couch is probably the most famous Kentucky quarterback of all time; however, if the Deuce had his way, he might have ended up a Tennessee Volunteer, almost choosing Knoxville over Lexington not once, but twice during his career. Thankfully, the first go around, his father Elbert intervened.
Couch was a guest host on Kentucky Sports Radio this morning and, in addition to sharing his thoughts on the current Wildcats, told a few stories from his playing days. In 1995, Couch was a senior at Leslie County and set several national high school passing records. For that, he won Kentucky Mr. Football and was considered one of the top recruits in the country, earning offers from schools like Florida, Florida State, Tennessee, and, of course, his home state Kentucky Wildcats.
Couch had already given Tennessee a verbal commitment, but when head coach Phillip Fulmer and offensive coordinator David Cutcliffe came to Hyden to talk about their plans for him, his dad, a huge Kentucky fan, decided he'd had enough of all that orange.
"We're going over everything and they're telling me — because Peyton [Manning] was already there — how everything is going to be. You'll come in, redshirt, this, that, and the other. And I said, 'Yeah, that sounds great. I'm going to go to Tennessee.' That's where I wanted to play.
"And in the middle of the conversation, my dad gets up and leaves the room and he goes outside. I hear him start his old red truck up and he takes off and Fulmer and Cutcliffe are in shock. This has never happened before. A recruit's parent just gets up and leaves in the middle of a conversation. They're like, 'Should we wait on him?' I'm like, 'He ain't coming back.'"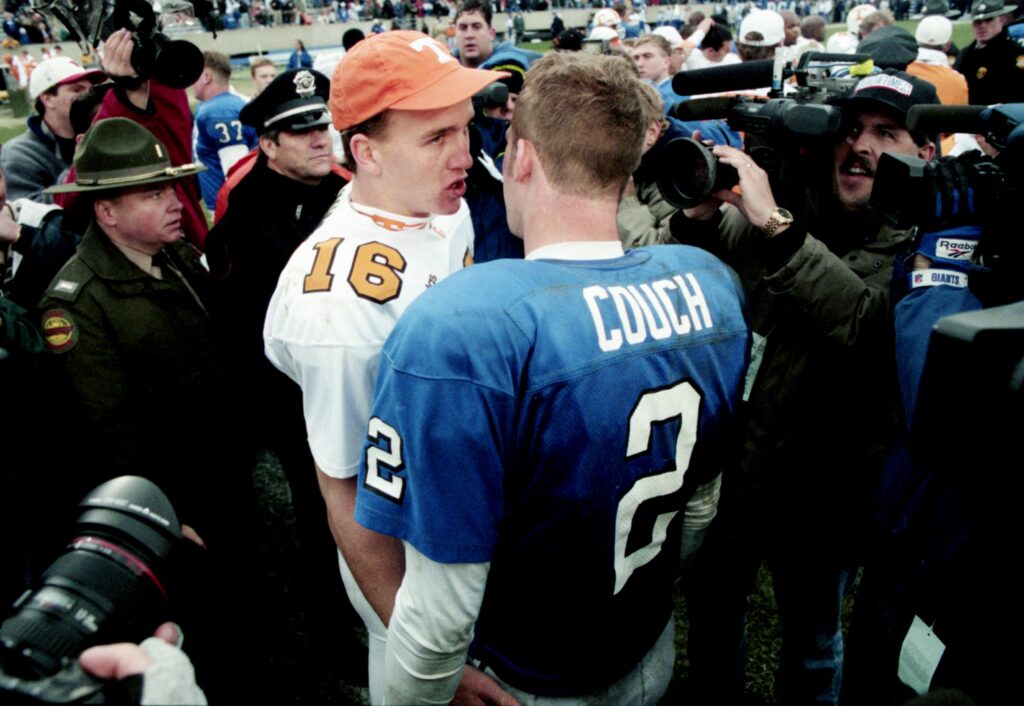 Couch's dad did come back but the two had a falling out that led to Couch moving out of the house and staying with a friend. Three days later, he returned home to speak to his father.
"I came to him and said, 'You know, if it means this much to you for me to go to Kentucky, I'll just go to Kentucky. But if it doesn't work out, I'm leaving.' I said, 'I'll give it one year.'"
Couch said that one year was the worst of his life. Under Bill Curry, Couch played as a true freshman, splitting time with Billy Jack Haskins. The most talented passer in Kentucky high school history was running the option at Kentucky, which frustrated him so much he was ready to transfer to Tennessee. A conversation with then-athletic director C.M. Newton convinced Couch to give new head coach Hal Mumme and his Air Raid offense a shot. The rest is Kentucky Football history.
"Luckily, it worked out the way that it did," Couch said. "I don't know how."
Subscribe to the KSR YouTube Channel for press conferences, interviews, original shows, fan features, and exclusive content.
Couch opens up on drunk-driving deaths of close friends
A few years later, Couch faced adversity of a different sort. In November 1998, following Kentucky's 55-17 win over Vanderbilt, two of Couch's friends were killed in a crash on Highway 27 near Somerset. The driver, Kentucky center Jason Watts, survived. All three were drunk at the time of the crash. One of the deceased was Couch and Watts' Kentucky teammate Artie Steinmetz. The other was Scott Brock, whose house Couch moved into during the falling out with his father. The two were like brothers.
"When the accident happened, the next morning, I woke up and I just drove straight to his house. I remember driving across his bridge and his mom saw my car pulling in and I could hear her screaming from inside the house. Hardest thing. That conversation, when I went in there, was the hardest conversation — what was I, 20 years old at the time? Absolutely brutal."
Brock and Steinmetz's funerals were held that week and the entire Kentucky Football team attended. That Saturday, the Cats traveled to Knoxville to play No. 1 Tennessee.
"The whole funeral situation, everything, it was just a rough time," Couch said. "And then we had to play Tennessee that weekend, on the road, which is impossible."
"We're all worried about Jason as well. He wasn't doing well. He was in the hospital and kind of hanging on. It was a tough week for us. It was really tough for him."
Watts pleaded guilty to two counts of reckless homicide. He was sentenced to ten years in prison but was granted an early release in July 1999 through a probation program for nonviolent offenders.
"He went through a lot," Couch said of Watts. "He really did."
Powerful stuff. To hear the entire episode with Couch, download the podcast via iHeart Radio.
Discuss This Article
Comments have moved.
Join the conversation and talk about this article and all things Kentucky Sports in the new KSR Message Board.
KSBoard