Update on Kiyaunta Goodwin following official visit to Florida State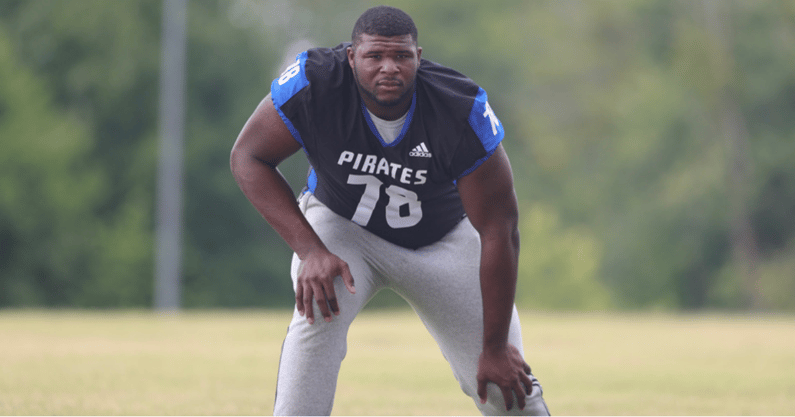 Kiyaunta Goodwin is making Kentucky earn his commitment, that's for sure.
The five-star offensive lineman ranked as a top 15 player in the class of 2022 is utilizing all of his official visits this fall as he continues to weigh his options. Goodwin has been a Wildcat ever since pledging to UK in April, but we'd be lying if we said his weekend trips elsewhere aren't at least worth mentioning.
Goodwin finished up an official visit to Florida State over the weekend, his second OV after taking one to Alabama earlier this season. He still has three remaining, one of which will happen next weekend at Texas A&M, per On3's Chad Simmons. Goodwin is then expected to use one of his final two official visits on Michigan, leaving one left.
Keep in mind that Goodwin has been to every Kentucky home game in 2021.
The 6-foot-8, 300-pound native of Louisville is the prize of Kentucky's 2022 recruiting class. It was always going to be natural for someone of his talent to take advantage of all his official visits. If UK wants to recruit against the big boys, this is the reality that comes with it.
Goodwin had nothing but good things to say about his recent official visits to Alabama and Florida State. Both schools have stood out to him and given him more to think about. We have to assume his remaining official visits will do the same. In his situation, it's the smart move, even if it puts the Big Blue Nation on edge.
"I am going to finish taking my official visits, then make the best decision for me," Goodwin told Simmons. "I love Kentucky, I love the coaches there, and I feel comfortable there, but I have to take these visits and see how I feel."
Kentucky recently made its own move to help keep Goodwin in Lexington. Associate head coach Vince Marrow received a commitment from three-star cornerback Elijah Reed, who is close with Goodwin; the two train together at Aspirations Gym in Louisville.
"I'm not worried about it," Reed told KSR about Goodwin's status with Kentucky. "I know where he wants to be. He's locked in."
Goodwin is still firm in his commitment to Kentucky, but until he officially signs with the 'Cats, it's going to continue to be a battle.